"Be quick, but don't hurry." - John Wooden, legendary UCLA basketball coach
Freestanding retail net-lease REIT Agree Realty (NYSE: ADC) continues to be a "get rich slowly" opportunity for dividend growth investors.
However, the pace has picked up considerably for ADC shareholders during the first third of this year.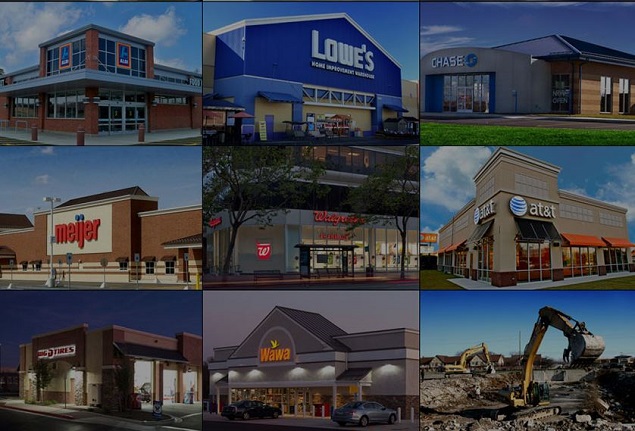 The net-lease REIT business model is easily scalable, which can be both a blessing and a curse.
In the recent past, non-traded REITs such as AR Capital grew exponentially by raising huge amounts of money and quickly gobbling up large portfolios. However, that story had a hard landing. Today, publicly traded Vereit (NYSE: VER), is still working to sell off parts of the legacy ARCP portfolio and reduce leverage on the balance sheet.
Agree Realty occupies the other end of the spectrum. ADC has been a NYSE-listed REIT since 1994, with a long history in shopping center development.
Since 2010, second generation CEO Joey Agree has completed a transformation of ADC into an $820 million cap freestanding retail net-lease REIT. The Finviz chart below reflects Mr. Market's approval of this program.
Tale Of The Tape - Slow Steady Gains
During the past 52 weeks, ADC shares had traded in a range of $26.62-$40.20 per share.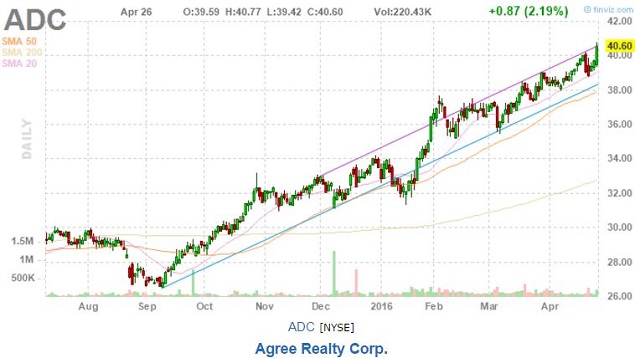 Investors appeared to like the discussion during the Q1 earnings call as ADC shares closed at a new high of $40.60 per share on April 26th.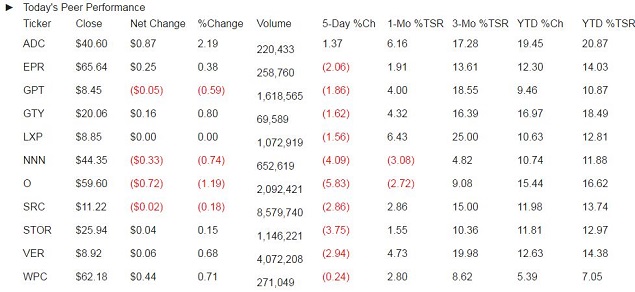 Source: ADC - data from kcg.com
The relative performance table above shows Agree Realty leading the triple-net REIT sector year-to-date on most performance metrics.
Back in February, when Wunderlich downgraded Realty Income (NYSE: O) to Sell, I wrote an SA article suggesting investors looking to put new money to work in the net-lease REIT sector should consider small cap Agree Realty.
Since that time, Realty Income shares continued to rise to historically high multiples. They have recently fallen back a bit, while Agree Realty shares have continued a slow and steady climb upward.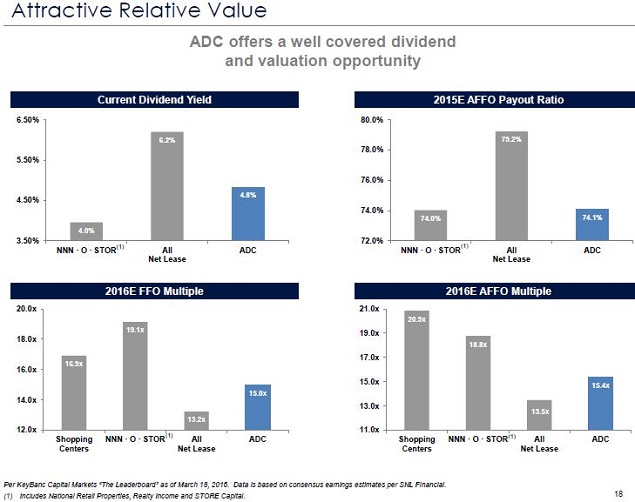 Source: ADC - March 2016 presentation (for all unattributed slides)
Realty Income and National Retail Properties (NYSE: NNN) are larger cap REITs with investment grade balance sheets and certainly deserve to trade at a premium.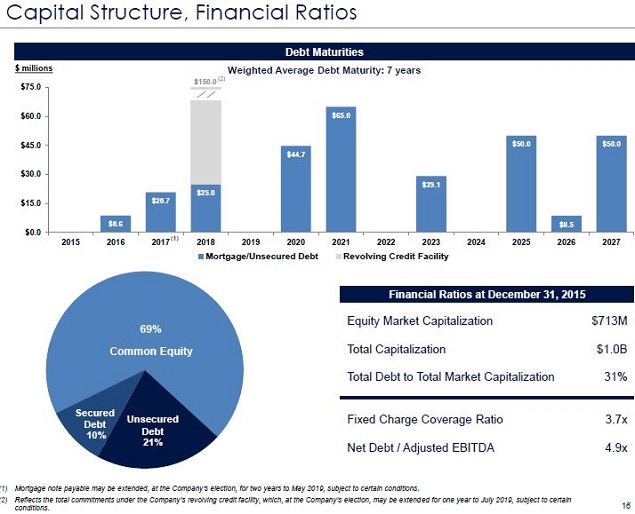 However, Agree Realty continues to narrow that gap as more investors realize the quality of the portfolio and strong balance sheet.
ADC - Q1 Earnings Highlights
Portfolio occupancy was approximately 99.5% leased, with a weighted-average remaining lease term of approximately 11.2 years, and generated just over 50% of annualized base rents from investment grade tenants.

Source: ADC - Q1 2016 Earnings release (for all tables)
Agree does intend to proactively reduce the portfolio exposure to Walgreens (NASDAQ:WBA) through dispositions in 2016.
During Q1 2016, Walgreens' properties have been changing hands at cap rates in the low-to-mid 5s. Additionally, Walgreens' leases are flat, so there will be an opportunity to recycle the capital at higher cap rates and potentially contractual rent increases.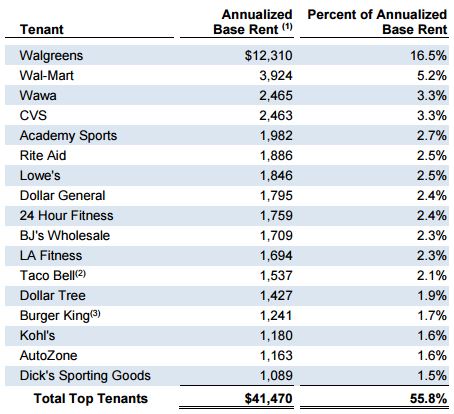 During Q1, ADC signed new leases, extensions or options on over 31,000 square feet of leasable area throughout the portfolio. This included a 24,153 square-foot Staples (NASDAQ:SPLS) in Davenport, IA where the tenant exercised an option.
ADC owns a fairly young net-lease portfolio with no additional lease terminations in 2016, and relatively few lease expirations during the next few years.
Agree Philosophy
Joey Agree remains focused on portfolio quality first, while keeping an eye toward methodically growing the operation into a $2.5-$3 billion market cap over the next several years.
In my discussions with him after the Q1 earnings call on April 26, I asked the same question several different ways. Essentially, "Why maintain such a deliberate growth trajectory given the company's low weighted-average cost of capital?"
His answers all boiled down to a primary focus on portfolio quality and strict underwriting guidelines. Agree has a clear vision and goals for how to growing the portfolio, but he isn't willing to take "short cuts" to accelerate the program.
There's nothing flashy about the Agree Realty business model - it is block and tackle. Granular underwriting of real estate and credit, while maintaining an 8% cap rate target for acquisitions.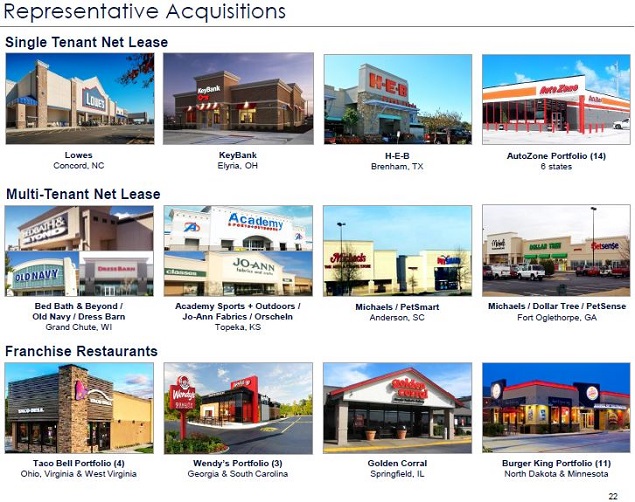 Basically, I think it boils down to having a developer's value-add mindset vs. just viewing the world strictly from an acquisition, or "spread investing" lens.
Agree Realty is no longer trading at a discount to NAV. So, at least in theory, ADC can now issue shares to make accretive acquisitions at lower cap rates than 8%.
Retail Development DNA - Differentiator
But ADC does have an advantage when it comes to in-house retail site selection and development capability.
Agree expects to generate yields in the high 9s to 10s on average, which helps to compensate for project risk factors.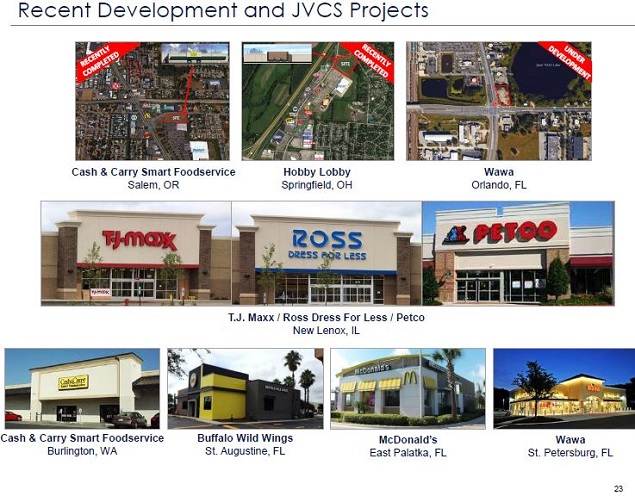 In some cases higher yields can be achieved (in the mid-double digits) from building on land parcels which ADC already owns or controls. Notably, none of the other net-lease REITs have this type of development DNA and focus.
Acquisitions
During Q1 2016, ADC acquired 13 properties for $38.3 million, at a 7.9% average cap rate. This included a recently remodeled Dave & Busters in Austin, TX, which is already generating percentage rents on top of contractual base rent.
The pace of acquisitions will pick up later in the year as Agree confirmed guidance of $175-$200 million of acquisitions for 2016.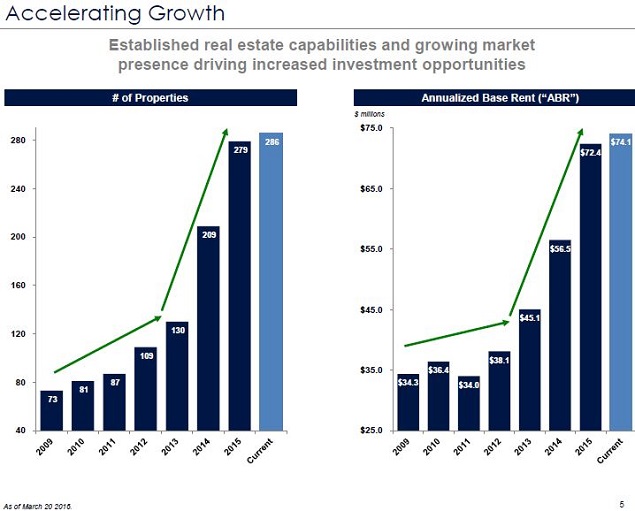 Agree's 100% retail net-lease portfolio has been put together in the last five years and does not contain large numbers of office supply, book stores and other subsectors vulnerable to e-commerce competition.
It does contain over 50 percent investment grade rated tenants, the highest among its peers, including Realty Income and National Retail Properties, as shown below.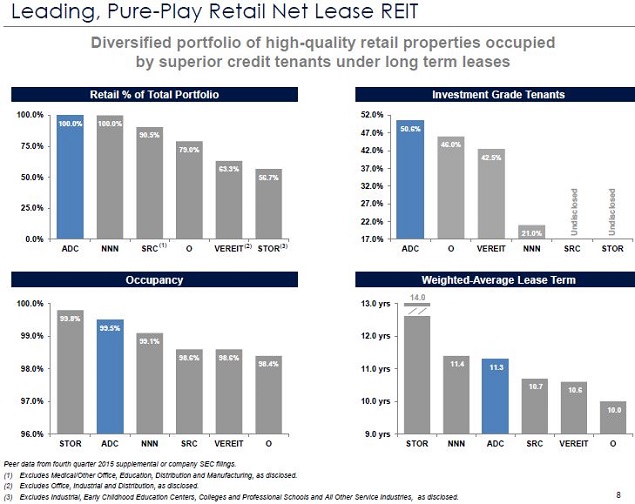 Agree also leases to many private companies with investment grade-like metrics, such as Meijer, H-E-B and Chick-fil-A, but these are not included in the investment grade side of the ledger.
Interview Takeaways
Shareholder Alignment - In addition to the founding family never having sold a single share of stock, all ADC board members chose to take their 2016 fees in stock rather than cash. Management has skin in the game.
Ground Leases - ADC chose to break out the revenues derived from its ground leases, just under 8.5%, as a separate line item for investors. Typically, a ground lease will carry a 75 bps premium over turnkey leases.
These are high-quality cash flows, with 88% investment grade lessees, and the non-rated private lessees such as Wawa having investment grade metrics.
Staples Lease Renewal - During Q1, Staples exercised an option on a 24,153 square foot Davenport, IA, store. Agree was prepared to replace Staples with two different "junior box" discount retail concepts, which would have generated higher returns.
ADC only has two office supply tenants, including this location. In both instances, Agree would prefer to get the box back. This is another example of how developer DNA and retail relationships can make a difference.
Key Board Addition - In January 2015, Jerome Rossi joined the ADC board.
Rossi previously served as Group President of The TJX Companies, Inc. (NYSE: TJX) responsible for Global TJX Real Estate, Global Procurement, TJX Logistics and Transportation, New Business Development, Information Technology and Global Sourcing Services since 2005. He also served as Chief Operating Officer of HomeGoods from 2000 to 2005, Executive Vice President and Chief Operating Officer of The Marmaxx Group from 1995 to 2000, and President and Chief Executive Officer of Marshalls from 1990 to 1995.
Conservative G&A - I was surprised to learn that just one executive is being charged off to the nationwide development efforts. My sense is that additional overhead expenses would be rolled into project costs and capitalized by most other REITs.
Agree Realty's G&A has steadily declined during the past few years. This is a result of increased operating scale rather than financial engineering. G&A should hit single digits in the near term, and current staffing can support a much larger REIT.
Bottom Line
The steady rise in ADC shares reflects the hands-on management style and conservative balance sheet which underpins this growing net-lease REIT.
My sense is that over time the development arm will begin to accelerate. Notably, the Meridian Restaurant Burger King franchisee development pipeline is beginning to pick up some steam.
It seems that each quarter there are new retailers added to the tenant list. Recent "firsts" have included Starbucks and Chick-fil-A. These newer relationships will continue to grow over time and help to generate a development tailwind.
Meanwhile, the ground lease program can be viewed in some cases as an artifact from the development program. The Wawa convenience store scheduled to open this summer in Orlando, FL, would be an example where the tenant wanted to handle the site work (including underground fuel tanks) and construction of a new convenience store.
Investor Takeaway
Several analysts reiterated Buy or Outperform ratings and raised their ADC target prices after Tuesday's earnings call:
Wunderlich raised its price target to $44 from $40.50 per share.
Jefferies recently initiated Agree at $45, maintained its price target.
Baird raised its price target to $44 from $40 per share.
It is simply easier for Agree to move the growth needle in this low cap rate environment than its larger peers.
Back in January, I wrote my first Seeking Alpha article of the year, My Top REIT Ideas For 2016: Good Things Come In Small Packages. Agree Realty was my highest conviction pick.
I think for readers looking to establish a new position in Agree Realty, a pullback to $37-$38 per share would be a realistic target, especially in light of these revised 12-month price targets.
I relentlessly hunt for diamonds in the rough and rising stars, in addition to closely following data centers, covering REIT blue chips and breaking news. Please consider following me as a Seeking Alpha author if you would like to be notified when my future articles are published.
Disclosure: I/we have no positions in any stocks mentioned, but may initiate a long position in ADC, VER over the next 72 hours.
I wrote this article myself, and it expresses my own opinions. I am not receiving compensation for it (other than from Seeking Alpha). I have no business relationship with any company whose stock is mentioned in this article.