Water. The average American uses 176 gallons per day. Ever wonder where it all goes?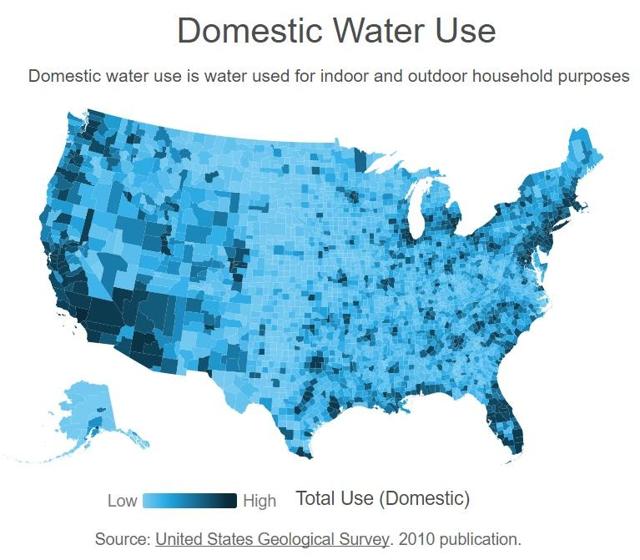 The Issue
Contrary to some beliefs, the Flint, MI water crisis was not a large-scale failure in America's utility infrastructure. The metallic water flowing through the city's pipes had toxicity levels above that of hazardous waste because it was being pulled from the sewage-laden waters of the Flint River. The city chose to forgo renewing a contract with Detroit's water authority to save $1M per year in the process. Flint's aging plumbing made from lead pipes was corroded by the high chloride levels from the Flint River water. This comes as a relief to those who believed Flint was going to be the first victim in a nationwide plumbing collapse...or does it?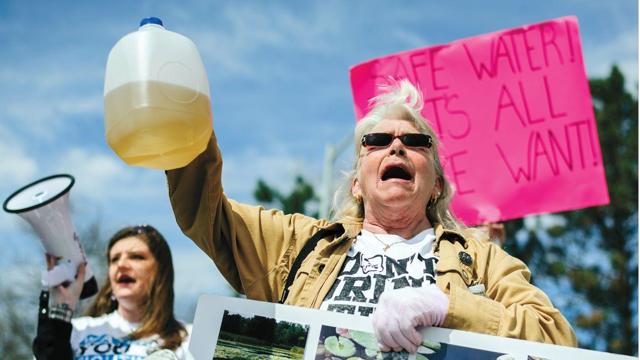 The American Water Works Association released a report in 2010 called "Buried No Longer: Confronting America's Water Infrastructure Challenge," in which they asserted that "more than one million miles of pipes beneath our streets [are] nearing the end of [their] useful [lives] and approaching the age at which [they need] to be replaced."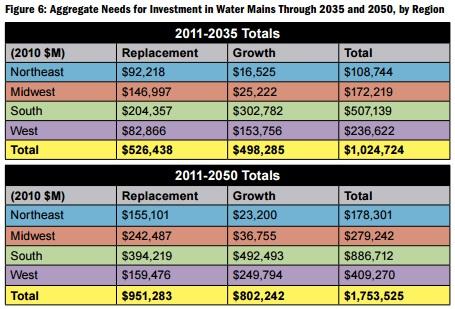 Key findings from the study were:
Investment needs for buried drinking water infrastructure total more than $1 trillion nationwide over the next 25 years. (The EPA estimates this cost will be "well over $650B.")
Household water bills will increase
Postponing investment will make the problem significantly worse
Because pipe assets last a long time, water systems that were built in the latter part of the 19th century and throughout much of the 20th century have, for the most part, never experienced the need for pipe replacement on a large scale. The dawn of the era in which these assets will need to be replaced puts a growing financial stress on communities that will continually increase for decades to come. It adds large and hitherto unknown expenses to the more apparent above-ground spending required to meet regulatory standards and address other pressing needs.
American Water Works (NYSE:AWK) President and CEO, Susan Story, said, "In this country, 44% of America's water infrastructure will be considered poor, very poor, or life elapsed. In 2013, The American Society of Civil Engineers (ASCE) released a report condemning our drinking water infrastructure as well.
The pipes that carry our drinking water do not last forever. They break down over time due to corrosive soil and shifting geography. The ASCE says that there are an estimated 240,000 water main breaks per year. However, Michel Gaugler, Managing Director at Janney Montgomery does not believe the doomsday predictions.
There will always be water main breaks throughout the infrastructure system in the U.S., and this will make life uncomfortable at times for many, but an overall breakdown of the system is highly unlikely
Story agrees to an extent.
The water infrastructure is much different from the electricity grid in this country as it really isn't all interconnected. And that could be a blessing and curse, it's a very regional issue in the water system, you don't have interconnections. Nonetheless, there are multiple challenges with 52,000 providers of water in the country, especially because there are so many varying degrees of sophistication, so multiple outages could certainly occur.
According to Danielle Gallet, the water supply program manager for The Center for Neighborhood Technology (CNT), "about 6 billion gallons of water per day may be wasted in the U.S." due to leaks from aging pipes alone.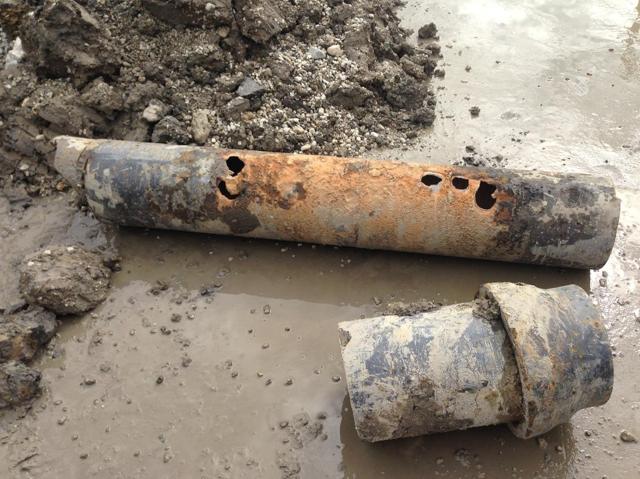 The infrastructure and the massive investment that our grandparents, great-grandparents, some of us our great-great-grandparents put in, is coming to the end of its useful life, and the bill has come due on our watch.
Injection Wells
Over the past 30 years, the practice of injecting toxic waste deep into the ground has gained popularity. Companies have been operating under the assumption that this is safer than simply pouring the chemicals into the soil or bodies of water. A study by the EPA has shown that this may not be the case. Below is a graphic from Propublica.org that shows the different classes of injection wells in the United States.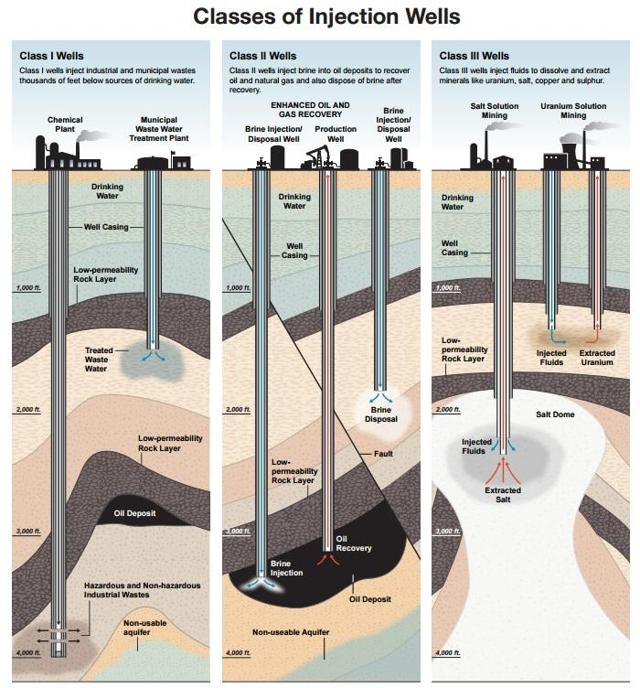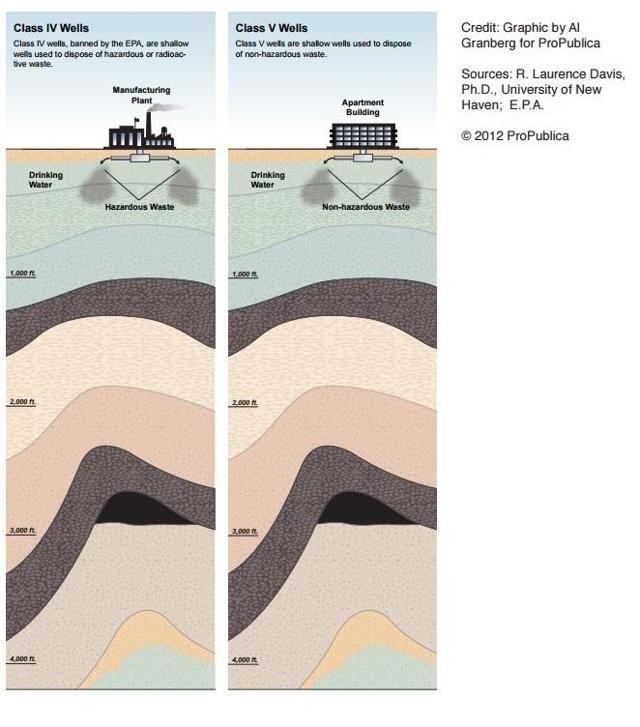 Mario Salazar worked for 25 years as an engineer with the EPA's underground injection program in Washington. He has a more grim outlook on the situation.
In 10 to 100 years we are going to find out that most of our groundwater is polluted. A lot of people are going to get sick, and a lot of people may die.
The reason why injection wells are so popular is that the alternatives are far more costly. Incineration and recycling also bring tangible environmental risks to the forefront immediately, while the effects of injection may not be seen for decades.
Exigency
Federal officials maintain that the injection sites are far enough away from groundwater reserves that they pose minimal risk to our water supply. However, these same officials and many geologists admit that they do not know how many of these sites are leaking. Also, as U.S. companies ramp up fracking efforts across the country, another element of uncertainty is introduced. The EPA has been hesitant to answer questions regarding the matter, but released a statement saying:
Underground injection has been and continues to be a viable technique for subsurface storage and disposal of fluids when properly done. The EPA recognizes that more can be done to enhance drinking water safeguards and, along with states and tribes, will work to improve the efficiency of the underground injection control program.
Cornell University engineering professor, Ed Cowley, has been a major critic of the practice since 2003.
Are we heading down a path we might regret in the future? Yes.
Recently, the EPA has addressed the issue by requesting $2.3B for the Clean Water and Drinking Water State Resolving Funds, with over $1B going towards replacing and repairing infrastructure. But by no means is this the first major investment in the country's water infrastructure.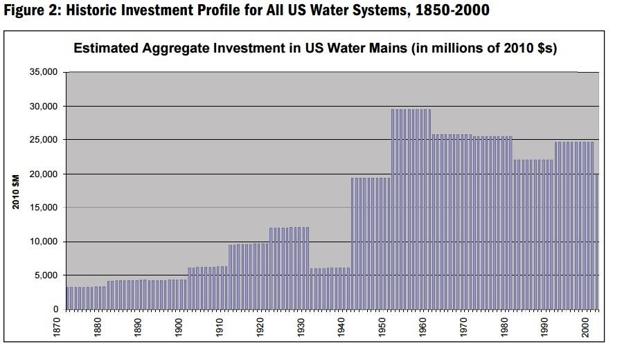 Where Is All This Money Going?
The Water Infrastructure Finance and Innovation Act (WIFIA) spearheaded by the EPA in 2014 "authorizes financing for water-related infrastructure of national or regional significance and authorizes the EPA to provide federal credit assistance to eligible entities. In FY 2016, the agency budget includes $5M to begin developing the information necessary to lay the groundwork for a WIFIA program."
Water requires more capital investment per dollar of revenue than any other utility, at 2.8x vs. electric, the next highest at 1.9x.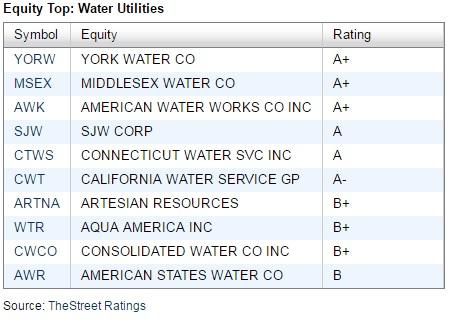 The company that I expect to benefit most from America's aging water infrastructure is American Water Works (AWK), with major competitors Aqua America (NYSE:WTR), and SJW Corp (NYSE:SJW) trailing behind.

American Water Works: The stock is trading at an all-time high, which may scare some people away. Trading at 27x earnings, it goes for a multiple just below the industry average of 28.4. The company has achieved 10.4% CAGR over the last 5 years. AWK has a significantly higher market share than the other two companies, serving 47 states as opposed to Aqua America, which services 7. This is an important competitive advantage in an industry that has insurmountable barriers to entry: 84% of water systems and 98% of wastewater systems are owned by public authorities. The company has 12 military bases under contract and expects to expand to over 50 within the next decade.
American Water Works is the largest publicly traded water service provider in the United States; it is the only large-cap water utility. And size breeds size. AWK has been consistently growing through acquisitions over the last decade. In July 2015, they acquired Keystone Clearwater Solutions to expand its water-related services to independent oil and gas producers. This was one of seven acquisitions in 2015 bolstering its portfolio.

On Friday, American Water Works increased their quarterly dividend 10% from 35 cents to 37.5, making AWK an appealing investment option for income investors as well.
Conclusion
America's aging water infrastructure will become a critical issue in the coming years. The increased risks imposed by fracking and injection wells only add to the exigency. The company that seems to be in the best position to capitalize is American Water Works because of their massive market share. Barriers to entry will prevent outside competition for the company, and their growing portfolio of utility providers is making it more difficult for its competitors to take back that market share. While AWK is trading at an all-time high, I believe that the trend of growth will continue well into the future.
There are over 320 million Americans that consume an average of over 64 billion gallons of water per year, and we can't live without it.
Disclosure: I/we have no positions in any stocks mentioned, and no plans to initiate any positions within the next 72 hours.
I wrote this article myself, and it expresses my own opinions. I am not receiving compensation for it (other than from Seeking Alpha). I have no business relationship with any company whose stock is mentioned in this article.