Wednesday evening, the BOJ surprised the markets with the following decisions:
Money Market Operations: By a vote of 8-1, it is committed to increasing its operations to a level whereby its monetary base increases at an annual pace @ 80 ($732) trillion yen.
Asset Purchases: By a voting margin of 8-1, it agreed to increase asset purchases of JGBs (Japanese Government Bonds) so that the amount outstanding increases at an annual pace of 80 trillion yen. It will also purchase ETFs (exchange traded funds) and J-REITs (Japanese real estate investment trusts) so that amounts outstanding increase at pace of 3.3 trillion yen* and 90 billion yen, respectively. Regarding CP (commercial paper) and Corporate Bonds, it will maintain amounts outstanding @ 2.2 trillion yen and 3.2 trillion yen, respectively. (*of the 3.3 trillion yen, 300 billion will be allocated to a program of buying "ETFs composed of common stocks issued by firms that are proactively investing in physical and human capital, as decided by the MPM (monetary policy meeting) held in December 2015."
Interest Rate Policy: By a vote of 7-2, it agreed to continue the negative interest rate policy @ -0.10% to the Policy-Rate Balances in current accounts held by financial institutions at the Bank.
In addition to the above, it unanimously agreed to support financial institutions impacted by the disaster of the Kumamoto earthquake in an effort to provide funds for restoration and rebuilding. The amount of loans will total 300 billion yen @ zero percent interest rates and double the amount of outstanding borrowing by financial institutions' borrowing via this operation will be added to their Macro Add-on Balances.
If time and money are akin to bullets for a central bank, then the BOJ is running out of ammunition folks. The decision to go to negative interest rates in late January has had very little positive effect upon Japan's stock market or economy. At some point, the market fundamentals will supersede the technicals and market sentiment, which is boosting the price of the Yen. Here are several observations that argue in the face of a stronger Yen.
1) Soaring debt-to-GDP ratios, especially when there is contracting GDP, cannot be sustained. The decision to go negative on January 29th has had minimal impact on boosting stock prices, lowering the relative value of the yen, or reviving its economy.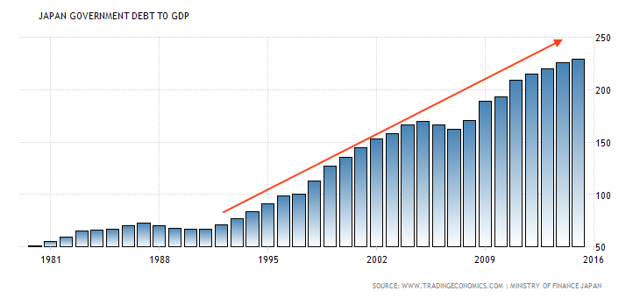 (click to enlarge)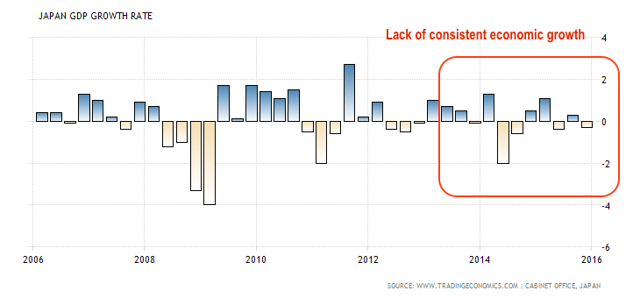 (click to enlarge)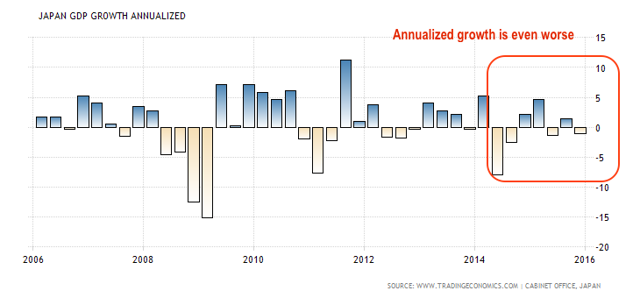 (click to enlarge)
2) Furthermore, the BOJ's 2% inflation target is nothing more than a fantasy. Considering all the stimulus it has injected into its economy thus far, and the end result of inflation, it's going to take a lot more of what it doesn't have, i.e. time and money to make things work.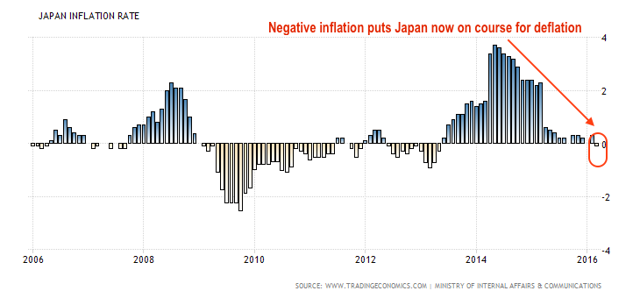 (click to enlarge)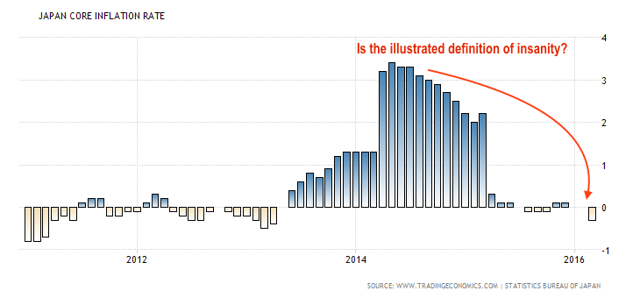 (click to enlarge)
3) As I write this report, the Nikkei 225 June-2016 Futures are down more than -6.6%. Obviously, the monetary policy decision is not having the intended effect. It will be interesting to see how Governor Kuroda responds to this, in addition to the global markets.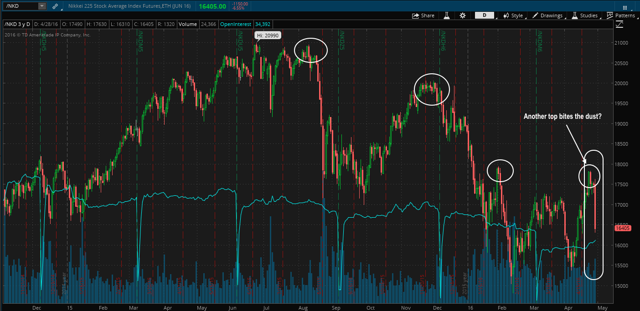 (click to enlarge)
4) Meanwhile, Japanese Yen futures are trading up +2.95%. Given that Japan is an export based economy, this will only exacerbate problems. The rising currency will eventually harm its export based economy from which it derives 17% of its GDP. It's top four export partners are: USA (20%), China (18%), South Korea (7%) and Taiwan (6%). Currently the most recent annualized GDP growth rates for Japan's trading partners are as follows: U.S.A. (1.4% / contracting); China (6.7% / contracting); South Korea (2.7% / contracting); and Taiwan (-0.52% / contracting).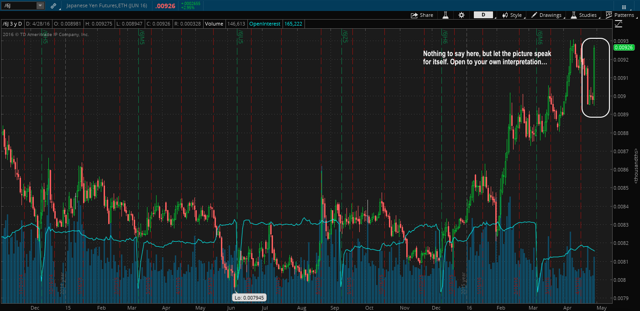 (click to enlarge)

(click to enlarge)
5) Lastly, the Yen trade is very crowded. The most recent COT report reveals an overweight from long speculators in this trade. Furthermore, a graph from the Wall Street Journal corroborates that a lot asset managers and hedge funds are buying futures contracts and options to bet on the Yen's rise as it sees a helpless BOJ. The market technicals for the Yen are confirming this. However, the above fundamentals argue otherwise. Right now the bet is that further stimulus by the BOJ will have no effect upon the ascending Yen. This time the BOJ did nothing and the currency rose accordingly. What happens when it attempts to make another move in desperation to improve morale? I think this trade is an asset bubble vulnerable to bursting and, therefore, I remain bearish on the Japanese Yen (FXE).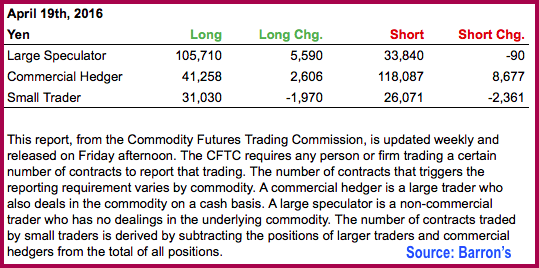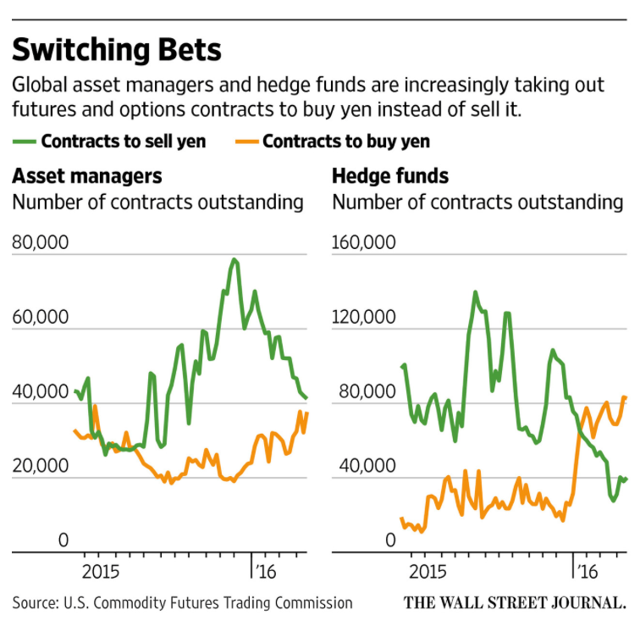 (click to enlarge)
The Japanese Emperor has no clothes. No further comment.
Disclosure: I/we have no positions in any stocks mentioned, and no plans to initiate any positions within the next 72 hours.
I wrote this article myself, and it expresses my own opinions. I am not receiving compensation for it (other than from Seeking Alpha). I have no business relationship with any company whose stock is mentioned in this article.