Business overview of Williams-Sonoma Inc. (NYSE:WSM)
Williams-Sonoma Inc. is a multi-channel specialty retailer that offers variety of products for homes. Cookware, tools, electrics, furniture, bedding, bathroom accessories, rugs, curtains, lightening, hardware are just some of the product that can be found at WSM stores. It is part of the home improvement industry, a $300+ billion industry, of which more than
$220 billion is contributed to consumer market and the remainder to the professional market. According to the Home Improvement Research Institute, the home improvement product sale is expected to grow at 4.8-4.9% in 2016-2017 and 4.1% in 2018-2019. I believe that WSM is very well positioned to profit from this positive industry trend.
Williams-Sonoma is one of the largest e-commerce retailers in the US, offering some of the best-known brands in home furnishing. Company currently operates in 618 stores in the USA, Australia, Canada, Puerto Rico, and the United Kingdom, and has franchises that operate in the Middle East, Philippines and in the Mexico. As of January 31st 2016, Williams-Sonoma employed roughly 28,000 employees. Its portfolio of brands includes: Williams-
Sonoma, Pottery Barn, Pottery Barn Kids, West Elm, PB-teen, Rejuvenation and Mark and Graham.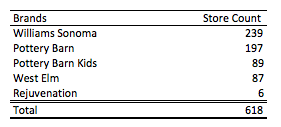 Source: 2015 Annual Report
Net revenues of each brand under Williams-Sonoma portfolio
The following chart summarizes net revenues for each brand under Williams-Sonoma portfolio for FY 2015.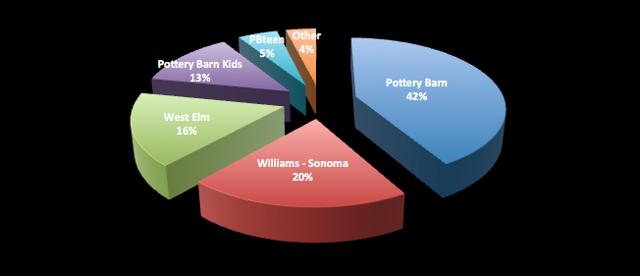 Source: 2015 Annual Report
Furniture, bedding, bathroom and outdoor accessories, rugs and curtains are top-grossing products as they accounted for 42% of total revenue in fiscal 2015, which ended in January 31st 2016. Cookware, tools, electricity and other products from Williams-Sonoma brand accounted for 20% of total revenues. Williams-Sonoma total revenue increased 6% in 2015. This growth was primarily driven by West Elm brand, whose sales increased 23% year-over-year. West Elm brand currently accounts for 16% of WSM total revenue.
Comparable brand revenue growth rate
Comparable brand revenue growth in 2015 dropped to 3.7%. When compared to 2014 and 2013, the decline is substantial. The biggest drop was seen in PBteen brand. Its comparable brand revenue decreased by 2.7%. Largest WSM brand Pottery Barn, reported comparable brand revenue growth of only 1.9%. Similar growth was seen in Pottery Barn Kinds brand, 2.2%. Williams-Sonoma comparable brand revenue increased only 1.1% compared to 3.8% in fiscal 2014. Top performer was West Elm brand, which recorded a growth of 14.8% on top of 18.2% from previous year and 17.4% year before. It is clear that the company management should further invest in this high growth brand which had an outstanding year.

Source: 2015 Annual Report
Six years selected financial data
Company net revenue increased 6% in 2015 compared to 2014. This increase was driven by a 6.4% growth in e-commerce revenue, and 5.4% increase in retail revenue. Currently e-commerce accounts for 51% of total WSM revenue. WSM returns significant capital to its shareholders with ROA of 13.06% and ROE of 25.59%. Furthermore, in fiscal 2015 total cash dividend was $1.40 compared to $1.32 in 2014 and $1.24 in 2013. Moreover, Board of Directors authorized another increase of quarterly dividends from $0.35 to $0.37. In addition to this, they also approved another stock repurchase program of $500,000,000 which will be executed in the next 3 years. Company ended 2015 with no debt, which positioned them well for the long term growth. However, as a retail company, WSM has a very long cash conversion cycle. The speed at which they convert cash from inventory and collect money from receivables, less time they take to settle accounts payable is almost 65 days, 3 weeks higher than that one of Home Depot, Inc. (NYSE:HD) or Low's Companies, Inc. (NYSE:LOW).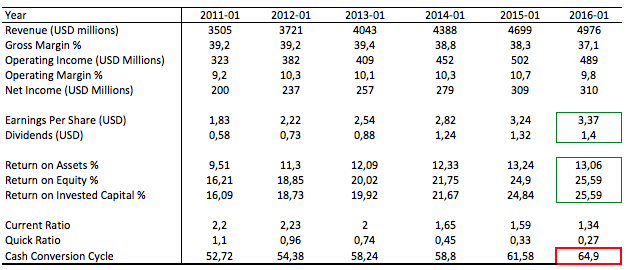 Source: GuruFocus
Stock performance
The stock is currently trading at around $61 per share. It has a P/E ratio of 18.19 which is below its counterparts average. The price is way under 52 week high, which stands at $89.38. Currently, WSM stock has a very good momentum and it is recommended as a strong buy from Barchart.com. In the past, the stock was performing very well, until the mid August of 2015, when WSM started underperforming their peers. Poor Q4 FY15 report contributed even more to the downward trend and sell-off which accompanied the stock.
In the table below, I compared cumulative stakeholder return from the S&P Retailer Index and WSM common stock. Return assumed a $100 initial investment, and reinvestment of dividends. As it can be seen from the graph, WSM performance was in line with Retailer Index until the mid 2015, when the sell-off began.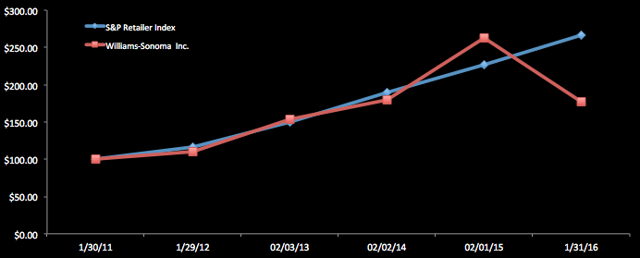 Source: Yahoo Finance, Reuters
1st Quarter 2016 Guidance
Company is scheduled to report Q1 2016 earnings on May 27th. Looking into the earnings reaction history, the stock had moved down 14 times out of last 25 quarters after the earnings report. It exceeded EPS estimates 9 out of last 12 times. It met expectations twice and it missed earnings per share estimates on one occasion. Its guidance for Q1 2016 is shown in the table below.

Source: Williams-Sonoma Investor Relations
Many people reduced their outlook for the stock. Current one year price estimate is at $62.38. However, I believe that the stock is very well positioned to profit from the positive trend in the housing sector and home improvement industry. WSM showed commitment to its shareholders through new repurchase program and constant increase in dividends. They finished the year with almost no debt and around $193 million in cash and cash equivalents. If they continue to improve its e-commerce business, invest in West Elm brand and improve inventory management, they will be attractive pick for a long term investor. Nevertheless, the next earnings call will give a better picture of where the stock is heading, and therefore I would recommend to wait and see what the next earnings report will bring.
Disclosure: I/we have no positions in any stocks mentioned, and no plans to initiate any positions within the next 72 hours.
I wrote this article myself, and it expresses my own opinions. I am not receiving compensation for it (other than from Seeking Alpha). I have no business relationship with any company whose stock is mentioned in this article.