Wyndham Worldwide (NYSE:WYN), the world's largest hotel operator, gave its first-quarter operating results Tuesday and shares are really selling off. Shares closed about 7.5% lower.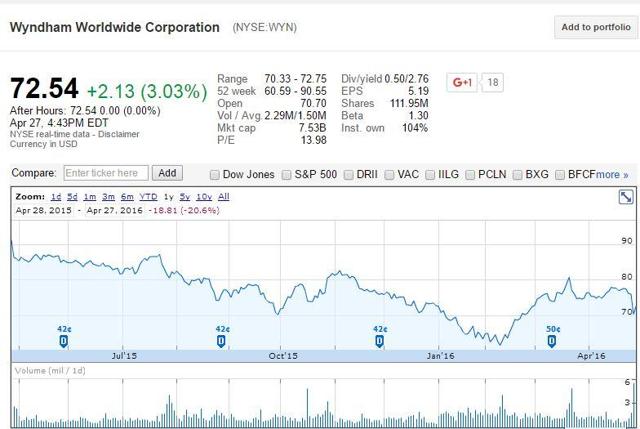 Courtesy of Google Finance.
I recommended Wyndham Worldwide back on March 23rd, despite shares having run up considerably. My rationale was that Wyndham already had a decent dividend yield and was going to grow that dividend quite a bit over the coming years.
Shares were down quite a bit today at what the market believed to be some disappointing results. This article takes a look at those results and whether Wyndham is still worth buying. This article is also something of a follow-up to my previous call to buy Wyndham.
Lukewarm results
Results were mixed and the bottom line (earnings per share and EBITDA) did better than the top line (revenue). Revenue was up only 3%, but constant-currency EBITDA increased 6%. Operational earnings were up just 0.8% year-on-year, but earnings per share, helped by repurchases, increased from $1.03 to $1.12 over the same period. Over the last twelve months Wyndham repurchased $672 million worth of shares, which explains the discrepancy between the performance of operational earnings and EPS.
Wyndham is made up of three businesses: Hotels, vacation rentals and 'destination networks,' otherwise known as time shares. The weakness in hotels is likely the reason for the weakness in share price.
Hotel revenue was up 5% in constant currency, but revenue per available room or RevPAR declined 1.6%. Much of this can be explained by the addition of low-margin units throughout China. But even domestic RevPAR was flat, and this was strongly related to a collapse in RevPAR in oil-producing regions in the US and Canada. RevPAR in these regions plummeted 26%. Thankfully, the remainder of the economy was strong enough to offset that drop and keep RevPAR flat overall.
Results in the other two businesses were a little better. Revenue in vacation rentals rose 5% in constant currency and EBITDA increased 3%. Time share revenues were up 4% and revenue per guest was up 3.8% in constant currency. Even better, tour flow was up 5.6%. Wyndham has been offering looser credit terms for its time shares, and it appears to be bringing increased interest.
Barring new acquisitions, it appears Wyndham's growth rate will moderate to the low single-digits, sans share repurchases. A recovery or stabilization in North America's oilfields might help move the needle a little, but who knows if that will happen anytime soon. Furthermore, with commercial real estate prices where they are, I don't expect Wyndham to make many acquisitions this year, if any.
If that seems like a bummer, then consider this; Wyndham will use its excess cash flow to either increase dividends or buy back shares. After all, dividends were only 26% of free cash flow last year, and if earnings per share will grow double-digits thanks to buybacks, then I expect dividends to grow by at least that much. Earlier this year Wyndham raised its dividend 19%. I expect to have more of this type of dividend increases going forward.
Valuation and Conclusion
After the 7.5% drop in share price, Wyndham is now trading at a discount. According to data from FAST Graphs, Wyndham has averaged a price-to-earnings of 15.1 times earnings, but Wyndham now trades at 13.3 times. That's a discount of 12%. I expect Wyndham to build on its 2.7%-yielding dividend by increasing the dividend at a double-digit rate. Given that Wyndham now trades at a nice discount, I believe that dividend-minded investors should pick up shares here.
Disclosure: I am/we are long WYN.
I wrote this article myself, and it expresses my own opinions. I am not receiving compensation for it (other than from Seeking Alpha). I have no business relationship with any company whose stock is mentioned in this article.