Bitauto's (NYSE:BITA) share price was adversely affected by the equity bear market in China. The stock is at levels not seen for a long time, and I think that the valuation and upside potential are really attractive at current levels. The company has made significant investments in 2015 and some of them are already bearing fruit - the transaction business has generated $100 million in revenues last year. The Yixin Capital joint venture (financial services) and more growth opportunities in the transaction business should lead to revenue upside this year while the used car business is more of a long-term growth driver. The go-private risk for Bitauto is significantly lower given its shareholder structure, and I think that the company is well positioned to deliver strong gains to its shareholders over the next few years.
Growth to remain strong in 2016 despite the slowdown in auto sales in China
Auto sales growth in China has decelerated in the last two years. The growth was 14% in 2013, 6.7% in 2014 and 4.7% in 2015. However, growth was healthy in Q1 2016 - auto sales rose 6% from a year earlier, according to the Wall Street Journal. Last year's 10% purchase tax cut has improved the growth figures over the last few months, but the impact could be negative when the tax cut expires in 2017.
However, price cuts and increased competition have taken a toll on car makers' revenues and margins last year. These developments may lead to decreased marketing spending and may negatively affect Bitauto's business. In fact, it already has to some extent - the company's advertising and digital marketing segments have seen a sharp growth deceleration going into the second half of 2015. However, this was expected and emphasized by Bitauto's management over the last few quarters, and the company did have some one-time revenue gains in Q4 2014 which distorted the Y/Y figures in Q4 2015. I also doubt that online ad spending will decline significantly going forward - this is more likely to happen to the offline segment. The continued shift to online, O2O and particularly mobile advertising should result in robust growth for Bitauto over the next few years.
Q4 2015 and Q1 2016 guidance point to another solid year for revenue growth; margins should recover this year as well
Q4 marked the fourth straight quarter of revenue growth deceleration for Bitauto, but as I mentioned earlier, the Y/Y comparisons for Q4 2015 were negatively affected by one-time items in Q4 2015, but revenue growth would have still decelerated even if we exclude these one-time items. On the other hand, the Q4 report was marked by a 520 basis point recovery for the gross margin compared to Q3 2015, and the Q1 2016 non-GAAP net income guidance implies a solid Y/Y recovery as well. It is also worth mentioning that the company has a history of providing very conservative net income guidance, and revenue guidance to some extent.

Source: Bitauto earnings reports, numbers in RMBs
*The company's guidance for Q1 and Q2 2014 was for EPS and from Q3 2014, the company switched to non-GAAP net income.
**The Q1 2015 net income guidance was a range of negative RMB5 million and RMB5 million (mid-point was 0) and the company delivered RMB18 million.
Margins in 2015 were significantly lower due to substantially increased investments and discounts. And some of these investments are already having a positive effect on the top-line growth. The company reported 238,000 transactions in 2015 and has generated more than RMB600 million in revenues (roughly $100 million). The company expects to generate between 300,000 and 400,000 transactions in 2016 and to generate RMB1 billion in revenues. Bitauto has also incorporated big data from Tencent (OTCPK:TCEHY) and JD.com (NASDAQ:JD) during 2015, which should further improve growth and customer targeting going forward.
This year's focus will be on improving the buying experience for customers, improving the efficiency of transaction services and increasing mobile monetization capabilities for advertising and transaction segments, and more importantly - maintaining growth while improving margins. The non-GAAP net margin in 2015 was 9.2%, down from 20.8% in 2014 and the current analyst consensus for 2016 is at 11%. Given the Q1 net income guidance and the company's beat-and-raise guidance history, I think that we may see the net margin in the 12% to 13% range, if not higher this year, which should lead to upward EPS estimate revisions this year.
And as far as top-line growth is concerned, there are several short- and long-term growth drivers:
Continued growth for the advertising and digital marketing segment, albeit at a slower pace than in previous years. The growth concerns here are overblown if you ask me.
Substantial growth for the transaction business. Big data from Tencent and JD.com should improve the segment's growth going forward, and the company also expects to create more transaction scenarios and more cross-selling opportunities - aftermarket growth should be the next major area of growth, which should increase the revenue per customer. Management did guide for an increase from RMB2,700 in 2015 to a range of 3,000 to 3,500 in 2016.
The Yixin Capital joint venture with JD.com and Tencent should drive growth through financial services - loans and leasing are huge upsell opportunities for transaction services.
Used car segment. Management doesn't expect much in terms of strong growth here, but the company remains positioned to capture the growth here if and when it starts to become more relevant on the financial side. 9.4 million used cars were sold in 2015 and the used car transaction volume is expected to grow to 20 million by 2020.
I am fairly confident that the company's revenue CAGR over the next five years will be in the 20% to 30% range. Longer term, the company should also drive the net margin towards the 20% to 25% range.
Valuation and upside potential
Given the erratic net margin history over the last few quarters, I don't think that the P/E ratio is a very useful tool to get a real picture of the company's valuation history and upside potential. I will use the P/S ratio instead, which is a better proxy for value at this point. If we exclude the huge expansion in 2014 and 2015, we can see that the P/S ratio has mostly been in the 2 to 6 range. The bear market in China has driven the valuation back down to 2013 levels.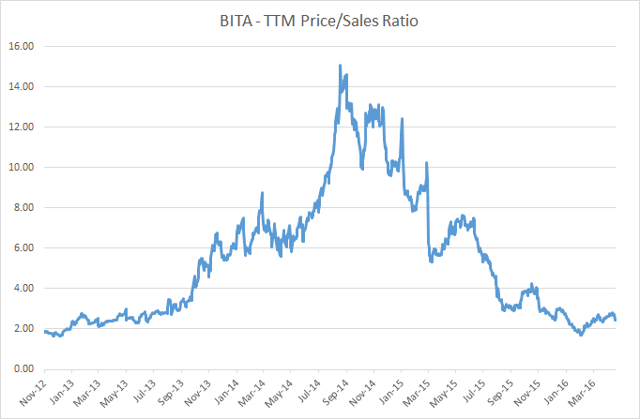 Source: Yahoo! Finance, Bitauto earnings reports
Before arriving at a proper price target range, two things are important to consider:
The company's peak net margin range should be between 20% and 25% (3-5 years to peak). This is a conservative estimate - Autohome's (NYSE:ATHM) net margin was in the 30% to 40% range last year.
The company's five-year revenue CAGR should be in the 20% to 30% range.
Given these two considerations, I think that a P/S ratio between 3 and 4 is a conservative way to value the company and that the bullish case is a P/S ratio of 5. This range implies a P/E ratio of 12 (25% net margin and a P/S ratio of 3) to 25 (20% net margin and a P/S ratio of 5), which I believe is a conservative way to value a company that is expected to grow its top line in the 20% to 30% range and expand the net margin by 1,000 to 1,500 basis points over the next few years. Based on the low end of the TTM P/S ratio range, Bitauto seems fairly valued with 18% upside from here. In the table below, you can see the calculations and upside potential based on different P/S ratio levels and based on 2016 and 2017 sales expectations.

Source: Yahoo! Finance, Author's calculations
I believe that the risk/reward is significantly skewed to the long side and that the company will deliver substantial gains to its shareholders over the next few years. My conservative price target on Bitauto is $39 (57% upside) while the bullish scenario calls for gains north of 100% over the next two to three years.
Risks
The two main risks for my thesis on Bitauto are the increasing competition and the go-private risk. The compressed margins over the last few quarters were a consequence of increased investments and discounts, which are needed to stay ahead of the competition and to open up new growth avenues, and these efforts may not prove to be successful in the long run. So far, the company has managed to deliver the growth and to remain relevant, and I am fairly confident that it will stay ahead in the future with the help of JD.com and Tencent.
A low go-private offer is also a risk, but less likely in Bitauto's case. Autohome and other companies have taken advantage of the dual shareholder structure which allowed them to keep the majority of the voting power to themselves (in Autohome's case, class A share equals 1 vote and class B share equals 10 votes in most of these cases). This is not the case with Bitauto - there is no dual share class structure, and management owns just 17% of the company. The free float is 26 million shares out of 63 million, and the largest shareholder is JD.com with a 26% stake. All of this makes a go-private offer less likely, but is something investors should consider when it comes to Chinese ADRs.
The third risk is a serious economic slowdown in China, which would negatively affect the auto market in China and Bitauto's business.
Conclusion
Bitauto remains well positioned to deliver strong long-term gains. The company is transforming itself and successfully expanding to other areas of China's auto market (transactions, financial services, O2O), which should lead to strong growth over the next few years. The used car market is a free call option at this point since the company has the infrastructure to take advantage of the potential growth over the next few years. JD.com and Tencent are strong partners and should also help with the long-term growth and market positioning. The valuation is very attractive and the 12-month upside is at least 57% and could be north of 100%.
Disclosure: I am/we are long BITA.
I wrote this article myself, and it expresses my own opinions. I am not receiving compensation for it (other than from Seeking Alpha). I have no business relationship with any company whose stock is mentioned in this article.
Additional disclosure: This article reflects the author's personal opinion and should not be regarded as a buy or sell recommendation or investment advice in any way.