It has been nearly 4 years since Best Buy (NYSE:BBY) launched its 'Renew Blue' program to improve comp store sales and achieve major cost savings and in all honesty, noticeable progress has been made. Still, BBY is far from being in a comfortable position in an increasingly competitive consumer electronics retail space.
BBY did not have a stellar fiscal 2016 despite good performance in categories like wearables and home theater, and advancements made against the Renew Blue Phase 2 cost reduction program. Revenue declined for the third straight year even though the company managed to deliver an unprecedented 13% growth in domestic online sales. The international segment was hit hard by a strong dollar but even if we exclude the foreign currency impact, BBY's financial results were far from convincing.
Interestingly, although BBY's revenue has been declining, revenue per retail square foot has been on the rise. Unfortunately, the improvement in this metric following fiscal 2014 cannot be taken as a sign of growth because BBY has been actively closing stores instead of growing its top-line. Last year, BBY, as part of its brand consolidation strategy, closed around 66 stores in Canada, in addition to closing 13 big box U.S. stores. Little wonder then in recent years, the percentage decrease in revenue has been superseded by the percentage decline in retail square footage.
Going forward, BBY has opportunities to deliver 'authentic' increases in revenue per retail sq. foot as it expands the number of Magnolia Design Center stores within a store and develops its e-commerce business. Nevertheless, as competition stiffens BBY will find it difficult to minimize the YOY reductions in revenue (let alone increase revenue).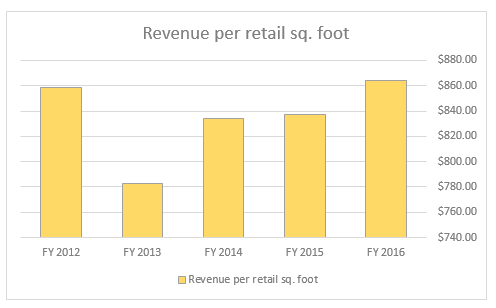 (Source: Company's latest 10-K filing, author's calculations)
BBY derives a significant proportion of its revenue from computing and mobile phones. The softness in this category has had negative repercussions for the company's top-line more than any other factor. As you can see below, mobile phone category comps for the U.S. segment have fallen sharply since fiscal 2013 and are now hovering around an ominously low figure of -2.6%. Much to the company's dismay, there isn't much that can be done about continued industry declines in tablets or weaker demand for mobile phones. But that itself just lends support to the bear case for BBY.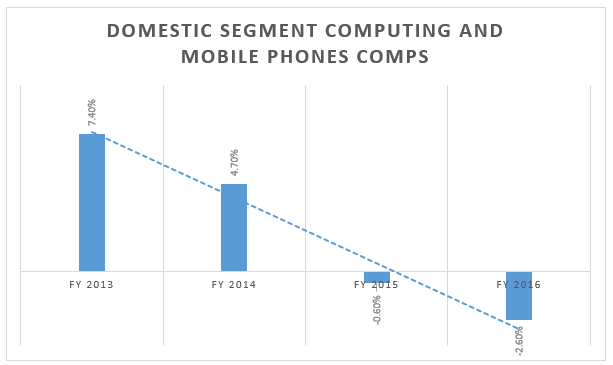 (Source: Company's 10-K filings)
A crucial part of BBY's strategic framework is the commitment to keep increasing the company's e-commerce market share. This is a smart strategy because BBY cannot just sit back and let online retailers, including the likes of established players like Amazon (NASDAQ:AMZN) and Sears Holdings (NASDAQ:SHLD), slash its customer base. I believe the importance of online sales to BBY's total U.S. revenue will continue rising, which in turn, will have a beneficial impact on the company's margins and overall revenue.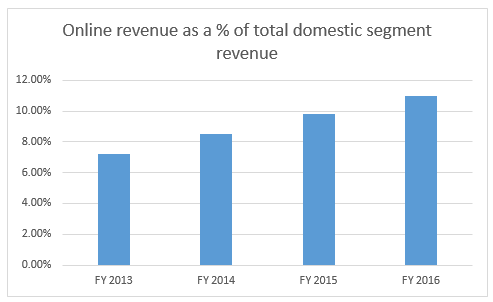 (Source: Company's 10-K filings)
Bears may point out that BBY is just wasting time with its e-commerce initiatives like BlueAssist and Touch ID login because the marginal impact of these programs is unlikely to be immense and BBY can only dream of competing against Amazon or eBay (NASDAQ:EBAY). As of August 2015, the average monthly number of visitors to Amazon sites was at least five times the average monthly number of visitors to Best Buy sites. This doesn't come as a surprise. But clearly the comparisons to Amazon are unfair. BBY wants to grow internet sales so that it can be in a better position to deal with losses in foot traffic and the goal is to stay reasonably competitive in the online market. Therefore, efforts to develop the online business are fully justified.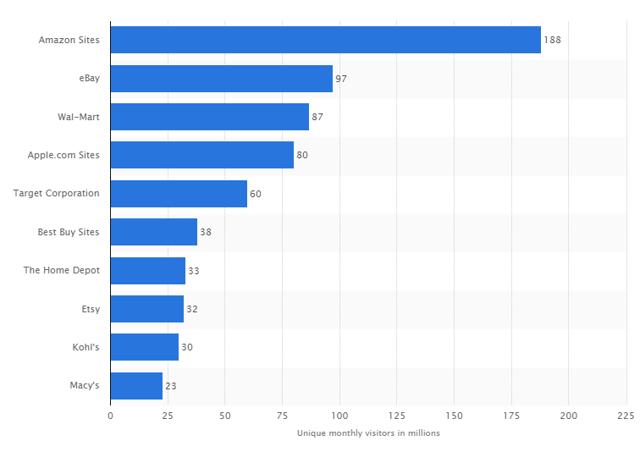 (Source: Statista)
The rapidly enlarging market for large screen TVs and 4Ks, in particular, represents another fantastic opportunity for BBY. According to the Consumer Electronics Association, the number of Ultra HDTV shipments will reach nearly 4 million by 2017. BBY can capitalize on these trends but nothing should be taken for granted because the electronics market is very competitive and is always attracting new players.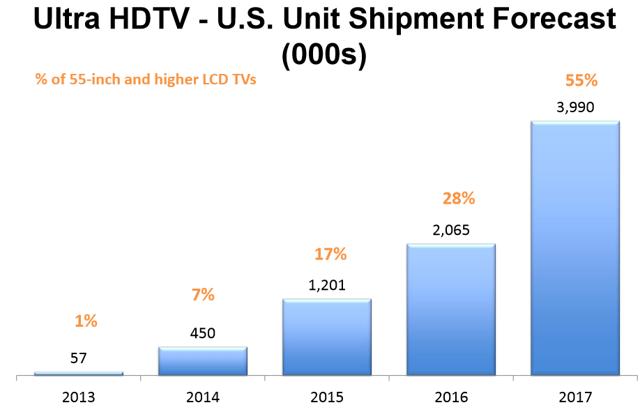 (Source: Consumer Electronics Association)
Conclusion
All in all, BBY is fighting hard for its position in a ruthless consumer electronics industry. The company has opportunities to achieve sustainable growth but nothing is guaranteed. BBY's shares are trading for 14.6X TTM earnings, nearly 28% above its 5-year average P/E. At its current price, despite the commendable capital returns on offer, I do not believe BBY represents a compelling investment opportunity. I'd wait for a pull back before initiating a position in this company.
Disclosure: I/we have no positions in any stocks mentioned, and no plans to initiate any positions within the next 72 hours.
I wrote this article myself, and it expresses my own opinions. I am not receiving compensation for it (other than from Seeking Alpha). I have no business relationship with any company whose stock is mentioned in this article.