Introduction
I'm always interested to add quality blue chips to my more defensive portfolio, but I do require these large companies to be attractively priced. I generally like to see an adjusted free cash flow yield of at least 5% but I would also like to see a robust balance sheet with the net debt being under control with relatively low leverage ratios. Does Mondelez (NASDAQ:MDLZ) fit my bill? Let's find out.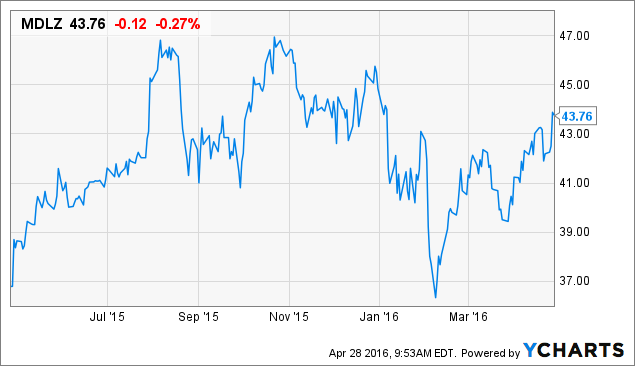 MDLZ data by YCharts
The margins did increase, and that's a great result
Mondelez sounds quite optimistic in its press release and even though the total revenue fell by almost 17%, I can understand why the company seems to be quite happy. The revenue drop was widely anticipated but what's important to notice is the fact that the gross profit fell by less than 14% which means the gross margin actually increased (from 37.9% to 39.3%). That's something investors really like to see and is probably the main reason why the share price was pushed higher.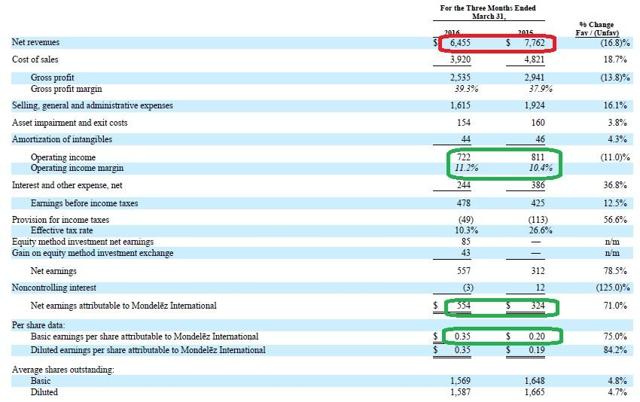 Source: SEC filings
And Mondelez didn't stop to outperform the expectations there as its other operating expenses decreased as well, resulting in an operating income of $722M and an operating margin of 11.2% (which is an 8% increase compared to the operating margin of 10.4% in the first quarter of the financial year 2015). And as the expected tax bill was so much lower than last year, the net income actually increased by 78.5% to $557M or $0.35 per share. So, yes, I can understand why the market was cheering when it saw the net profit results (and also keep in mind the EPS was boosted by a 4.8% reduction in Mondelez's share count).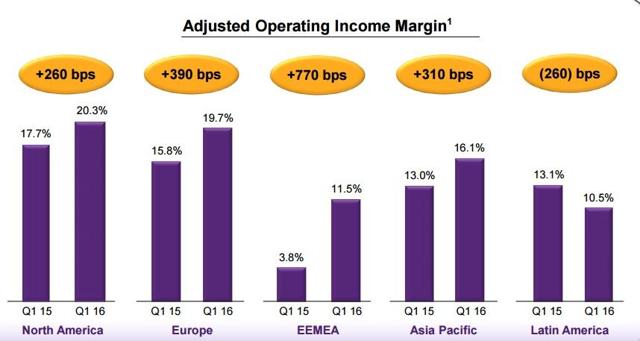 Source: company presentation
However, I have always told you in my previous articles, there's more to a company than just the income statements and I prefer to use the free cash flow to get a 'real' understanding of how a business is performing.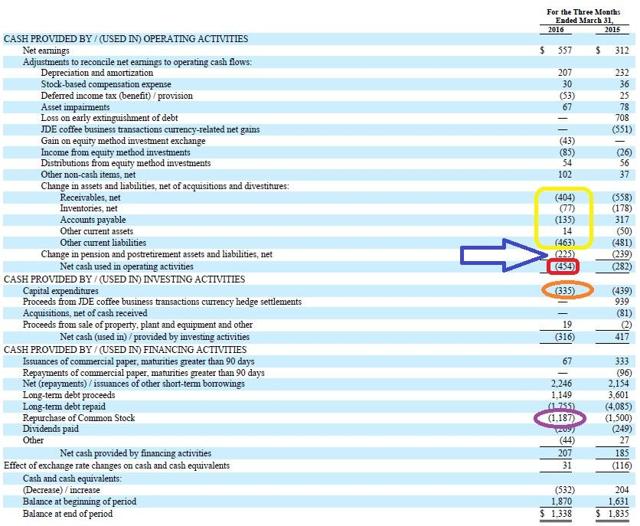 Source: SEC filings
Mondelez saw its operating cash flow being negative to the tune of $454M but that's perfectly normal as this was entirely caused by changes in its working capital position. If you'd calculate the adjusted operating cash flow, it would be a positive $611M, and after deducting the $335M in capital expenditures, the free cash flow was approximately $276M on an adjusted basis. This was sufficient to cover the dividend (which cost $269M), but as Mondelez also completed a $1.2B share repurchase program in the quarter, 99% of the repurchase program had to be funded through raising more cash by issuing more debt.
There's however one thing working in Mondelez's advantage. The company has recorded a $225M cash charge to fund its pension liabilities, and if Mondelez continues to pay this amount on a quarterly basis, the pension benefit and postretirement deficit will be solved by the end of next year. So if you would take this into consideration, the adjusted free cash flow was approximately $500M in Q1, and that's already much better!
The net debt is high, and does it really make sense to buy back stock at the current level?
Seeing a company borrowing to fund a share repurchase program is a huge turn-off for me, and the only reason why it would be 'forgivable' would be when a company's balance sheet doesn't contain too much debt yet.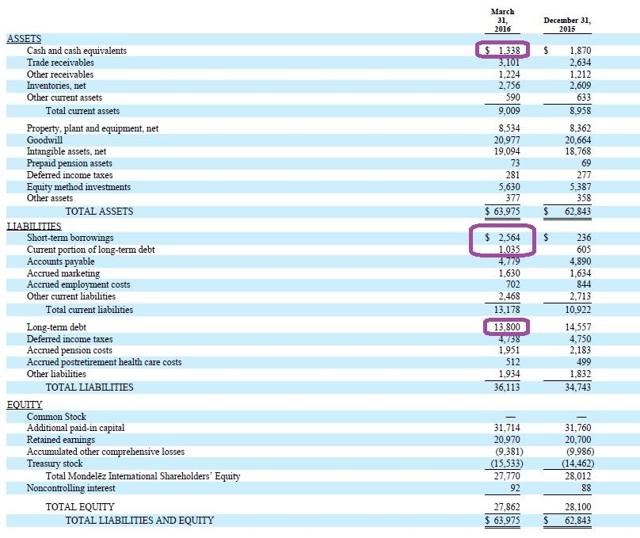 Source: SEC filings
Unfortunately, that doesn't seem to be the case for Mondelez as its net debt position as of at the end of the first quarter came in at a stunning $16.1B. Wow, just wow. A high net debt isn't too problematic by itself, but the fact the company's EBITDA will very likely remain below $5B indicated the net debt/EBITDA ratio is in excess of 3, and that's way too high for me.
On top of that, even if you'd exclude the pension and postretirement payments from the cash flow equation, Mondelez is generating a free cash flow of just $1.31 per share, indicating the free cash flow yield is just 3%. As the total cost of debt will be almost $1B per year, I'm not really sure the company is creating more value by purchasing shares rather than repaying its debt.
Investment thesis
Mondelez is a household name, but I fail to be impressed with the company's adjusted free cash flow yield of just 3%. Yes, $2B is quite a nice amount of free cash flow, but I'm unsure this warrants a market capitalization of almost $70B! The company has a strong management team and its brands are known all over the world, but not only does the company not meet my minimum free cash flow yield, I also think it's fundamentally wrong to borrow cash to buy back expensive stock if your net debt/EBITDA ratio is higher than 3.
I'm on the sidelines, but should Mondelez be hit hard during a market correction, I could be interested should the free cash flow yield increase to 5%, but only on the condition the company starts a debt reduction plan rather than increasing the leverage on its balance sheet…
Disclosure: I/we have no positions in any stocks mentioned, and no plans to initiate any positions within the next 72 hours.
I wrote this article myself, and it expresses my own opinions. I am not receiving compensation for it (other than from Seeking Alpha). I have no business relationship with any company whose stock is mentioned in this article.