There was no shortage of articles both leading up to and following Apple's (NASDAQ:AAPL) fiscal Q2 earnings report about the company's first-ever decline in iPhone unit sales. Those reports were a bit misleading due to the way AAPL recognizes revenue and reports its product sales (iPhones, iPads and Macs), which include:
Direct sales to customers via its brick-and-mortar and online retail stores - revenue recognized at point-of-sale or once proof-of-delivery is obtained (online orders); and,
Indirect sales to third-party retailers - revenue is recognized on a "sell-in" basis, meaning once it's with a 3rd party retailer, it does not matter when it is actually sold to an end customer.
All inventory sold to third parties is the "channel." AAPL provides commentary on changes to its iPhone channel inventory levels on its earnings calls with the approximate number of units that were added or reduced ("drawn-down") from the channel during the quarter.
Why Reported Sales Distort Product Performance:
I have always believed that in order to obtain a more clear view of product performance, you need to adjust for these channel inventory changes to see the sell-through (i.e., how many units ended up in the hands of end-customers). Reported unit sales could (and do) include unsold units sitting on third-party store shelves. When you adjust for channel inventory levels, you will see that underlying sell-through of iPhone units experienced its first ever decline, not in its most recently reported quarter, but actually in the 2015 holiday quarter (Q1-FY2016):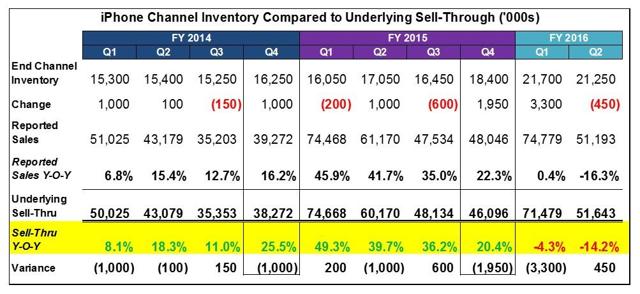 Source: AAPL SEC Filings & Earnings Call Transcripts
As seen in the chart above, AAPL built 3.3M units of iPhone channel inventory in Q1-FY2016, which allowed it to 'report' YoY iPhone unit sales growth of a meager 0.4%. However, when you adjust for that massive channel inventory build, you actually see that underlying sales declined by 4.3%.
Fiscal Q2 iPhone Unit Sales and Channel Implications:
AAPL's Q2-FY2016 reported iPhone sales of 51.2M units were actually a bit better than it looked as it "drew-down" channel inventory by 450,000 units. As stated on the call, there was a 1.45M unit swing when you look at Q2-FY2015 (+1.0M unit channel build) vs. Q2-FY2016 (-450K unit channel draw down). That swing of 1.45M units equates to roughly $950M of revenue (assuming a $650 average selling price).
Clearly, the iPhone 6S models have not performed nearly as well as expected and that is no more obvious than the amount of iPhone channel inventory that was built during FQ4-2015 (launch quarter) and FQ1-2016 (holiday quarter). In total, AAPL built iPhone channel inventory by 5.25M units - the highest combined consecutive-quarter channel inventory build in the history of the product.
AAPL's management made very clear that they recognize that the channel is "overbuilt" in its Q2 FY2016 earnings' commentary.
Cook touched on this in his opening remarks:
"Despite ending Q2 within our channel inventory targets, in light of the macroeconomic environment, we plan to lower our channel inventories in the June quarter. This will impact our reported revenue in Q3." (Emphasis Added.)
Maestri provided further detail:
"Embedded in this guidance is a planned channel inventory reduction worth over $2 billion, as we have elected to be prudent about our channel inventory position given the current macro environment." (Emphasis Added.)
What AAPL Did With Channel Inventory in Fiscal Q3 Last Year:
It is worth noting that AAPL's planned $2 billion channel inventory drawdown is for all products, not just iPhone. When asked how the $2 billion drawdown in FQ3-2016 compares to the year-ago period, Maestri indicated that last year's drawdown was $800 million (across all products). When you look back at its FQ3-2015 earnings commentary, here's what AAPL's management said about its channel inventory drawdown:
"We achieved these great results in the context of a very challenging foreign exchange environment around the world and a reduction in channel inventory of over 1 million units across our product lines..." (emphasis added)
iPhone: "We reduced iPhone channel inventory by about 600,000 units during the quarter."
iPad: "...we reduced channel inventory by about 300,000 units."
AAPL did not disclose its channel inventory change with its Mac product line, only that it came in at slightly below its 4-5 week target channel inventory level.
Looking Ahead - Expect Further Distortion:
Considering AAPL's product revenue mix, you would have to expect that the majority of the $2 billion channel drawdown is going to have to come from the iPhone. Here is what I'm expecting in terms of the iPhone channel drawdown based on product revenue mix, last year's reductions and the refreshes for the iPad and Mac product lines (both announced and anticipated at WWDC):

In order to get to the $2 billion total projected channel inventory drawdown, I believe that AAPL will need to reduce the iPhone channel by approximately 2.5M units - assuming a $640 ASP, which would represent $1.6 billion (80%) of the total.
Based on my first chart above showing historical channel inventory changes, this 2.5M unit channel reduction would be massive - over 4x bigger than the largest channel drawdown in the product's history, which was 600K units (which occurred in both Q3-FY2013 and Q3-FY2015).
Since channel inventory changes affect reported unit sales (to the negative in the case of a drawdown), take a deeper look at underlying sell-through when AAPL reports Q3-FY2016 in late-July - it won't be as bad as it looks.
Disclosure: I am/we are long AAPL.
I wrote this article myself, and it expresses my own opinions. I am not receiving compensation for it (other than from Seeking Alpha). I have no business relationship with any company whose stock is mentioned in this article.