Background
PRGX Global (NASDAQ:PRGX) provides recovery audit services to businesses and government agencies in the United States, Canada, Latin America, Europe, Asia, and the Pacific region through the mining of clients purchasing and procurement environments to identify overpayments to suppliers. The company earns the majority of its revenue on contingency from a percentage of recovery of these overpayments and attempts to earn additional revenue by offering data transformation and advisory services.
The company is organized into three segments based on region and service (Americas Recovery Audit, Europe/Asia-Pacific Recovery Audit, and Adjacent Services).
In addition, two segments of customers are serviced: retailers (discount, department, specialty, grocery, and drug stores) and commercial (manufacturers, financial services firms, and pharmaceutical companies).
At the time of this article, PRGX's current price was $4.78 - significantly above its 52-week low of $3.04 with a negative current PE, a forward PE of 34.14 and a market capitalization of $106.28 million.
This analysis is based on information from PRGX public SEC filings, press releases, earnings calls and investor presentations from the scope period 1Q'14 through 1Q'16.

Adjacent Services Returns Consistent Losses
As noted in the table below, the Adjacent Services business segment has consistently returned quarterly losses from 1Q'14 to 1Q'16.

In addition, PRGX management continues to invest in this segment with the $700,000 acquisition of the Supplier Information Management ("SIM") business from Global Edge in 4Q'15 being the most recent.
While management sees potential in Adjacent Services, detailed disclosures on revenue generated from the services offered are not provided to solicit investor and analyst enthusiasm. In addition, references to the service offerings are not consistent. For example, per the most recent 10-K "Adjacent Services represents data transformation, data analytics, and associated advisory services", but when discussing the service offerings on the conference call, management notes only SIM and spend analytics service offerings. Revenues for these services were also not provided to enable comparison to prior quarters.
Finally, management continues to provide excuses why Adjacent Services revenues are down. For 1Q'16, the reason supplied was due to revenue from spend analytics being down and the finalization of a contract not completed in time to recognize revenue in 1Q'16.
Asia-Pacific Business Segment Growth Offsets Revenue Decline in Europe
Management stated in their 1Q'16 conference call that the Asia-Pacific region has grown consistently in 16 out of 17 quarters. In addition, PRGX has a large share of the retail market segment in the Asia-Pacific region and is also making progress in the commercial market segment. Countering the growth in the Asia-Pacific region was a revenue decline in the Europe region. This revenue decline consisted of an increase in the commercial market segment offset by a decrease in the retail market segment due to slow conversion of claims backlog and changes in senior leadership.
These trends are not evident when reviewing the quarterly financials as the Asia-Pacific and European regions are combined into one business segment. In addition, no segregation of revenue is supplied to differentiate the retail and commercial markets.

European and Asia-Pacific operations should also be segregated to provide more informative disclosures to investors and analysts.
Aggressive Stock Repurchases Continue
PRGX has continued the trend of repurchasing stock throughout the period in scope. This is evidenced in the table below: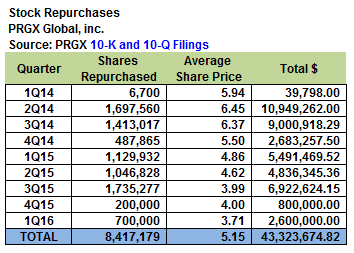 These purchases signify one or more of the following possibilities: Management believes that the stock is undervalued; no opportunities exist in the market for rewarding acquisitions; PRGX is downsizing to be purchased; PRGX is planning to go private.
But no matter the reason, the decrease in outstanding shares and no debt for a company that has stable revenues is an overlooked bargain. Eventually, shareholders will realize a return on their investment.
Conclusion
With the successful jettisoning of the unsuccessful Healthcare Claims segment, it is now more apparent the damage being rendered by Adjacent Services segment. This segment not only generates consistent losses, but also continues to be the focus of substantial capital investment.
In addition, Adjacent Services is a black box with little clarity provided on the specific sources of revenue and expenses for its differentiated service offerings.
This lack of clarity is carried over to the Europe/Asia-Pacific segment. The two regions that compose this segment appear to be performing significantly differently, but this differentiation is not apparent due to their dilution into one segment.
However, management is consistent in repurchasing substantial blocks of outstanding shares. This action may be an attempt to either shrink the company to a size that can be either purchased outright or merged by another entity or to eventually privatize.
As revenues were essentially flat in 1Q'16 and management continues to be hopeful in generating revenues for the Adjacent Services segment, the stock appears to be a current buy. Eventually, the impact of the aggressive stock repurchases will be either noted by the market or will trigger an event that will reward shareholders.
Disclosure: I/we have no positions in any stocks mentioned, and no plans to initiate any positions within the next 72 hours.
I wrote this article myself, and it expresses my own opinions. I am not receiving compensation for it (other than from Seeking Alpha). I have no business relationship with any company whose stock is mentioned in this article.