In a recent Barron's article, I ran across one that referenced Rip Van Winkle. The title was intriguing so I decided I would use it in my article today.
For those who don't know the story (admittedly I had to get a refresher on Wikipedia), it's a story about a fictional Dutch villager named Rip Van Winkle. He lived at the foot of New York's Catskill Mountains where he enjoyed wilderness activities.
One day, Van Winkle was wandering up the mountains when he ran across a man trying to carry a keg. Together the two proceeded until they heard loud noises. When they got closer they spotted ornately dressed bearded man playing ninepins. Van Winkle does not ask who they are, but instead proceeded to drink some of their moonshine.
When he awakes he discovers that his beard is a foot long and his musket is rotting and rusty. As he wanders back into the town he learns that the American Revolution had ended and that George Washington was in charge, not King George III.
Rip Van Winkle had been asleep for over twenty years and he had the luxury of sleeping through the hardships of the American Revolution.
So what does this story have to do with investing?
The Rip Van Winkle approach to investing is one in which an investor initially pays a reasonable price for a quality business. Then, they sleep through the inevitable stock price ups and downs (though they are quite alert as to the operating performance of the business). Finally, they wake up in 5-10 years to find that they have made a considerable sum of money.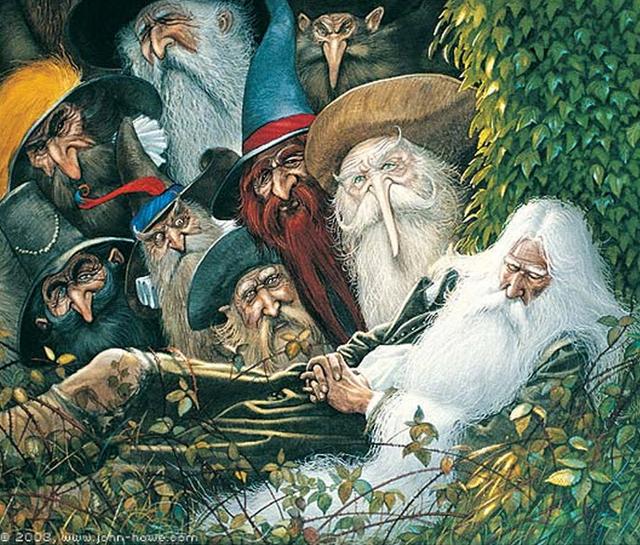 It's That Time Again
It has been around two weeks since my last article on Realty Income (NYSE:O) - time flies when you're having fun. Now I have a good reason to write on "O" again, the company just released Q1-16 earnings.
But to be honest, I am getting exhausted with the number of market timing articles on Realty Income. I know I'm adding fuel to the fire with this one, but I almost feel like I need to respond to the pundits that consider shorting or unloading shares in Realty Income newsworthy.
What's the big deal?
Heck, maybe my daughter should write on Realty Income every day and she could pay off her college tuition bill in a month.
One more ax to grind, someone needs to hire out a professional title writer, the articles (highlighted in yellow) have to be the worst titles ever. Of course, a few years back I used this title: The Wonderful Wizard Of O, so I should not be so critical of my fellow contributors.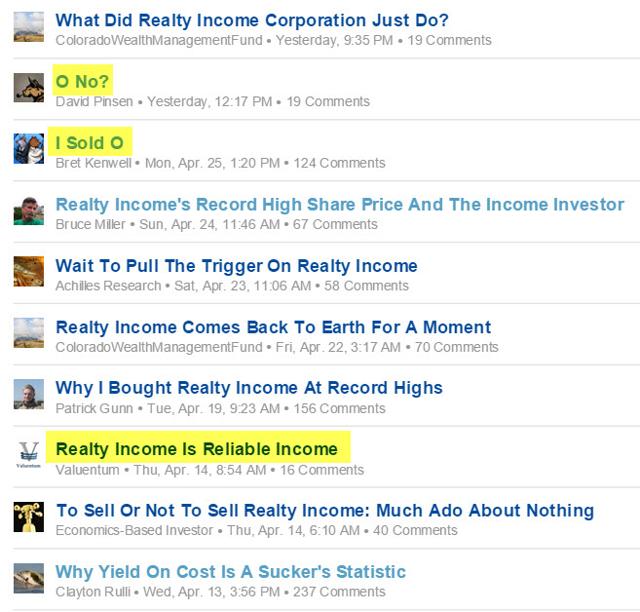 So I'm sure you're asking about the title of my current article on Realty Income, my third one (on O) this month (racking up the page views).
To be perfectly clear, I try not to read all of the daily noise as it relates to Realty Income, and if it weren't for the earnings news (I'll discuss below), I would not be writing this article. But, I also wanted to once again provide an opportunity to voice my argument as it relates to the reason that I continue to own shares in Realty Income.
In a previous article, I referenced "yield on cost" as one metric that's applicable to the moat-worthy characteristics of Realty Income. From the website Investopedia, Yield on Cost (or YOC) is defined as:
The annual dividend rate of a security divided by the average cost basis of the investments. It shows the dividend yield of the original investment. If the number of shares owned by the investor does not change, the yield on cost will increase if the company increases the dividend it pays to shareholders; otherwise it will remain the same.
As I have read over the numerous comments on articles related to Realty Income, it has become obvious that perceptions have flawed as it relates to the importance of "yield on cost."
To demystify the argument, let's start with a simpler definition of YOC, or "yield relative to my cost."
So yield on cost is basically a short way to say: "The current return you are getting on a security compared to the initial cost you paid for it." As Chuck Carnevale explained in a previous article:
In truth, certain fundamental metrics may be more important or even more relevant than others, but that does not simultaneously indicate that fundamental metrics outside the most important ones are not beneficial or even valuable analytical tools.
Carnevale was referring to "yield on cost" and he went on to explain:
There is one fundamental metric that is often maligned and even denigrated by certain individuals that I consider an essential consideration for retired investors needing income to support themselves.
The better way to analyze yield on cost, as Carnevale wrote, is not merely to consider how much dividend income their equity portfolio currently provides, but also to determine if their dividend income grows and by how much. Carnevale suggests using the term "growth yield" instead of yield on cost.
The prudent retired investor recognizes that in order to keep up with future inflation, the dividend income component of their portfolio needs to increase faster than inflation.
Since a growing income stream becomes of paramount importance to people in retirement, a focus on the dividend record of the company they are partnering with seems only logical. Although often snubbed by many traditionalists, the concept of growth yield (yield on cost) may be one of the most important and beneficial concepts for retired investors to consider and understand.
So what does yield on cost or the growth yield have to do with Rip Van Winkle?
There are potential benefits to investing long term in a company that regularly increases its dividend. The longer you hold your shares, the higher the yield you will receive on your original investment, assuming dividends increase over time. Additionally, the compounding of reinvested dividends could generate increased investment returns over time.
As an example, let's assume Rip Van Winkle had purchased Realty Income shares on 12/31/2005 and collected dividends received until he woke up (on 3/31/2016): 11% yield on cost (vs. an original yield of 6.5%), 71% increase in the amount of dividend income, 192% increase in the value of shares, and 87% of the original investment paid back as dividend income.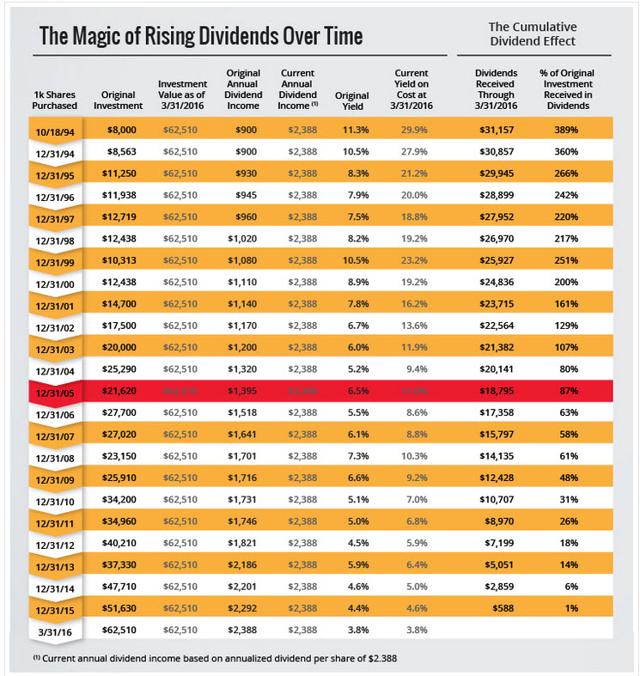 Now I assume Van Winkle had invested $100 in Realty Income in 1994 and reinvested the dividends (as of 3/31/2016):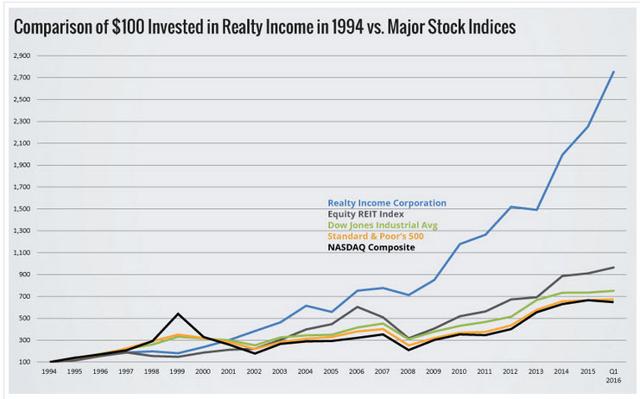 The Moral of the Story: Focusing on a company with a history of increasing its dividends will most often simultaneously lead to a portfolio capable of generating high total returns. In the long run, earnings growth (or AFFO) delivers commensurate capital appreciation and a growing dividend income stream. Just like me, Rip Van Winkle can sleep another 10-15 or 20 years and wake up a wealthy investor.
The First Quarter Check-Up
Just because Rip Van Winkle and I consider Realty Income a "sleep well at night" investment does not mean that we shouldn't take a quick check under the hood. Here's my takeaway thoughts:
Increased 2016 Acquisition Guidance: Management increased its 2016 guidance to $900 million from $750 million. In Q1-16, the company closed on $352.6 million of acquisitions at a 6.6% cap rate. The volume of closings is ahead of schedule (1/3 of new guidance).

Top Twenty Tenants. The top 20 tenants have not changed. Although not disclosed by Realty Income on the earnings call, I have learned that Realty Income completed a $141 million sale/leaseback with Tampa-based Bloomin' Brands. The portfolio consists of 41 properties ($3.43 million per unit). (Source: CoStar)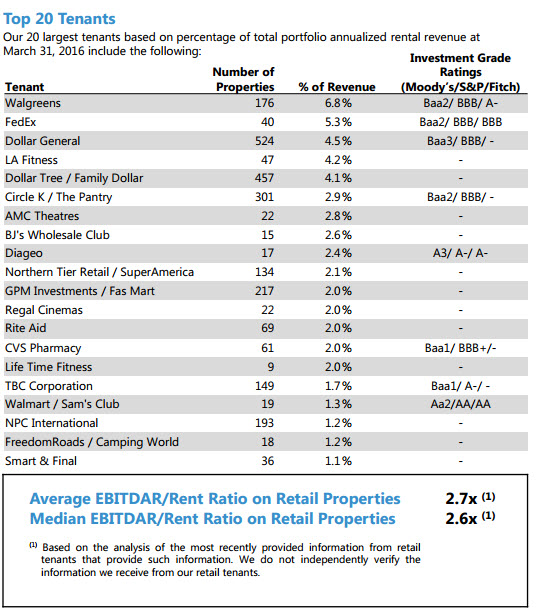 Occupancy: Realty Income's occupancy was down 20 bps in Q1-16 at 97.8% and down 60 bps q/q. There are 101 properties available for lease, up from 71 properties last quarter. In Q1-16, two small tenants filed bankruptcy (Sports Authority and Buffets LLC). However, Buffets LLC has filed BL three times, so I do not consider the relevant.

Balance Sheet: Realty Income's balance sheet is stronger than ever, with net-debt + preferred/EV at 27%, much better than the sector average of 36.6%. Realty Income has just 9.9% of secured debt and the weighted average interest rate is 4.11%.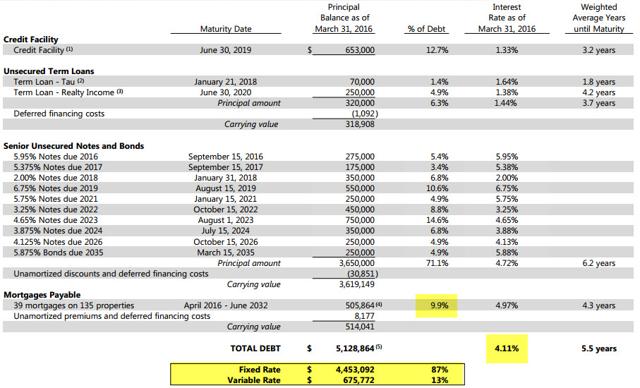 Realty Income's capital structure consists of 74% common, 24% debt, and 2% preferred: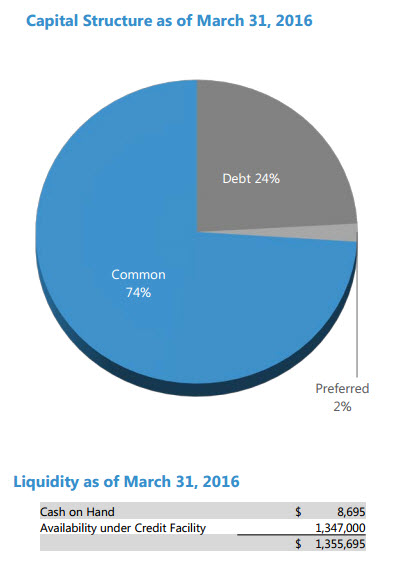 Fixed charge coverage is 4.1x.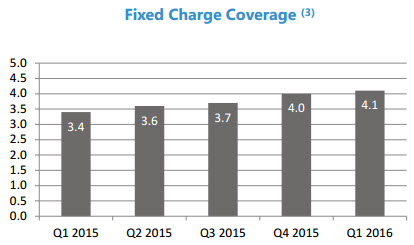 Realty Income's $2 billion credit facility has a balance of approximately $650 million. Other than the credit facility, the only variable rate debt exposure is on just $22.8 million in mortgage debt. The overall debt maturity schedule remains in very good shape, with only $22 million in mortgages and $275 million of bonds coming due in 2016.
Predictable AFFO: Realty Income reported Q1-16 AFFO of $.70, +4.5% year over year. FFO was $.68 and the variance (in AFFO and FFO) was a higher non-cash loss on swap due to the drop in interest rates. For that reason, it's important to review the more accurate measure of cash flow or AFFO per share.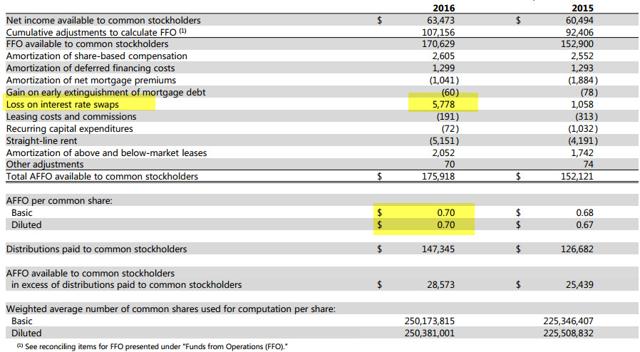 Realty Income is maintaining its 2016 AFFO guidance of $2.85 to $2.90 per share: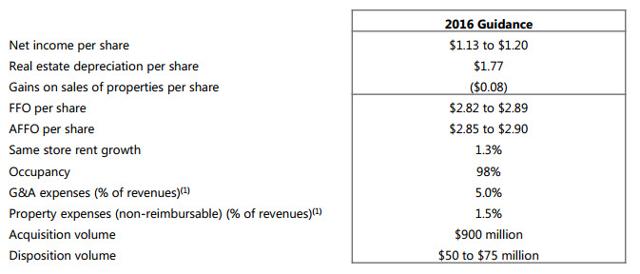 The Bottom Line: Realty Income turned in another reliable quarter and like most every quarter (as it relates to O), I simply yawn when I review the results. I did notice that the CEO (John Case) referenced increased exposure to casual dining (on the earnings call):
We invested in QSR restaurants as well as casual dining restaurants in the first quarter. We are consistent with what we said regarding casual dining. We've not made many investments in casual dining restaurants here over the last five years, just a few and none that have been material. But when we do look at casual dining restaurants, we have a very high underwriting hurdle rate. So we want coverages well north of 3 times, 4 times we can get it.
In other words, Realty Income is not simply "empire building" or investing in concepts like Red Lobster, as John Case explained:
we want rents that approximate market and we want to be invested at replacement cost or near-replacement cost.
However, the most important takeaway from the Q1-16 results is also the primary reason I continue to maintain an outsized position. Realty Income is the low cost leader. The company's cost of debt in the 3.7% range (1/3 of capital stack) and cost of equity is in the 4.7% range ($2.80 annualized AFFO/$60 stock price) (2/3 of capital stack).
The overall weighted average cost of capital (or WACC) is ~4.3% range. Also considering Realty Income has ~$100mm of free cash flow carrying a 0% cost, the company is actually below 33% leverage, so it can use more leverage on incremental capital raising; thus the WACC is closer to high-3%, low-4% range.
So if you ask me if O had a profitable quarter, I would argue that this dividend machine is pumping out some of the most powerful and predictable dividends on the planet. Using the latest acquisition results as a measure - average cap rate on acquisitions of 6.6% - O is churning out spreads of around 260 bps.
If I did not know better, I would think that O is not actually a REIT but a well-oiled machine that is printing money 24-7. (who would want to short such a predictably powerful platform?)
Finally, to put the "yield on cost" argument into real-life terms:
Say Rip Van Winkle theoretically put in $500k of his hard-earned savings on 12/31/05. While at the time he was getting an original yield of 6.5%, or $32,500 per year of dividend income, today he is getting $55,000 in dividend income.
What if he was 50 at the time he contributed that $500k and today he is 60 and ready for retirement? Well, that $55k (represents a compound annual growth rate of 5.3%) and that would look awfully good as "income" to pay for living expenses in retirement! All while getting to ignore the "noise" of market volatility over the course of those 10 years. Of course, it certainly doesn't hurt that the stock price has also increased in value by almost 3x either!
Oh well, I'm getting sleepy…. Rip and I are going to take a snooze… we'll check by in a few months… or unless we see the "short alarm" going off again.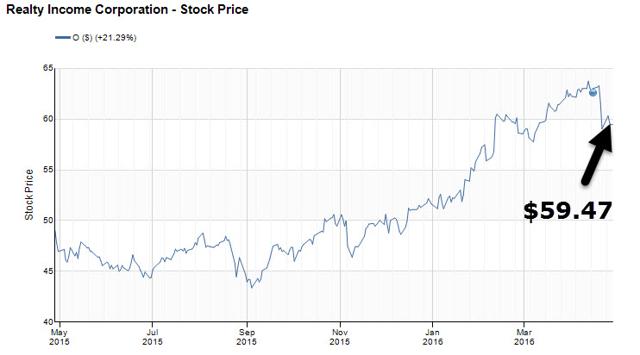 Author's Note: I'm a Wall Street writer, and that means that I am not always right with my predictions or recommendations. That also applies to my grammar. Please excuse any typos, and I assure you that I will do my best to correct any errors if they are overlooked.
Finally, this article is free, and my sole purpose for writing it is to assist with my research (I am the editor of a newsletter, Forbes Real Estate Investor) while also providing a forum for second-level thinking. If you have not followed me, please take five seconds and click my name above (top of the page).
The only guarantee that I will give you is that I will uncover each and every rock I can, in an effort to find satisfactory investments that "upon thorough analysis promises safety of principal and satisfactory return. Operations not meeting these requirements are speculative." (Ben Graham).
Disclaimer: This article is intended to provide information to interested parties. As I have no knowledge of individual investor circumstances, goals, and/or portfolio concentration or diversification, readers are expected to complete their own due diligence before purchasing any stocks mentioned or recommended.
Disclosure: I am/we are long O, DLR, VTR, HTA , STAG, GPT, ROIC, HCN, OHI, LXP, KIM, WPC, DOC, EXR, MYCC, TCO, SKT, UBA, STWD, CONE, BRX, CLDT, HST, APTS, FPI, CORR, NHI, CCP, CTRE, WPG, KRG, SNR, LADR, HCP, PEB, BXMT.
I wrote this article myself, and it expresses my own opinions. I am not receiving compensation for it (other than from Seeking Alpha). I have no business relationship with any company whose stock is mentioned in this article.