After the bankruptcy of Peabody Energy (OTCPK: BTUUQ), Cloud Peak Energy (NYSE:CLD) is one of the few coal bets available on major exchanges. This year, Cloud Peak Energy's shares gained some ground together with most other commodity names. In addition, natural gas prices rebounded from their lows of early March, providing some hope of price normalization for the PRB coal.
Cloud Peak Energy just published its first-quarter earnings report, and the results don't look good at all. First-quarter sales fell through the floor as demand was suppressed by mild winter and low natural gas prices. Cloud Peak Energy sold 13 million tons of coal in the first quarter compared to 18.6 million tons in the fourth quarter.
This drop highlights a remarkable weakness in demand in the beginning of the year. The company expects that weakness will continue in the second quarter. As far as shipments go, the main hope is the pick-up in activity in summer and further on, as customers' stockpiles will hopefully be reduced.
Such a decrease in sales volume inevitably leads to higher costs, and Cloud Peak Energy was no exception from this rule, as first-quarter costs increased to $11.15 per ton from $9.54 per ton in the fourth quarter of 2015. This level of costs is worrisome, but costs should trend back to previous levels once the company starts to ship more coal to customers.
Speaking about customers, Cloud Peak Energy stated that several customers approached it regarding shipment reductions. The company hopes that it will be appropriately compensated if such reductions occur. Meanwhile, the shipments guidance was cut from the previous 64 million tons - 70 million tons to 60 million tons - 65 million tons. This is a big reduction and it looks like that the lower end of this new guidance is more likely to happen in reality than the high end of the guidance.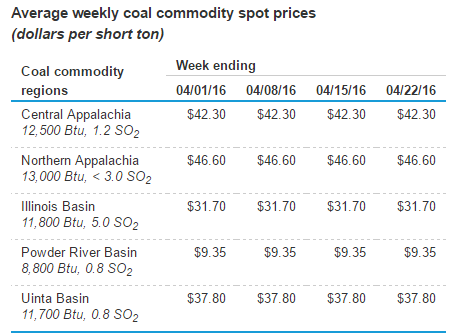 Source: EIA
As you can see, PRB coal prices remain under serious pressure. This year, Cloud Peak Energy has committed to sell 63 million tons at $12.72 per ton, so current price fluctuations won't have an impact on this year's finances. For the next year, 39 million tons are contracted at $12.53 per ton.
If the company were to sell 63 million tons in 2017 and contract the remaining tons at today's prices, it would get an average selling price of $11.32 per ton for the next year. That's not good at all, but not catastrophic. The real problem will be if today's prices will persist through 2018. However, production curtailments on both coal and natural gas fronts should ultimately help the market achieve a better balance.
The positive news is that Cloud Peak Energy confirmed self-bonding for the Antelope mine and for the Cordero Rojo mine. Self-bonding became a headache for coal miners when it became evident that the industry was headed to mass bankruptcy, so the fact that Cloud Peak Energy got the self-bonding confirmation is a reassuring one.
All in all, this was a gloomy report. Cloud Peak Energy remains a bet on the ultimate re-balance of the beaten coal market. So far, it looks like it will be a rather long road.
Disclosure: I am/we are long CLD.
I wrote this article myself, and it expresses my own opinions. I am not receiving compensation for it (other than from Seeking Alpha). I have no business relationship with any company whose stock is mentioned in this article.