Introduction
I wanted to like New Gold (NYSEMKT:NGD), but in its previous update after the financial year 2015, the company lost a little bit of my trust after publishing 'updated' economics for the new Rainy River project. The company is obviously allowed to do so, but I was disappointed to see the improved NPV did include the proceeds from selling a gold stream, which does skew the valuation a bit.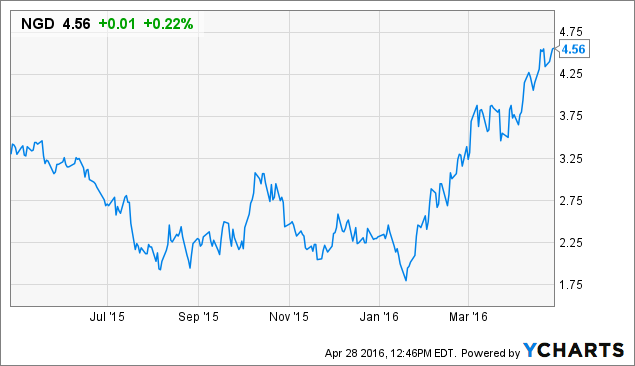 NGD data by YCharts
A lower gold production but a higher margin
The company has now released the results of its first quarter, and at first sight everything looks pretty good. Yes, the total gold production was a bit lower at just 90,800 ounces (and 25.4 million pounds of copper which is a 10% increase compared to Q1 2015), but what's important is that even though the total production rate is lower, the cash cost and all-in sustaining costs also decreased!
The total cash cost in Q1 2016 was $354/oz whilst the AISC fell to $758/oz (down from $1014/oz in Q1 2015) and that's a huge improvement. The production costs at the ultra-low cash cost New Afton mine (which actually is a copper mine with gold as a by-product credit instead of a gold mine with a copper by-product) did increase but the Mesquite mine (which had the highest output of the company's four mines in Q1) saw the AISC fall by a stunning $600/oz. And this caused the majority of the AISC reduction.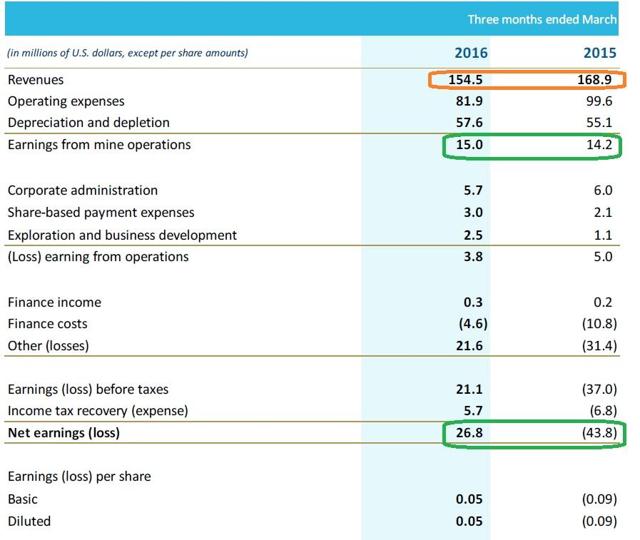 Source: press release
Great news for New Gold, but did this also translate into an improved financial situation? The total revenue did fall to $155M, but the mine operating earnings increased slightly (by 5%) and this allowed the company to keep the operating income relatively stable at $3.8M. Yes, that's less than in Q1 2015, but the majority of the difference is caused by share-based expenses as well as exploration activities (a non-cash expense and an accretive expense). The company's net income was $27M or 5 cents per share.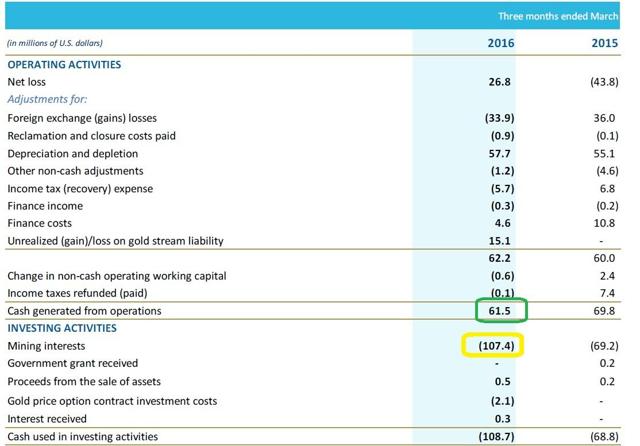 Source: press release
Good. Nice. That's not bad at all, but New Gold's first (and only) priority should be to maximize its free cash flow as it's still building the Rainy River project, and that will cost the company quite a bit of cash. Fortunately, the cash flow statements are showing a total operating cash flow of $61.5M, and even though this is most definitely not sufficient to cover the $107M capex bill, you definitely need to keep in mind a large part of these capital expenditures were very likely associated with the construction of the new Rainy River gold mine.
And indeed! The total sustaining capex at New Gold was just $22M (and in excess of $80M has been spent at Rainy River which is NOT a sustaining capital expenditure), so New Gold's adjusted free cash flow was $40M in the first quarter. And that's pretty good (and a positive surprise to be honest).
Rainy River remains on track, and the operating cash flow will cover a large part of the capex
New Gold's press releases usually also contain a big chunk of information on the Rainy River project which has now reached an overall completion rate of 35%. On top of that, the pre-stripping activities at the project have removed 2.4 million tonnes of waste in the first quarter, which is almost 30,000 tonnes per day. This mining rate is still increasing and earlier in April, New Gold was able to remove 65,000 tonnes of waste in a day, a new record.
It's great to see the earth moving exercises are going as planned, but the total cost for moving these millions of tonnes of rock is coming in 9% below budget (so that's another nice positive surprise). $82M has been spent on Rainy River in Q1 which brings the total capex spent on the project to $394M.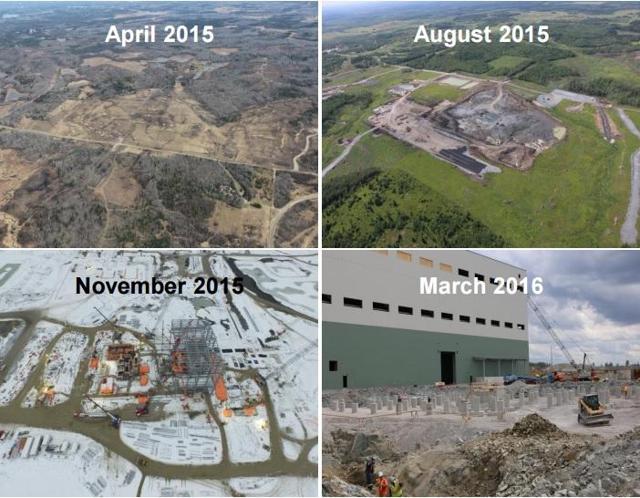 Source: company presentation
New Gold does plan to spend an additional $420M on Rainy River in the remaining three quarters of the year, and based on the operating cash flow from the first quarter of the year, approximately 30% of the remaining capex this year will be financed by using the free cash flow from the other activities.
This means New Gold will have to find an additional $300M to make sure it can cover the construction expenses. An additional $75M will be paid by Royal Gold (NASDAQ:RGLD) sometime this summer, and the remaining $225M will have to be paid by the existing cash balance which was almost $300M.
However, this does mean New Gold's cash position will fall to just $75M by the end of this year, so if the gold price doesn't increase, I can't rule out another equity raise (to raise $100M to top up the treasury). Keep in mind, New Gold does not HAVE to issue new shares as it also can use the remaining $178M from its revolving credit facility, and I think that's how the company will play it (unless the share price continues to increase).
Investment thesis
New Gold's first quarter was really good, thanks to an improved performance at the Mesquite gold mine. The adjusted free cash flow was approximately $40M, and this will help New Gold to complete the construction of the Rainy River project, the company's next mine.
Once Rainy River is up and running, New Gold can start thinking about reducing its net debt and finding a solution for the $800M worth of bonds.
Disclosure: I/we have no positions in any stocks mentioned, and no plans to initiate any positions within the next 72 hours.
I wrote this article myself, and it expresses my own opinions. I am not receiving compensation for it (other than from Seeking Alpha). I have no business relationship with any company whose stock is mentioned in this article.