Investors should be seeking to improve their risk-adjusted returns. I'm a big fan of using ETFs to achieve the risk-adjusted returns relative to the portfolios that a normal investor can generate for themselves after trading costs.
One of the funds that I'm researching is the iShares MSCI USA Momentum Factor Index ETF (NYSEARCA:MTUM). I'll be performing a substantial portion of my analysis along the lines of modern portfolio theory, so my goal is to find ways to minimize costs while achieving diversification to reduce my risk level.
Expense Ratio
The expense ratio is .15%. This is very low for a momentum ETF.
Sectors
Normally, I have been starting with looking at the individual holdings, but I want to mix it up this time.
The following chart breaks down the allocation by sector: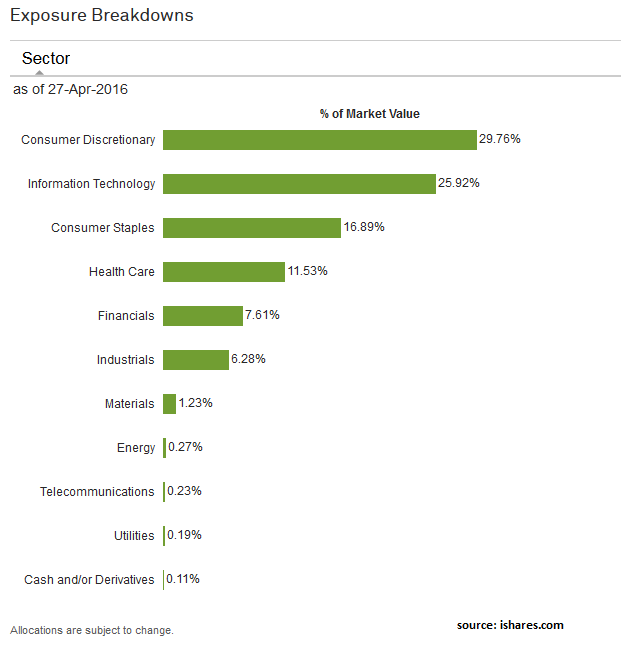 The consumer discretionary sector has a fairly massive 29.76% weighting. My first thought here is that I would be scared to hold this ETF if this prolonged bull market turned into a bear market. Three times in the last year, there have been sudden threats for the bull market to come to a screeching halt.
I'm not convinced that we will see that kind of huge drop-off in the economy in the next few years because low interest rates can do a great deal to keep market prices high, but I don't think I have the risk tolerance for this sector allocation.
Largest Holdings
The following chart shows the largest holdings for the fund: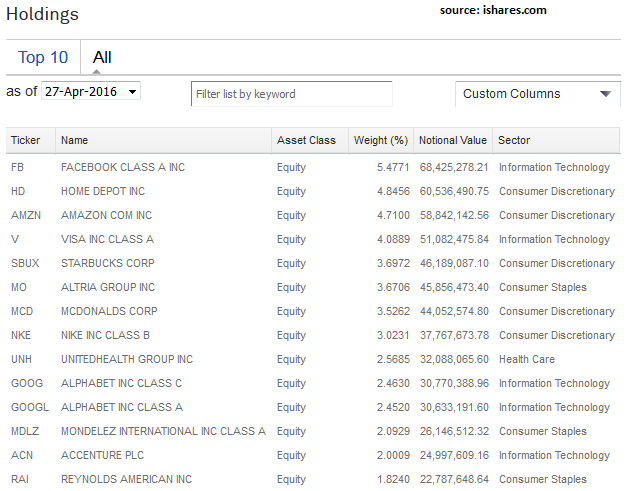 The top allocations to individual companies are Facebook (NASDAQ:FB), Home Depot (NYSE:HD), Amazon (NASDAQ:AMZN), and Visa (NYSE:V). If we strip it down to only looking at the top holdings within the consumer discretionary sector, then the top holdings are AMZN, Starbucks (NASDAQ:SBUX), and Home Depot.
Analysis of Holdings
I find the heavy allocation to Amazon concerning given their incredible success at expanding the brand without earning profits, but I can't critique them too much because when I need something other than groceries, the first place I look for it is Amazon. Clearly, Amazon has done a great job at conditioning me to look at its website as the first solution to my shopping needs.
Facebook, on the other hand, is one of my favorite companies in the information technology space because it has proven to be remarkable at delivering highly targeted advertising that improves the quality of the experience. When my wife is on Facebook, she actually looks at the advertisements as she is scrolling because the company has targeted so well to her. Its ability to accurately identify customers and deliver the correct advertising to drive consumer behavior is astounding.
Visa is another company I've admired for its ability to become a part of everyday life. My personal transactions were going through MasterCard (NYSE:MA), but Visa landed a deal with USAA, so I started using Visa without any conscious decision. It turns out my brand loyalty to MasterCard doesn't run as deep as my desire to use whichever card my bank offers.
Home Depot is another strong company operating in a bit of a niche market. Aside from Lowe's (NYSE:LOW), there isn't a great deal of direct competition. While the two companies are going head to head constantly, the limitation to only one major competitor creates a much better environment for oligopoly strategies to be maintained. AT&T (NYSE:T) and Verizon (NYSE:VZ) seemed perfectly happy to share the telecommunications space until Sprint (NYSE:S) decided it was unhappy with the current system and launched a price war. With only HD and LOW in this niche, there is less incentive for a sudden price war.
Conclusion
For investors that are interested in momentum investing, this is one option to get that technique into your portfolio. In my opinion, the risk of using this strategy is compounded by the aggressive consumer discretionary allocation. In a prolonged bull market, this fund should be a solid choice. I'm not predicting a bear market in the near future, but I'm also not willing to make a play that is this aggressive. I just don't think I'd sleep as well with such an aggressive allocation.
Amazon is the most concerning allocation in the top holdings, but I recognize that it is growing market share very effectively by operating without a profit (or tiny profits) while huge economies of scale are established. By the time it raises prices a few points to create earnings, I may not even remember that there are traditional stores that sell some of the things I purchase.
Disclosure: I/we have no positions in any stocks mentioned, and no plans to initiate any positions within the next 72 hours.
I wrote this article myself, and it expresses my own opinions. I am not receiving compensation for it (other than from Seeking Alpha). I have no business relationship with any company whose stock is mentioned in this article.
Additional disclosure: Information in this article represents the opinion of the analyst. All statements are represented as opinions, rather than facts, and should not be construed as advice to buy or sell a security. This article is prepared solely for publication on Seeking Alpha and any reproduction of it on other sites is unauthorized. Ratings of "outperform" and "underperform" reflect the analyst's estimation of a divergence between the market value for a security and the price that would be appropriate given the potential for risks and returns relative to other securities. The analyst does not know your particular objectives for returns or constraints upon investing. All investors are encouraged to do their own research before making any investment decision. Information is regularly obtained from Yahoo Finance, Google Finance, and SEC Database. If Yahoo, Google, or the SEC database contained faulty or old information it could be incorporated into my analysis.