Welcome to the earnings and CEO resignation-filled April 29th edition of Seeking Alpha's Eye on Tech newsletter.
Eye on Tech Coverage
Amazon surges on Q1 beat and solid guidance; AWS and international stand out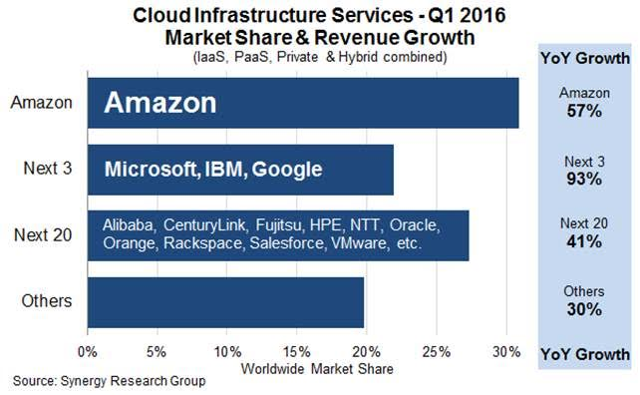 Synergy Research's Q1 cloud estimates drive home AWS' dominance, and the share gains seen by the top 4 players. Of note: Synergy doesn't count SaaS revenue, thus their AWS growth estimate (57%) is slightly lower than reported AWS growth of 64%.
LinkedIn jumps following Q1 beat and strong EPS guidance
Tablet sales drop sharply in Q1; Apple and Samsung lose share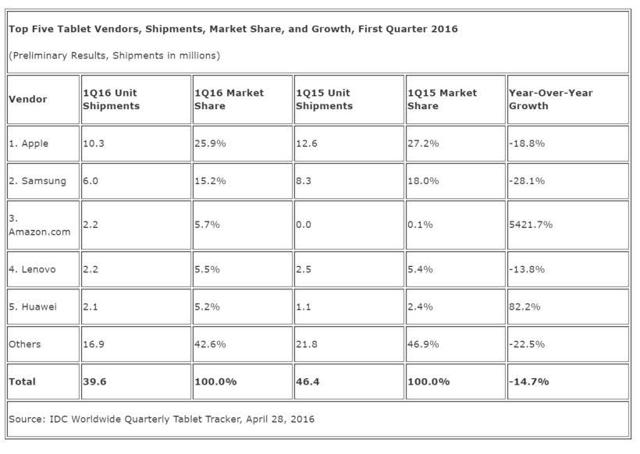 Symantec issues calendar Q1 warning and announces CEO is leaving; shares drop
Cypress buying Broadcom wireless IoT chip unit for $550M, announces CEO Rodgers is stepping down
Oracle buying Textura for $663M; M&A pace appears to be picking up again
Baidu gains after Q1 EPS beat and strong sales guidance; mobile search MAUs rise to 663M
Notable Tech News
Priceline CEO/Booking.com chief Darren Huston resigns over personal conduct issue - Huston had been Priceline's (NASDAQ:PCLN) CEO since the start of 2014. He was also serving as the head of Priceline's Booking.com unit (easily its largest source of travel bookings). Booking.com COO Gillian Tans is the new head of the division, and chairman Jeffrey Boyd, who was Priceline's CEO from 2002-2013 (while Priceline grew to become the giant it is today), is filling in as interim CEO. Priceline finished down 2.7% vs. a 1.2% drop for the Nasdaq.
Google CEO Pichai talks up search and AI efforts in "founder's letter" - Larry Page and Sergey Brin have historically co-authored Google's (GOOG, GOOGL) annual founder's letter. But with Page having kicked himself upstairs to the role of Alphabet CEO, Pichai did the honors this year.
Unsurprisingly, Google's huge AI/machine learning investments (the company is arguably ahead of the pack here), and their impact on various consumer and enterprise services, get a lot of attention. Pichai: "[AI is] what allows you to use your voice to search for information, to translate the web from one language to another, to filter the spam from your inbox, to search for 'hugs' in your photos and actually pull up pictures of people hugging… Your phone should proactively bring up the right documents, schedule and map your meetings, let people know if you are late, suggest responses to messages, handle your payments and expenses, etc."
He insists Google still has much work to do in making search and assistant services more context-aware - "The average parent has different needs than the average college student. Similarly, a user wants different help when in the car versus the living room." - and asserts "the next big step will be for the very concept of the 'device' to fade away," with each connected device acting as "an intelligent assistant helping you through your day."
That last remark is perhaps as much a reflection of Google's strategic goals - the company clearly sees a big long-term opportunity in being the top provider of personalized, AI-driven, cloud services delivered across multiple platforms, and perhaps also in leveraging the data produced by those services - as it is a prediction of how the future will unfold.
Google hires ex-Motorola chief Osterloh to run hardware ops - Rick Osterloh, who recently left Lenovo's Motorola Mobility unit (was acquired from Google in 2014), will reportedly be in charge of Nexus devices, Chromebooks, Chromecast, the OnHub home router, and the Project Ara modular phone initiative. He'll also assume control of Google Glass from Nest Labs chief Tony Fadell, recently the subject of some less-than-flattering reports about his reign at Nest.
The move has some parallels with Google's decision to put Diane Greene in charge of both the Google Cloud Platform and Google Apps. In each case, Google has put disparate products targeting many of the same potential customers under common leadership.
WSJ: Google and Fiat discussing self-driving car partnership - The report fits with past Google remarks suggesting the company wants to be a provider of autonomous driving hardware/software to automakers, rather than an automaker itself. Google has previously been rumored to be planning a JV with Ford (NYSE:F), as it pushes forward with a goal of bringing a self-driving car to market by 2020.
Samsung beats Q1 estimates, but shares drop in Seoul - Samsung had already forecast a solid quarter three weeks ago - solid Galaxy S7 sales helped, as did growing 14nm chip sales - so that was priced in. Consumer electronics, mobile, and chip revenue rose Y/Y, while display revenue fell. TV and LCD earnings are expected to improve in Q2, but smartphone/tablet demand is expected to be flat Q/Q "amid weak seasonality" (and tough Chinese Android competition).
With DRAM prices hit hard in recent quarters, Samsung (has been ramping capacity to gain share) says it's focused on "profitability-focused [DRAM] product mix" in 2016. Also, server/mobile DRAM and SSD demand is expected to be "solid" in Q2. That, along with rival SK Hynix's (OTC:HXSCF) recent comments, has to be music to Micron's (NASDAQ:MU) ears. Micron closed up slightly on Thursday in spite of a tech selloff.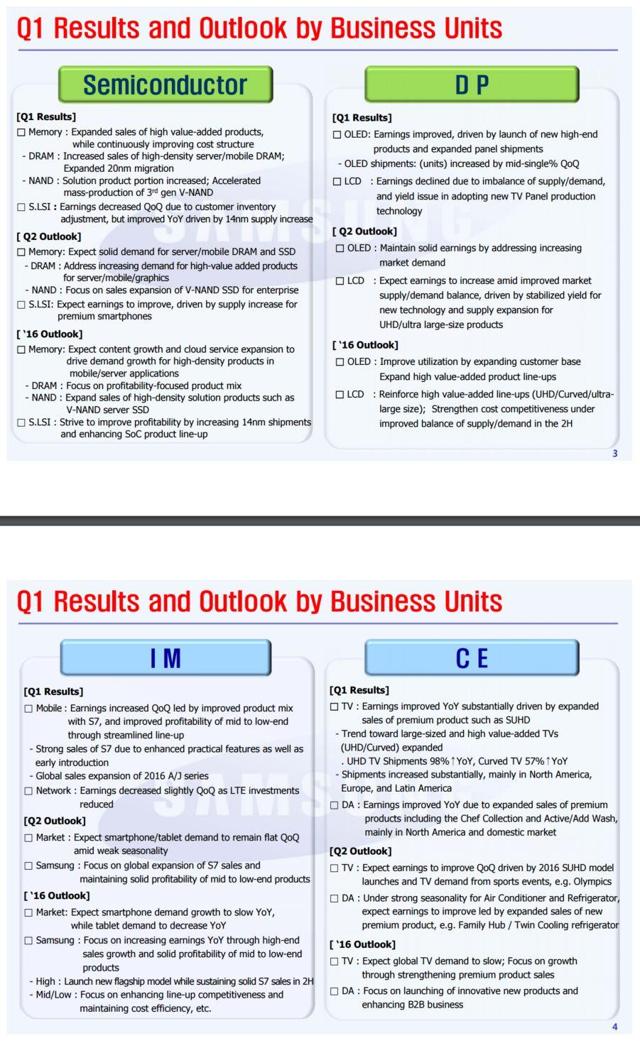 Samsung's Q1 segment performance and Q2/2016 outlook. Source: Earnings slides.
Yandex jumps after Q1 sales beat and 2016 guidance hike - Revenue rose 34% Y/Y in rubles and 15% in dollars, thanks to 27% Yandex (NASDAQ:YNDX) site ad sales growth, 43% ad network sales growth, and 132% "Other" (Yandex.taxi) growth in rubles. Net income of RUR1.1B ($15.8M) was officially below estimates, but that had much to do with a big forex loss. "Adjusted" net income rose 41% to RUR3.2B ($46.9M). And full-year ruble revenue growth guidance has been upped to 15%-19% from 12%-18%.
Meanwhile, LiveInternet estimates Yandex's Russian search share grew fractionally for the second straight quarter (to 57.6%). Russian antitrust pressure on Google over its Android bundling policies could be helping out.
Groupon sells off after Q1 beat and EBITDA guidance hike - After initially rising in response to the numbers, Groupon (NASDAQ:GRPN) finished down 6.3% after hours. Billings fell 5% Y/Y (worse than a 2% revenue decline), as international weakness offset North American growth. $63.4M worth of buybacks gave a boost to EPS. However, operating margins fell for all three of Groupon's regional reporting segments, as a $37M increase in marketing spend more than offset a $9M drop in SG&A spend.
Groupon's core daily deals business remains fairly stable, and the company is taking needed steps under new CEO Rich Williams to narrow the focus of its Goods/e-commerce business (i.e., avoid competing head-on with Amazon). But its big marketing investments haven't yet done a lot to improve growth.
Skyworks slumps due to light calendar Q2 guidance - Though it shouldn't be surprising Skyworks (NASDAQ:SWKS) is guiding light following major client Apple's FQ3 guidance, the size of the shortfall (about $50M in revenue) was apparently enough to spark a moderate after-hours selloff for the RF chip giant.
Skyworks' FQ2 (calendar Q1) report still has some positives: Gross margin rose to 50.8% from 46.7% a year ago, strong design win activity was reported among Chinese OEMs, and "blended content" within the Galaxy S7 rose 20% relative to prior-gen devices (to some extent a reflection of how the RF content needs of the average phone continue to grow).
Synaptics tumbles after weak results/guidance; Chinese talks reportedly ongoing - Like Skyworks, Synaptics (NASDAQ:SYNA) is an Apple supplier. However, its calendar Q2 guidance was markedly worse, and suggests the company is facing more serious Apple inventory issues and stiff headwinds in its PC touchpad/fingerprint sensor business.
Meanwhile, just ahead of earnings, Bloomberg reported the Chinese group that has been in talks to buy Synaptics has lowered its offer to $100/share from $110/share, and was waiting to "see how the market values Synaptics after it announces earnings." "The market" reacted by dropping Synaptics to $71 in after-hours trading.
Twitter changes App Store listing from "Social Networking" to "News" - Desperate times calling for desperate measures? Twitter's (NYSE:TWTR) move, which comes shortly after shares were clobbered due to the company's results/guidance, aims to increase the company's App Store visibility - whereas Twitter's app was ranked #5 in the "Social Networking" section, it's #1 in "News." Twitter also might be looking to better sell iOS users on its ability to act as a one-of-a-kind real-time news service.
Bloomberg: Rovi close to deal to acquire TiVo - A deal could be announced on Friday morning. Both TiVo (NASDAQ:TIVO) and Rovi (NASDAQ:ROVI) have large revenue-generating patent portfolios, and depend heavily on software/service deals with pay-TV providers. Though best-known for its DVRs, TiVo recently topped 7M global subscribers thanks to software/service agreements with European pay-TV firms, and has content-discovery and set-top/portal server software businesses that could complement Rovi's program guide and metadata offerings.
Disclosure: I/we have no positions in any stocks mentioned, and no plans to initiate any positions within the next 72 hours.
I wrote this article myself, and it expresses my own opinions. I am not receiving compensation for it. I have no business relationship with any company whose stock is mentioned in this article.
Editor's Note: This article discusses one or more securities that do not trade on a major U.S. exchange. Please be aware of the risks associated with these stocks.