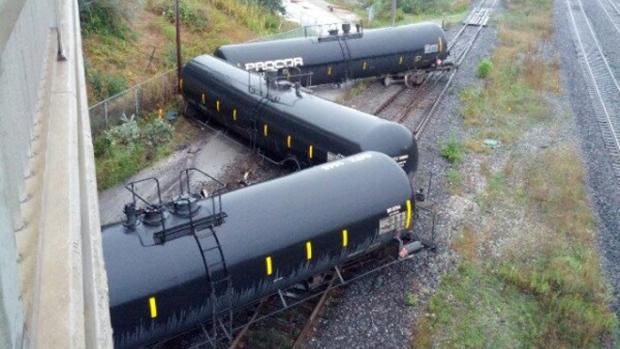 American Railcar (NASDAQ:ARII) reported Q1 earnings Thursday and it did not go well. The company delivered revenue of $176.2 million and EPS of $1.16. Revenue missed estimates by about $20 million. I had the following takeaways on the quarter:
Revenue Decline Was Hideous
Railcar manufacturers feasted on the U.S. energy boom when oil prices were much higher. They couldn't manufacturer rail cars and tank cars fast enough to meet demand. That rabid demand has ended and the company's revenue reflects that.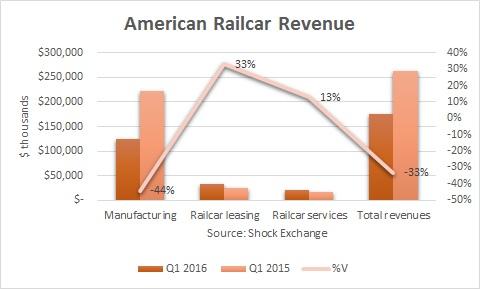 Revenue was off 33% compared to the $263 million generated in the year earlier period. The biggest decline was manufacturing which fell 44%, slightly offset by increases in leasing (up 33%) and railcar services (up 13%). The company achieved a record level of shipments in 2015, so it is no surprise revenue is down. American Railcar shipped 1,330 railcars for direct sale and lease, down 50% from 2,668 in the year earlier period. Shipments will likely continue to fall due to a soft market. Overall rail traffic is down and railroads have cut capex, in addition to other costs, to protect their balance sheets.
EBITDA of $55 million fell only 24% Y/Y as margins increased to 31% versus 27% in the year earlier period. The margin improvement was driven by the mix of business. Leasing was 26% of revenue versus 11% in the year earlier period; leasing also has a higher gross margin of 69% versus 18% for manufacturing. On a blended basis American Railcar's gross margin is about 27%.
The Backlog Is A Problem
The company has a backlog of 5,958 valued at $569 million; that's down from 7,081 last quarter and implies 207 new orders were generated during the quarter. The company previously estimated that 70% of 2016 deliveries were in its year-end backlog, implying 4,957 shipments for the year. That compares unfavorably to Greenbrier (NYSE:GBX) and Trinity (NYSE:TRN) who's respective backlogs are expected to be depleted by 49% and 55% (excludes new orders).
At a run-rate of 828 annual orders, the backlog would decline by 4,129 to 2,952. Such a miniscule backlog would portend a disastrous 2017. The company has over $240 million of cash and receivables -- enough liquidity to survive for several quarters. ARII trades at 6.5x run-rate EBITDA (Q1 EBITDA annualized) which I believe is untenable given the dismal earnings outlook. I expect the stock to derail by the second half of the year.
Disclosure: I am/we are short ARII, GBX.
I wrote this article myself, and it expresses my own opinions. I am not receiving compensation for it. I have no business relationship with any company whose stock is mentioned in this article.