This article is a quick follow-up to the series of articles linked below (from last year) and includes updated financial information for each company. Keep in mind that business development companies ("BDCs") are relatively new and this series focuses on comparing the historical results for BDCs, that have been public for at least seven years.
Previous articles in this series:
Update Return Results
When it comes to investing in BDCs, assessing management is the most important and part of my "qualitative" measures for valuing BDCs, and is the primary difference between companies that outperform (pricing and operating results). Management is in direct control of managing the capital structure and dividend policy as well as adjusting the expense structure including management fees. Higher quality BDCs are actively trying to increase returns to shareholders through 'doing the right thing' such as updated/revised fee agreements that protect shareholders during capital losses, not issuing shares below net asset value ("NAV"), meaningful share repurchases when trading well below (10% or more) NAV per share, waiving or reducing management fees to protect dividend coverage rather than cutting distributions, conservative accounting policies that appropriately mark assets closer to comparable market valuations as well as amortizing fee and onetime income to smooth out earnings and fees paid to management.
The reason that this series covers BDCs with longer operating histories is because it is easier to assess the quality of management using "quantitative" results such as the ones listed below. However, it is important to point out that lower performing BDCs such as Apollo Investment (NASDAQ:AINV), BlackRock Capital Investment (NASDAQ:BKCC) and Gladstone Capital (NASDAQ:GLAD) have either replaced management and/or taken major course correction steps in the last two to three years.
Quantitative BDC Measures:
Changes in dividends
Change in NAV per share
Total returns to shareholders
Changes to Dividends
The only changes to dividends over the last few quarters is a monthly dividend increase for Main Street Capital (NYSE:MAIN) and decrease in the quarterly dividend for KCAP Financial (NASDAQ:KCAP).
Changes to NAV Per Share
The middle market lending sector has recently experienced wider spreads that has resulted in better pricing for new loans but lower values on certain assets. This has had a negative impact to NAV per share for many companies that is not necessarily related to portfolio credit quality. However, not all BDCs actively mark assets to reflect current market valuations but investors have mostly made their own adjustments, giving these BDCs lower multiples. The largest changes to NAV per share over the last 12 months have been related to exposure to collateralized loan obligations ("CLOs") for KCAP and TICC Capital (TICC) and oil for AINV, GLAD and PennantPark Investment (NASDAQ:PNNT). BKCC and Fifth Street Finance (FSC) have had declines related to increased credit issues.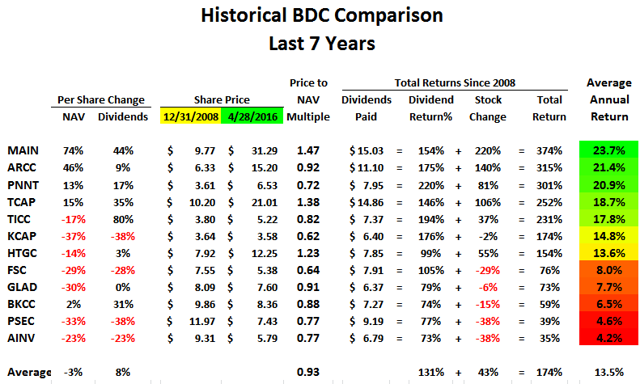 Higher vs. Lower Returns
As you can see from the previous table, companies such MAIN, PNNT, Ares Capital (NASDAQ:ARCC) and Triangle Capital (NYSE:TCAP), have had positive growth in NAV and dividends per share that has resulted in much higher returns to shareholders. TICC also has above average returns but declining NAV, similar to KCAP. Hercules Technology Growth Capital (NASDAQ:HTGC) currently has average returns but historically has outperformed most BDCs for the reason discussed in my "HTGC Articles".
As mentioned earlier, AINV, BKCC and GLAD, have all made major changes to management and/or investment philosophies mostly focused on higher credit quality assets but working through credit issues on legacy investments. BKCC discussed this on the recent call:
"In the four quarters under our management, we have undertaken to deliver a process of repositioning our investment portfolio in a way that we believe best serves our client shareholders, including monetizing legacy equity positions, diversifying the portfolio by increasing the number of portfolio companies, and investing in quality directly originated opportunities."

"Turning to first quarter results, the company's financial performance was mixed as the positives from our strong origination activity, portfolio construction initiatives and patient deployment met with further portfolio pressure from idiosyncratic developments highlighted in our fourth quarter pertaining to legacy investments that were created prior to BlackRock's management, team taking the reins."
FSC and Prospect Capital (NASDAQ:PSEC) have had the largest declines in dividends over the last seven years and are among the lowest performing with average returns of 8% or less. However, FSC has changed management but all indications are pointing to the same philosophies as discussed in me "FSC Articles" including "FSC: When to Sell".
Summary and the purpose for this series:
Again, the BDC sector is relatively new and the comparison of these 12 BDCs over the last seven years should help investors understand that there is more to investing than simply looking at the current dividend yield and price-to-NAV multiples. It is important to understand where the company is headed including portfolio credit quality and the ability to maintain or grow dividends and NAV per share. I am currently looking through some of the "newer" BDCs with more appropriate fee agreements and cost structures that protect shareholders and total returns. If you are interested in my opinion on which BDCs are likely to outperform, please visit "BDC Buzz.com". For a list of all my articles including BDC rankings (risk, return, pricing, dividend potential), target pricing charts and valuations, individual dividend sustainability, my historical purchases and current positions, and suggested BDC portfolios, please see my "BDC Research Page".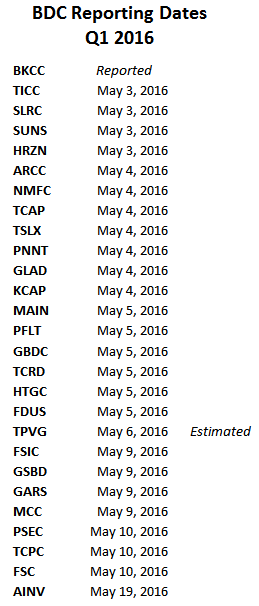 Personal note: I have updated my positions to reflect changes in my holdings, but please keep in mind that some of the positions are VERY small and mostly for research purposes.
Disclosure: I am/we are long ABDC, AINV, ARCC, BKCC, FDUS, FSC, FSFR, FSIC, GAIN, GARS, GBDC, GLAD, GSBD, HTGC, MAIN, MCC, MRCC, NMFC, PFLT, PNNT, PSEC, SCM, TCAP, TCPC, TICC, TPVG, TSLX.
I wrote this article myself, and it expresses my own opinions. I am not receiving compensation for it (other than from Seeking Alpha). I have no business relationship with any company whose stock is mentioned in this article.