With REIT earnings season underway, we've gotten an information infusion on the B malls. The new information is significant and I believe reinforces my recent bullish articles on CBL & Associates (NYSE:CBL) and WP Glimcher (NYSE:WPG), linked here and here. Although each has moved up since my initial thesis, they remain deeply discounted and strong buys.
Whatever the weighted average expected scenario was before, in terms of B mall recovery versus B mall failure, I believe the earnings reports have tipped the balance heavily in favor of B mall recovery.
Presently, we are in the thick of rampant tenant downsizing and tenant bankruptcy. Sports Authority and potentially Aeropostale (NYSE:ARO) can be added to the ever-growing list. This is the worst environment B malls have had to face in a long time and I believe it is the fundamental trough. The transition from formerly traditional retail to more Amazon-proof retail is at what I perceive to be maximum velocity. It is causing friction and substantial expenses in both re-tenanting and property quality improvement.
The New Information
So far, both Pennsylvania REIT (NYSE:PEI) and CBL have reported 1Q16 earnings. PEI represents the success story, and CBL is the about to succeed story.
This quarter demonstrated that PEI has basically completed its transition with an 11.1% increase in sales per square foot to $460, placing it firmly in B+ and A mall territory.
Through its transition process, PEI only had to mildly sacrifice FFO growth with the bottom line flat since 2014. This is a small price to pay for a tremendous increase in quality which is showing signs of paying off going forward.
YoY, SSNOI increased 3.8% fueling FFO/share growth of 23.5%. As PEI completes its expensive transition, the value can be realized with a stable and growing portfolio of what are now high quality assets. While PEI's fundamentals are quite inspiring, we are not particularly bullish as much of the strength is already priced in. We prefer CBL and WPG which have the potential to become the next PEI, but are still available at demonstrably cheap pricing.
CBL Report
CBL's report showed great progress on all fronts.
SSNOI increased 2.8% YoY. AFFO/share increased 8% YoY. Same center sales per square foot increased 2.4% to $378. Occupancy improved by 130 basis points to 91% year do date in 2016, CBL has completed $359 million in dispositions.
That has got to be one of the least painful transitional periods I've seen.
Admittedly, replacing failing tenants can be an expensive process. Quarterly capex has increased substantially as renovation and tenant allowances are sometimes necessary to bring in better new tenants. Total capex in 1Q16 amounted to about $24 million.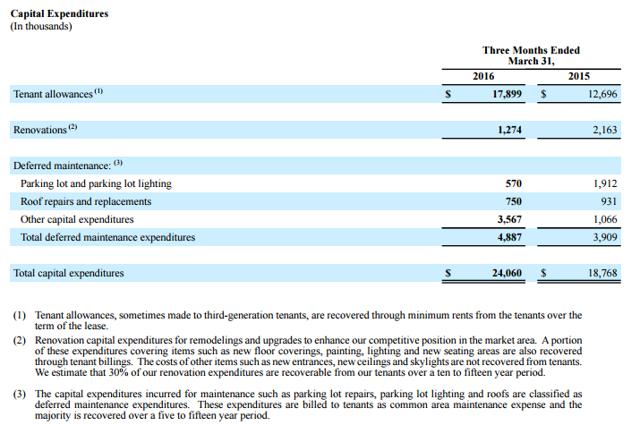 So how has CBL funded its transition?
Well, it has excess FFO with a dividend payout ratio that is only 49%. The other 51% of FFO can go directly to improving portfolio quality and sourcing superior tenants. It appears AFFO was actually positively impacted by tenant shuffling as the new leases were signed at an average rent PSF increase of 24.4%. Now that CBL is getting some stronger anchors, the small tenants are willing to pay up for the increased traffic.

Renewal leases were not as favorable, down 3.2%, but on a weighted average basis, rent PSF increased 2.8% for its mall portfolio.
AFFO was further increased by a reduction in the cost of debt. Weighted average cost of debt improved to 4.49% from 4.91% a year ago.
WPG Report
WP Glimcher has not yet reported its 1Q16 earnings, which are scheduled for May 4th. I am anticipating results quite similar to those of CBL due to the similarities in both properties and strategy.
Question for the bears
As you know, the bear thesis for B Mall REITs is that the internet is going to kill B Malls, as a critical loss of occupancy will cause a downward spiral that eventually results in mass vacancy. Here is what I don't understand about their thesis.
Despite share prices that are basically cut in half, the B mall REITs have not experienced any fundamental pain yet. FFO/share has been stable to slightly up and property level NOI has slowly improved. With each passing month, CBL and WPG are improving their property quality and tenant mix. As they inch closer and closer to high quality portfolios, aren't they at less risk? So if this apocalyptic scenario was going to happen, shouldn't it have already happened?
At this point, the data, in my opinion, says that the bear thesis is broken. It seems the main point of confusion is the conflation of individual properties with the portfolio. CBL and WPG will each likely have individual properties that fall victim to the negative spiral, but we must realize how minimal the impact will be on the aggregate portfolio.
A good portion of their properties was already high quality, while another large portion has successfully been transitioned to high quality. Even among the bad properties, a large chunk has already been sold. In my opinion, the pool of high risk properties that remains at CBL and WPG is not large enough to drag them down, so even if the bears are right about low quality malls going under, CBL and WPG are underpriced. Shown below, CBL's tier 3 malls are now only 8.9% of NOI and I would note that even the tier 3 malls had positive YoY growth in sales PSF.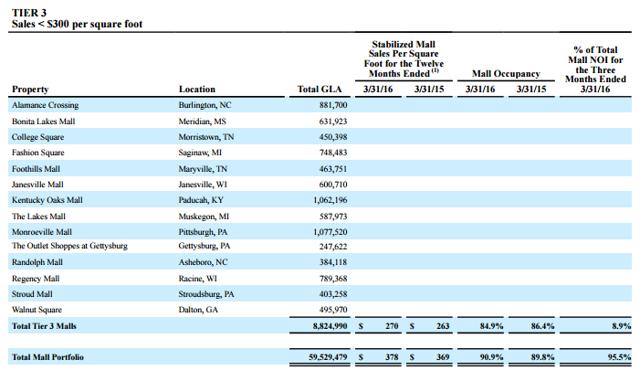 Source: CBL Q1 supplemental
Buy Thesis
The current market price of both CBL ad WPG implies a high probability of significant fundamental failure. They are trading at less than a 3rd of the valuation of mall peers. However, the chance of failure and the magnitude of impact if it does happen are both shrinking rapidly as the companies progress through their quality enhancement strategies. The upside in the event of success is nearly double, while failure is largely priced in. I believe this is one of the best reward-to-risk ratios available at the moment.
Disclosure: 2nd Market Capital and its affiliated accounts are long CBL and WPG. I am personally long CBL and WPG. This article is for informational purposes only. It is not a recommendation to buy or sell any security and is strictly the opinion of the writer.
Disclosure: I am/we are long CBL, WPG.
I wrote this article myself, and it expresses my own opinions. I am not receiving compensation for it (other than from Seeking Alpha). I have no business relationship with any company whose stock is mentioned in this article.