"Memories are the key not to the past, but to the future." - Corrie Ten Boom
Back in the good old days (pre-Abenomics), the yen was among the limited opportunity set of "risk-off" trades which benefited from stock market volatility (NYSEARCA:VXX), corrections and bear markets in US equities (NYSEARCA:SPY). In periods of heightened risk perception, money historically favored the yen as a safe place to hide until the selling stopped.
Much has been made now about the apparent failure of the monetary and fiscal side of Japan to reach stated inflation goals. Increasingly, it appears that no amount of effort from Abe or Kuroda has been enough to kill the deflation monster which is so vehemently fought by central banks worldwide. The surprise lack of action by the Bank of Japan to do more stimulus seems to be an admission that their toolkit, no matter how aggressively they use it, isn't working. The yen, as a result, has begun to strengthen.
Does the yen's recent movement signal a potential risk-off environment to come in the next few weeks or months? Maybe. The blue line below is the price ratio of the iShares 20+ Year Treasury Bond ETF (NYSEARCA:TLT) to the SPDR S&P 500 ETF. Spikes in the ratio are typical, given that Treasuries have tended to end up having an inverse relationship to stocks in periods of high stress. The black line beneath it is the CurrencyShares Japanese Yen Trust (NYSEARCA:FXY). Note that there was a very tight correlation between the outperformance of Treasuries and the yen prior to the QE3 period of 2013, which distorted many historical signals.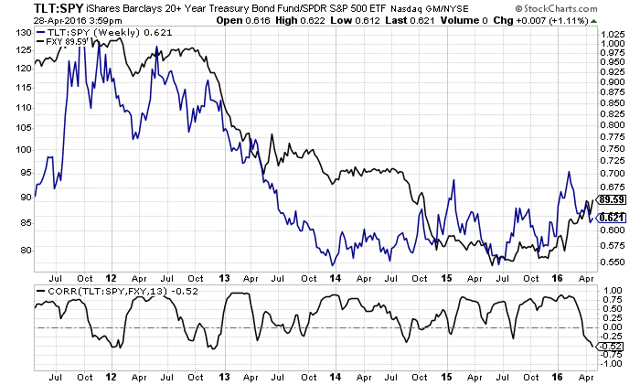 Now, it appears that the movement is ready to sync back together as the rolling 13-week correlation hits the extreme lows of the last 5 years. Why does this matter? Because if the marketplace begins to seriously believe that Japan's fiscal and monetary stimulus is doomed, then the yen likely continues to rise and bring with it a risk-off scare globally. This would cause Treasuries to have another big potential spike against equities.
I'm not fully convinced that will happen right here, right now. Other quantitative indicators we look at suggest things might well be okay in the near term, which is why our Tactical model is fully exposed to equities as of writing (click here to view). Having said that, there is little doubt in my mind stock won't correct again this year. If the yen continues its march higher, and if indeed its historical role as a risk-off trade is back, then the time to get defensive may soon occur.
This writing is for informational purposes only and does not constitute an offer to sell, a solicitation to buy, or a recommendation regarding any securities transaction, or as an offer to provide advisory or other services by Pension Partners, LLC in any jurisdiction in which such offer, solicitation, purchase or sale would be unlawful under the securities laws of such jurisdiction. The information contained in this writing should not be construed as financial or investment advice on any subject matter. Pension Partners, LLC expressly disclaims all liability in respect to actions taken based on any or all of the information on this writing.
Disclosure: I/we have no positions in any stocks mentioned, and no plans to initiate any positions within the next 72 hours.
I wrote this article myself, and it expresses my own opinions. I am not receiving compensation for it. I have no business relationship with any company whose stock is mentioned in this article.