I wrote in a recent article that we would be seriously interested in Chipotle (NYSE:CMG) if the stock approached $400. Well first quarter earnings which were announced a few days ago tanked the stock to $415 a share but we have seen a nice recovery to the $423 level which looks promising. It now looks ominous that its January lows of $404 will be penetrated in the near term especially if the S&P500 (NYSEARCA:SPY) continues to sell off from these levels. However I like Chipotle at these levels. Why? Well let's look at its valuation and specifically its price to sales ratio as its earnings multiple is meaningless after its first quarter loss.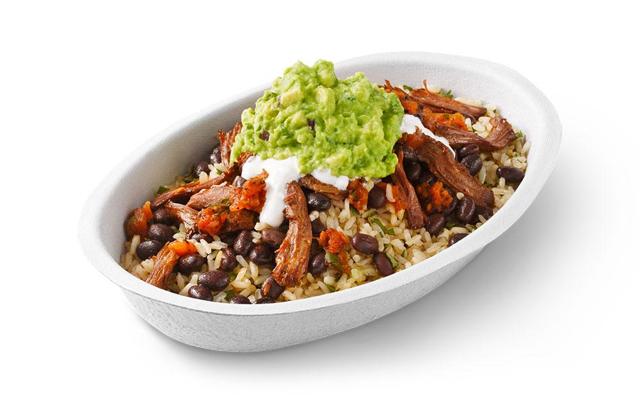 Currently Chipotle has a sales multiple of 2.9 which is much lower than its 5 year average of 4.7 and its 10 year average of 3.66. However what should be remembered is that sales comps were actually improving until the fast casual chain had the misfortune of another health incident (noro-virus) which sent sales in the wrong direction once more. Nevertheless and although I expect the recovery to be slow, sales comps will get better which will drag earnings with it as current elevated expenses gets paid off. Here are 3 strong reasons we are going to get long this stock as I believe its stock is on sale at the moment.
Firstly to give you an idea of the strength of this company's fundamentals, let's review its most important metrics over a 10 year period.
Total Equity
$2.13 billion - Pass
Free Cash Flow
$425 million (10-Year Trend Is Up) - Pass
Revenues
$4.53 billion (10-Year Trend Is Up) - Pass
Operating Margins
17% - (10-Year Trend Is Up) - Pass
Price History of the stock
Up 711% in the last 10 years - Pass
Healthy balance sheet
Total assets = $2.73 billion (10-Year Trend Is Up) - Pass
Competitive Advantage

Growing Fast Casual Market
"Food With Integrity" Brand
Premium Brand Which Garners Pricing Power - Pass

Resistant to recessions?
Sales and earnings actually grew through the great recession period of 2007-2009 - Pass
Not one of the above metrics is trending downwards over a 10 year period which makes me believe it would be impossible for the company not to recover a sizable portion of its market cap over the next few years. The fast casual chain has lost 40%+ of its market cap over the last 8 months but yet Chipotle will have far more restaurants this year as its aim is to invest aggressively through the cycle. Top line sales will undoubtedly grow (I'm expecting -18% sales comps growth in the second quarter) and I just feel bit by bit, this stock is going to recover its traffic numbers.
Earnings have taken a hammering recently due to the aggressive response by management to re-ignite sales. Nevertheless these elevated spending measures will come down in future quarters as sales improve. New initiatives such as the introduction of Chorizo in restaurants as well as changing the burrito coupon strategy to "buy one, get one free" should keep skeptical customers interested whilst also keep traffic elevated. Now the present marketing budget will not be able to be sustained. Furthermore ongoing legal costs with the Department of Justice will come to an end no doubt.
Moreover Chipotle's new safety protocols costs will come down over time once they are up and running for a period of time in the way the company wants them. However everything will be done slowly which is why investors need to remain patient. As long as we don't get any more health scares in the near term, Chipotle still has every chance to meet analysts' expectations for 2017. Next quarter will tell a lot and should confirm that the above initiatives are bearing fruit.
In order to maximize an investment in Chipotle, our entry point is crucial. If we look at a chart of the S&P500, we see that the index sold off by 17 points yesterday which is what was required in my opinion. Why? Well although our portfolio is very much delta long (very much a bullish stance), pullbacks in the equity indexes are essential in order to cleanse sentiment. The chart below shows that the S&P500 has been on a tear since the 11th of February. Cycles in the stock market usually last anything from 35 to 45 days but can drift much longer as a result of quantitative easing by the Federal Reserve. The problem is that we haven't really had a daily cycle low thus far in this daily cycle which is when conditions become oversold (as we nearly have on the 5 day RSI indicator at present). Therefore if we get a swing in the near term (the S&P500 rallies above 2,098 or Wednesday's high), I believe if would be bullish for equities as the daily cycle low would have been confirmed. For conservative investors, that would be the point to add Chipotle as the stock market should have 4 to 6 weeks of higher prices in front of it.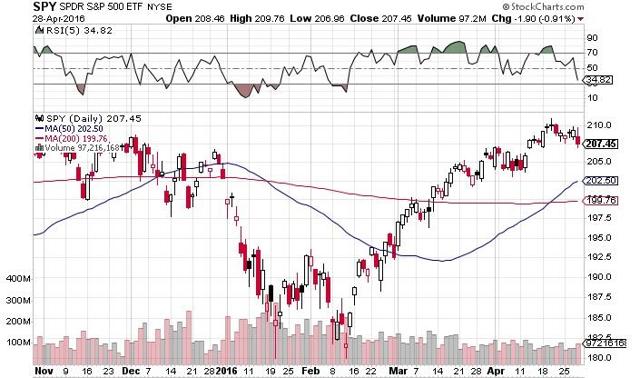 To sum up, I'm 80% sure equity markets will continue to rally which would be a nice tailwind for Chipotle stock. However we are going to wait for confirmation of a swing low in the stock market before we add Chipotle. Our portfolio is now up 15% since mid January as dividends are starting to kick in.
I'm going to be adding a few good dividend and growth stocks to the elevation portfolio over the next several weeks, when I see value. It's imperative that they are not correlated and all don't have similar valuations, to ensure that income is brought in every month, which, over time, will increase our share count. Follow along by pressing the "Follow" button above.
Disclosure: I/we have no positions in any stocks mentioned, and no plans to initiate any positions within the next 72 hours.
I wrote this article myself, and it expresses my own opinions. I am not receiving compensation for it (other than from Seeking Alpha). I have no business relationship with any company whose stock is mentioned in this article.