We are into the third month now since the price of gold crossed above the $1,230 mark this February, and since the then, the price of the yellow metal has oscillated within $30 above or below that mark. As such, it is sensible to say that the price of gold has found a comfortable trading zone when compared to the volatility experienced between June last year and January this year.
The yellow metal is currently trading at just above the $1,242 mark and based on the volatility over the last few weeks, it appears to have settled around this mark. Gold is one of the most traded commodities in the world alongside oil and coffee, and you would find it in virtually every broker's trading assets index including options, ETFs, Stocks and funds, represented in one form or another.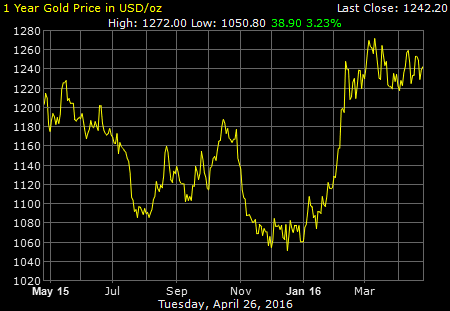 Since the beginning of last year, the market waited for the Federal Reserve to raise interest rates. This expectation rallied the stock market and subsequently affected the price of gold to some degree. It is common sense that when income assets such as stocks and bonds become more attractive, currency assets like gold tend to suffer.
However, after the beginning of the year, it became apparent that the decision to increase US interest rates further may not be made as soon as most people expected. The global stock market has tumbled and recovered significantly this year, but the price of gold has continued to rally to the current levels. Even as recent developments continue to suggest that we could yet see another interest rate hike soon, the yellow metal remains unshaken.
So, has gold finally shaken off the potential impact of another interest rate hike? Given the current market conditions and the inevitable second interest rate hike, it appears as though that would be the case. So does this make it a good time to invest in gold? Let's examine.
Is now really the time to buy gold?
Gold has for several years been considered a safe haven for equity investors during a market meltdown. However, some people still believe that there are better alternative ways of hedging against market uncertainty.
For instance, if you have some investments in bonds, ETFs, or real estate funds, that could act as a shield to your investments should markets get hit hard by unpredictable economic conditions. Over the last few years, global economies have been threatened by geopolitical imbalances and economic turmoil. However, markets continued to rally regardless of these warnings until early this year, when things began to head south.
A simple interpretation would be that the recent rally in the price of gold came after investors realized that the initial global economic warnings could weigh heavily on their investments should markets experience a meltdown.
These are income assets that guarantee more than just capital gains over time and this gives them an advantage over investments in gold, especially when investing in the yellow metal as a commodity. However, these assets are still subject to potential declines in value when exposed to harsh market conditions. Some of the top US ETFs have experienced both conditions this year, and this highlights just how volatile they can be.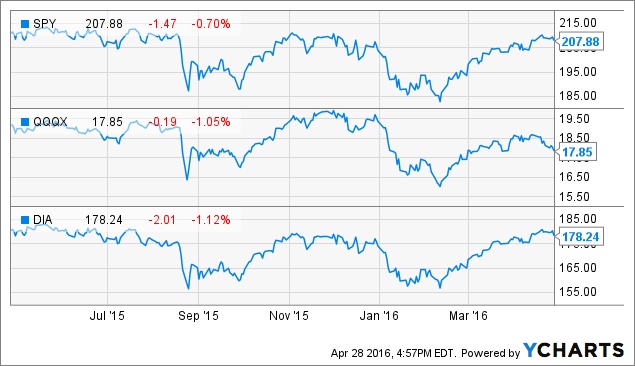 SPY data by YCharts
On the contrary, gold appears to thrive under such conditions particularly because of two things. First, investors tend to acquire the yellow metal to cover their investments in risky assets, and second, governments (central banks) tend to acquire more gold bullion to boost their gold reserves thereby providing a stable platform for economic recovery.
Furthermore, history shows that regardless of the short term fluctuations, the price of gold has always maintained an upward trend, which means that eventually, the price movements always trend in a series of higher highs and higher lows.
Nonetheless, given the recent rally in the price of the yellow metal, it may not be the best time to buy gold because it appears to have hit a resistance level in the region of $1,200 to $1,260. Right now, the price of gold appears to be comfortably poised at $1,240. It would be more realistic to wait for it to drop close to $1,200 in order to catch the next rebound session.
Conclusion
In summary, gold is still one of the best safe havens for equity investors when markets are experiencing a meltdown. Right now, the stock market has not been extremely bearish, but the bullish outlook still remains questionable.
In addition, investors have several alternatives to choose from when it comes to covering their investments in risky assets. Therefore, given the fact that the price of gold currently appears to be approaching its most recent peak, it would be ideal to target for it to drop towards the current conventional support level at $1,200.
Disclosure: I/we have no positions in any stocks mentioned, and no plans to initiate any positions within the next 72 hours.
I wrote this article myself, and it expresses my own opinions. I am not receiving compensation for it (other than from Seeking Alpha). I have no business relationship with any company whose stock is mentioned in this article.