Overview
Netflix, Inc. (NASDAQ:NFLX) is one of the more broadly recognized FANA stocks including Facebook, Inc. (NASDAQ:FB), Amazon.com, Inc. (NASDAQ:AMZN), Netflix and Alphabet, Inc. (NASDAQ:GOOG) (NASDAQ:GOOGL). FANA does not sound as dangerous or risky as FANG, but we all have Google to blame for changing its name, quite poorly I might add.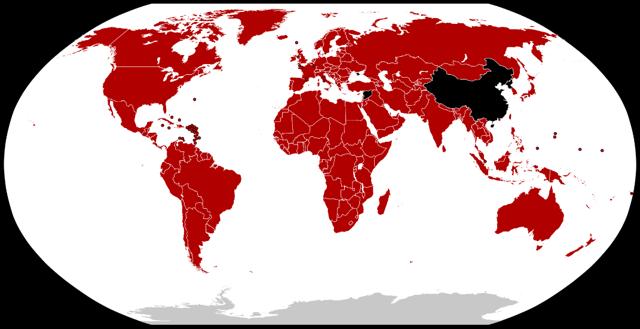 Investors love to pounce when a FANA stock has experienced less than expected results. Facebook has arguably been the most successful of late from an earnings perspective as the company is rallying today in after hours and dominating the digital advertising market. Contrastingly, investors have been bombarded with negative articles on Netflix since the company's earnings report. These critiques have stemmed from saturated domestic markets, to slowing global growth, to the amount of content obligations being unsustainable. I am sure new comments today will add many more!
Netflix's stock price valuation has been the primary culprit as has been typical throughout the recent years. But I would portend that many of these criticisms stem from a lack of focus on what drives Netflix's business and where the company's potential lies to become successful in the near and distant future, based on these drivers.
As an example, most investors would agree that Netflix's subscriber growth will be important to drive the business model, but not all would agree that increasing content obligations from today's $12.3 billion level is equally or even greater in importance. I offer the viewpoint that increasing content obligations will be instrumental leading to further subscriber growth, profitability and free cash flow. This is based upon Netflix's transition into a media company which will drive increased changes in streaming content liabilities. Additionally, the correlations between Netflix's content library growth and the company's subscriber, revenue and contribution margin growth, and future profitability and free cash flow growth all will benefit.
This gets to the discussion revolving around Netflix's decision to heavily invest into its original content development. The company does not break out its proportional spend between original content and leased content, but has stated that the former will not be as costly over the longer term. Additionally, both are expected to grow, but original content new releases have grown substantially for the 2016 lineup.
Based on this, the most telling factor impacting Netflix's free cash flow is the company's additions to streaming content, which accounted for over 98 percent for all content additions. There are two important takeaways here. First, original content requires more upfront cash, which also creates a lag for expected profitability. Second, the percentage rate for both amortization of content whether leased or originally purchased, and changes to streaming content liabilities will be the most crucial for driving future free cash flow.
The other important point is focusing on Netflix's growth in combined contribution margin. This will allow for the company to increase its profit margin. The obvious and most easily forecasted factors include Netflix's paid members and average revenue per paying member growth. By combining these variables, the 2020 time frame becomes a critical point where investors should expect Netflix to be generating substantial free cash flow approaching the $1 billion level. This is quite a contrast compared with today's trailing twelve-month, TTM negative $1 billion in free cash flow generated.
But investors need to ask themselves whether they really think that Netflix is going to be spending $5 billion today and $10 billion or more by 2020 in streaming additions to continue losing over $1 billion in free cash flow. If they think so, they may be missing the opportunity as the company is expecting its investments to generate substantial returns.
Content Library Drives Growth
Netflix is in the early stages of developing the company's original content. Early-stage successful shows have included "House of Cards" and "Orange is the New Black," and newer shows have garnered strong performance as well. Netflix measures all of the company's content based upon hours of viewing in determining the value for each show or movie. This is an important component for renewing leased content and/or continuing with original content.
As such, investors should realize that Netflix's substantial portion of growth has been driven by the company's leased content, and that original content is at a stage where its impact has been less of a driver and determining the value in supporting further growth is not well reflected. This is not a guarantee for future growth, but rather a distinction regarding Netflix's transition into original content. Netflix's aspirations to become as successful as HBO are well documented, but Netflix is attempting to become the dominant Internet TV media company, while acknowledging the many other media outlets the Internet has to offer.
The relationship between Netflix's content library and paid member growth is highly correlated. Content is what will continue to drive new member additions as well as lead to retention of existing paying members through the midst of price increases over time. This gets us back to Netflix's core metric of hours viewed for its shows and movies. This metric is combined with the company's breadth of member activity information which iteratively improves the company's services, and will undergo fundamental changes as original content development increases. For example, gaining further control of content by Netflix will allow for opportunities to better immerse paid members into a personal and/or customized experience.
The reason for considering these factors is to get buy-in regarding the company's desire to grow its content library and corresponding content obligations. If investors do not buy-in at this point regarding how crucial it is for Netflix to build original content through a library and obligations, then there is no way to consider an investment in the company. This is not a bad thing either if the business does not make sense.
Based on this, one cannot evaluate Netflix's business by only assuming paid member growth rates leading to revenue, contribution margins, operating income and diluted EPS to truly value the company. It is imperative to focus on what drives the company's member performance and free cash flow. Accounting for content additions, amortization and obligation changes will provide the best transparency for investors, and similarly will be Netflix's focus on returning value to its shareholders.
Content Library And Content Obligations Are Connected
Netflix has witnessed substantial growth in its content library since 2011. Investors should realize that gross content assets are amortized to provide both current and non-current net content assets, termed as content library, net respectively on the balance sheet, b/s.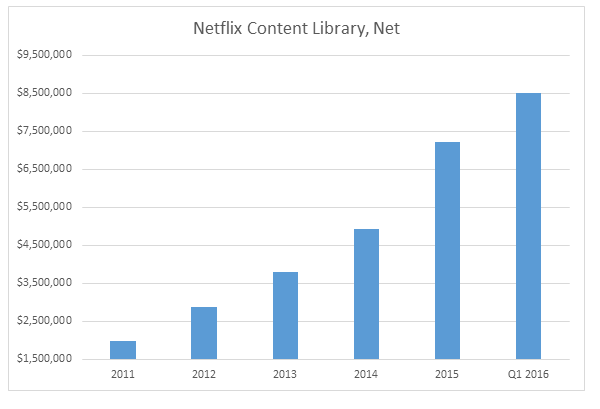 Source: Company financials and personal database
As the figure above displays, Netflix's content library, net has grown by an average of 34 percent per year since 2011 to over $8.5 billion currently. This growth includes the first quarter of 2016, so the rate of growth should be expected to increase once the fiscal year closes.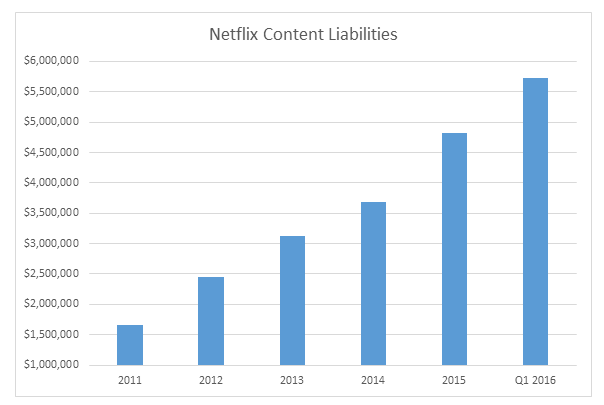 Source: Company filings and personal database
The company has taken on content liabilities which represent current and non-current payments coming due for either original or leased content. As the figure above illustrates, the rate of content liabilities growth per year through 2016 has averaged 28 percent per year to $5.7 billion, a growth rate slightly slower than content library, net.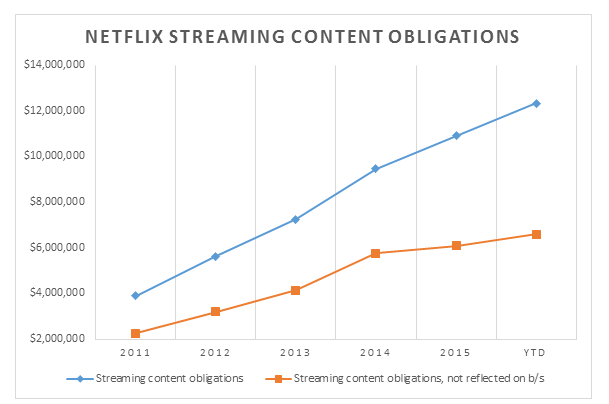 Source: Company filings and personal database
But as the figure above displays, Netflix has a significant amount of streaming content obligations which are not reflected on the b/s. Netflix explains these amounts as agreements that include an obligation to license rights for unknown future titles and that the ultimate quantity and/or fees are not yet determinable. The Walt Disney Company (NYSE:DIS) and other TV series license agreements are cited as examples.
The growth rate per year for streaming content obligations not reflected on the b/s has grown at a slightly slower rate since 2011, at nearly 24 percent to $6.6 billion. However, since 2014, the growth in Netflix's content liabilities has grown nearly 24 percent per year, while the growth in streaming content liabilities not reflected on the b/s has grown nearly 7 percent per year.
This is a clear reflection of Netflix's increased spending to purchase and produce original content. This also reflects a stronger correlation between content liabilities and library content, net on the b/s based on this divergence in growth. Moving forward, investors interested and/or invested in Netflix should hope to see a continued correlation.
Content And Free Cash Flow
Investors should understand that there are five general line items within the operating cash flow section for Netflix, which ultimately determine the company's free cash flow. These include net income, additions to streaming content library, change in streaming content liabilities, amortization of streaming content library and other. The other category includes all other line items typical for media companies and has displayed consistent positive performance.
Netflix has been forgoing net income growth in order to grow the company's streaming business; as such recent TTM net income was slightly above $125 million. The other line item generated an additional $330 million in operating cash flow for a combined $455 million when included with net income.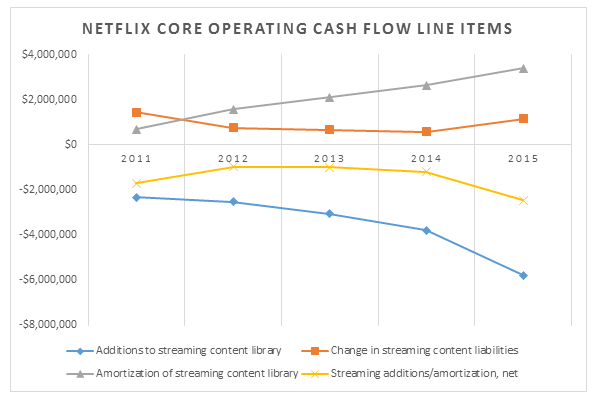 Source: Company filings and personal database
The figure above provides the three most relevant line items for operating cash flow as well as a merged line item, streaming additions/amortization, net. Clearly, the additions to streaming content library has been the primary contributor to Netflix's negative free cash flow of $1 billion during the TTM period. Acquisition of DVD content library reflected only $78 million or less than 2 percent of all content during 2015.
Two of these three line items, including additions to streaming content library and amortization of streaming content library; or streaming additions/amortization, net provide investors with a similar correlation to additions to streaming content library. This amount reflects the changes for Netflix on the b/s as the company adds content and it is amortized. Investors should also realize that amortization is also accounted for in the total cost of revenues.
During 2015 Netflix witnessed a substantial increase in additions to streaming content library. This increase significantly outpaced the increase in amortization. But changes in streaming content liabilities increased at an even greater rate, nearly doubling. Original content costs require more upfront cash, and is most likely the driver for the increase in streaming content liabilities. With Netflix utilizing an accelerated amortization approach, increased changes in content liabilities is a good thing as it will being Netflix towards a more traditional media model where additions to content assets and changes for content liabilities are near parity.
To this point, it is worth attempting to look at possibilities, but more important is to understand what Netflix needs to accomplish in order to generate free cash flow. Investors should be expecting to see substantial free cash flow generated, or else the investment thesis will fall apart. As far as a catalyst goes for shorts, I believe that the next year or two is going to provide a tipping point; if original content cannot generate significant growth in free cash flow, not much else will.
Putting The Pieces Together
In order to construct an estimate for Netflix's 2020 free cash flow, there are several steps to take. The first one is the easiest, determining Netflix's revenue by 2020. The next few steps involve determining Netflix's future contribution margin, diluted EPS and free cash flow based upon the core identified operating cash flow line items above.
The recent article written by Seeking Alpha contributor Edward Hoofnagle, "Bring Out The Butter, Netflix Is Toast", provides good assumptions based on some of this information. The position in this article disclosed was short, so I like using this as an example, since I am long Netflix. I am managing the Lean Long-Term Growth Portfolio, LLGP and Netflix was added at around the same price it is at today, back in February for a total return of nothing so far.
What investors will be able to compare between this information is that two investors with long and short positions have pretty close estimates for 2020. This will allow investors to focus on the key line items as time goes by and to make their own decisions as to what valuation they would consider owning the company, if at all.
Income Statement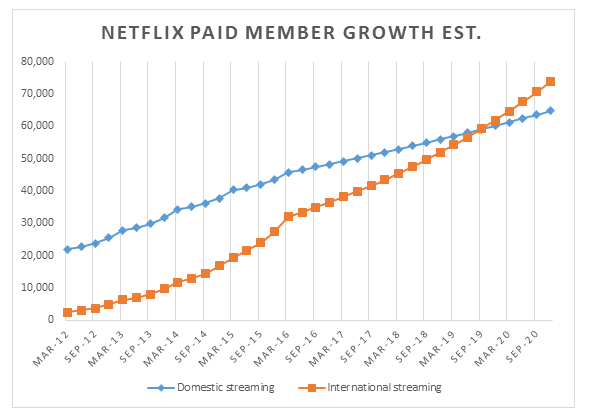 Source: Company filings and personal database
The key driver moving forward with a direct relationship to Netflix's revenue is paid member growth for both domestic and international streaming. The DVD business segment will still be around during 2020, but its revenue contribution will be significantly less.
Through 2020, an annual growth rate at nearly 7 percent per year was assumed which would translate to 67 million domestic paid members. By 2020 it has been assumed that an average monthly price per paid member of $10.80 would occur which represents an increase of 24 percent from the March 2016 amount. Netflix's price increase throughout the year should provide growth towards $10.00, and it is anticipated that another increase would occur by 2020.
For international paid members, an average annual growth rate of 9 percent per year is assumed which would translate to 74 million subscribers. By 2020 it has been assumed that an average monthly price per paid member of $9.00 would occur which represents an increase of 23 percent from the March 2016 amount. Netflix will similarly be increasing its current international prices globally. Additional price increases should occur as markets mature, but certain geographies will have much lower amounts.
For the DVD segment paid members are assumed to decline nearly 60 percent to 2 million by 2020. Average monthly prices per member are assumed to remain fairly constant with minimal declines to $10.00. When combining these assumptions, Netflix total revenue estimates for 2020 would be at $17 billion.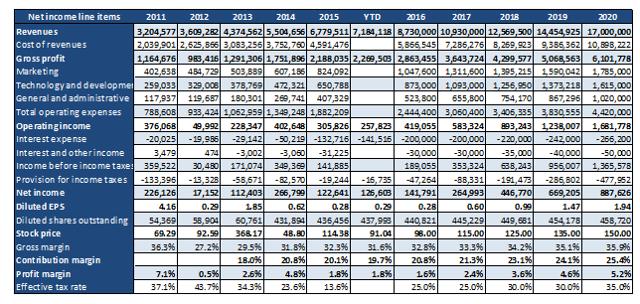 Source: Company financials and personal database, all numbers are in thousands.
Revenue has been estimated as mentioned above, and most other estimates getting to the bottom-line have been made. For example, cost of revenues are expected to increase by nearly 140 percent; total operating expenses are estimated to more than double by 2020; interest expense is estimated to double; and income taxes are anticipated to increase by nearly 150 percent based on the effective tax rate. Despite conservative estimates, net income and diluted EPS are anticipated to increase by nearly 600 percent. This assumes a 500 basis point increase in total contribution margin to 25 percent and a 340 basis point increase in profit margin.
I am being very lenient assuming a P/E ratio of 75 times earnings. Many will criticize me on this, but after considering the company's free cash flow potential and assuming that future growth will continue to occur, a premium at this level could be prevalent. If the company can sustain this growth a P/E approaching 30 times earnings would be possible by 2025 at a price near $225/share. I think these assumptions are much more conservative versus many analyst estimates.
Additionally, investors should consider the fact that Netflix has already surpassed Discovery Communications (NASDAQ:DISCA) by revenue, and that by 2020, it will most likely have also surpassed Viacom Inc. (NASDAQ:VIAB) and CBS Corporation (NYSE:CBS).
Free Cash Flow
As discussed above, free cash flow is derived primarily from five line items from the operating cash flow section. The income statement overview has provided us with one of these inputs, net income, assumed to be at $890 million by 2020. The other line items include streaming additions/amortization, net, change in streaming content liabilities and other items.

Source: Company filings and personal database, all numbers are in thousands.
There are two important percentage relationships that this table provides for investors, which both relate to Netflix's original content growth. The first is the percentage of change in streaming content liabilities to additions to streaming content library. This percentage reached a low during 2014 of 15 percent, but has increased to 20 percent as of 2015.
As of the first quarter 2016, this amount has proportionally doubled increasing to nearly 40 percent. This is a direct result of Netflix's increased original content streaming additions. Similar to traditional media companies such as Discovery Communications, Netflix is going to need to eventually get closer towards parity between original content streaming additions and the change in streaming content liabilities. The information presented above is a clear indication that this has occurred as the rate of growth for licensed content has declined substantially since 2014, while changes in content liabilities have doubled.
Contrarily, the percentage of amortization of streaming content library to additions to streaming content library decreased from a peak of 70 percent during 2014 to nearly 60 percent as of 2015. This proportion further declined during the first quarter of 2016 to 45 percent, and illustrates an inverse relationship based upon original content streaming additions versus licensed content.
Over time, investors should expect to see growth in changes to streaming content liabilities driven by original content purchases and production. During the first quarter of 2016, amortization of streaming content library increased by over 40 percent, while the change in content liabilities increased by nearly 100 percent, reflecting consistent performance from 2015. Estimates assume that this scenario will continue to unfold by 2020 with traditional parity achieved and changes in content liabilities reaching nearly 65 percent of additions to streaming content, and amortization of streaming content liabilities declining below 30 percent.
These assumptions are predicated upon Netflix becoming a major original content purchasing and developer. It will remain to be seen how adjustments occur as the company will continue to use its hours viewed per show and movie to determine the most effective amortization method. But investors should be paying close attention to these line items as management has alluded to a focus on profitability during 2017.
I am obviously not as bullish for diluted EPS of over $1/share during 2017 as average analysts, but original content should allow Netflix to generate substantial free cash flow sometime between 2018 and 2020. This will greatly mitigate the impact of content license renegotiation, perpetually reducing Netflix's profit margins, which is a major concern for many investors.
Valuation Premium Will Remain Substantial In The Near Term
It is not unreasonable by any means for investors to think that Netflix should trade at a lower valuation than the current $91/share price. I myself would love to get the stock at a lower price, and I will if it hits my targeted threshold which is dependent upon market factors. Netflix will typically trade in line with the technology sector and/or broader market trends.
Based on the company's diluted free cash flow per share potential, I would feel comfortable owning the stock at a price near the $150/share level, three to four years from today. I also will be measuring the company's valuation by free cash flow which is a non-GAAP measure. Over time, diluted EPS and free cash flow should possibly get to parity.
Today's price reflects a steep premium based upon TTM P/E ratio, EV/EBITDA and P/B. But this price is already thinking about tomorrow's future potential. The stock was a good short opportunity going into earnings, but now that it has retracted by 18 percent, and will most likely hover around the $90/share level, still 325 times 2016 earnings estimates.
It appears that 2016 will mostly be a repeat of 2015; strong top-line revenue growth with negative free cash flow of around $1 billion or so. For some investors, this may seem illogical and not worth the risk. But for other investors, an exercise of patience may very well pay off over the next few years.
Regardless, one could argue that Netflix should trade somewhere between $50-$150/share during 2020. This would place the company with possible returns in a range of negative 45 percent to 65 percent; providing non-GAAP free cash flow multiples of 25 to 75 times diluted EPS. I would posture that in the event Netflix is able to generate substantial improvements in free cash flows over these next few years that the premium will remain intact and strong returns will have followed.
In the event that the company's focus on developing and producing original content is not able to deliver this type of performance over this time frame, a clear catalyst to short the stock will be in order. Investors should be looking for more clarity during the fourth quarter of 2016 as guidance for 2017 should see substantial improvement for both net income and free cash flow.
Investor Perspectives
Most would agree that Netflix is a unique Internet-based media and technology company that provides a valuable service, which has performed quite well based upon video viewing hours and subscriber growth. This performance is highly attributable to the company's evolution of its content programming strategies.
The biggest rift Netflix has caused is purely based upon the company's stock price valuation. The phrase, "good business, bad stock price" is often used for such FANA companies. Many looking for short opportunities who also consider long-term strategies would most likely buy Netflix if the stock price hit a more "reasonable" price. But for companies leading less familiar and newer industries, discounted prices are rarely something that the present regularly provides.
As a long-term investor, my focus is on identifying opportunities for growth. Netflix's current stock price at $91/share is a reflection of a general fair value level based upon strong expectations for earnings and free cash flow returns in the near future. The average price target has come down, but is still above $115/share reflecting a potential return above 25 percent over the next twelve months.
Investors should expect the stock to trade in a range between $85 and $110/share assuming a business-as-usual year of low profits and negative $1 billion or so in cash burn. This should leave the company with around $1.3 billion in cash by year-end.
During late 2016 and through 2017, investors should begin to get more transparency regarding improvements in profitability and free cash flow, as well as additional borrowing needs. Depending on investor preferences a wait-and-see approach may be suitable for those who are having a hard time understanding why the valuation levels are where they are today.
For investors looking to short the stock, my opinion is that patience needs to be exercised as well as the original content strategy needs to play out through this year and possibly somewhat into next year. In the event the company executes on its near-term strategies and free cash flow targets are met, the most likely outcome will be significant stock appreciation from today's current level.
Disclosure: I am/we are long NFLX.
I wrote this article myself, and it expresses my own opinions. I am not receiving compensation for it (other than from Seeking Alpha). I have no business relationship with any company whose stock is mentioned in this article.