Isis Pharmaceuticals (ISIS) will announce its 4th quarter and 2011 earnings on Leap Day, Wednesday February 29. If history repeats, investors may "leap" from the stock as nerves often appear in the pharmaceutical sector. Analyst estimates suggest ISIS will release quarterly EPS of -0.05 and -0.81 per share for 2011. This report may provide a chance to take a long position in this stock with such potential.
The company's history of revenue generation is no reason for interest. The Isis's early cancer products with Eli Lilly (NYSE:LLY) were scrapped in the mid 2000s, though the partnership remains. Novartis' (NYSE:NVS) partnership drug Vitravene is an approved HIV associated CMV retinitis drug with low sales due to limited indications due to improving HIV outlooks. Novartis has pulled out of this drug's manufacturing.
Despite the downsides, more and more analysts are listing Isis as a strong buy, despite current negative EPS. Estimates put Isis into profitability in 2014 as its pipeline produces product. The most likely candidate for increased sales revenue is Kynamro, for which partner Genzyme/Sanofi (NYSE:SNY) will file an NDA with the FDA likely this quarter. Isis will receive a $25 million payment upon successful application with the FDA and a potentially large market share in the $13 billion a year cholesterol market that is losing Lipitor (NYSE:PFE). As of mid-2011, the MAA for European markets had been filed.
Kynamro may or may not revolutionize cholesterol management as the company's CEO believes, but it will have a much larger market unlike Vitravene regardless. If the FDA's feeling toward health promoting innovation, from which diet drug maker Vivus (NASDAQ:VVUS) benefited recently, continues, Isis could see an easier road to Kynamro's approval in the US. While VVUS's Qnexa is more novel in nature, lifestyle and health drugs in this arena share similar success with less potential scrutiny.
Kynamro may have attracted attention, but it's the IP and increasing maturity of the pipeline that should attract a non-risk averse biotech investor's long term interest. Joint ownership with Alnylam (NASDAQ:ALNY) of Regulus Therapeutics, a venture in microRNA based therapeutics, show the company's investment in their RNA anti-sense technology platform which can be economically applied to a wide spectrum of diseases. In the company's 28 drug pipeline, 12 drugs are currently solely Isis property.
Also investing in the company are big name partners which also provide more financial stability in a sector where fundraising and bankruptcy can hurt the investor. The chart below details the major key partnerships Isis maintains in developing drugs in its pipeline. Of the key large Pharma companies, many of the big names have an Isis partnership as its platform so broad its potential solutions can be applied to disorders and diseases from cancer to obesity to rare genetic conditions. The numbers do not include royalties.
Partner
Total Amount of Partnership
Amount Secured to Date
Drugs
Status
Indication
GlaxoSmithKlein
$1.5 billion
$48 million
ISIS-TTRRX

ISIS-AATRX

Phase I

Pre-Clinical

TTR-Amyloidosis

AATD- Liver Disease

Genzyme/Sanofi
$1.5 billion
$325 million
Kynamro
Phase III - NDA to be filed in Q1 2012
Cholesterol
Biogen Idec (NASDAQ:BIIB)
$299 million
$29 million
ISIS-SMNRX
Phase I - fast tracked
Spinal Muscular Atrophy
Eli Lilly
$200 million
$21 million
survivin
Phase II
Cancer
Oncogenex (OGXI)
Teva (NYSE:TEVA)
$111 million
$10 million
clusterin
Phase III
Chemotherapy
Excaliard/Pfizer
$14 million
$4.4 million
EXC001
Phase II
Local Fibrosis
Isis has a recent history of plunging after earnings releases only to rally. With a greater loss in Quarter 3 than estimated, the stock took a dip only to bounce back as the IBB sector caught traction as 2012 began. As of the 3rd quarter, ISIS had earned $11 million in milestone payments from partnerships compared to $13 million the past year, largely due to timing of payments. Sales growth is expected to show a double digit percent increase in both quarter 4, though sales are expected to be down from 2010.
Expect spending to show an increase from the second half of 2011 as more drugs are in later stages of the pipeline and the company is financing further clinical trials. A $5 million milestone payment from GlaxoSmithKline for its alpha 1-antitrypsan drug partnership was pushed to the 4th quarter, however, potentially lessening the blow. Financing for Kynamro will be reduced moving forward as Isis is nearing its $125 million obligation and future developmental costs will be split 50:50 with Genzyme.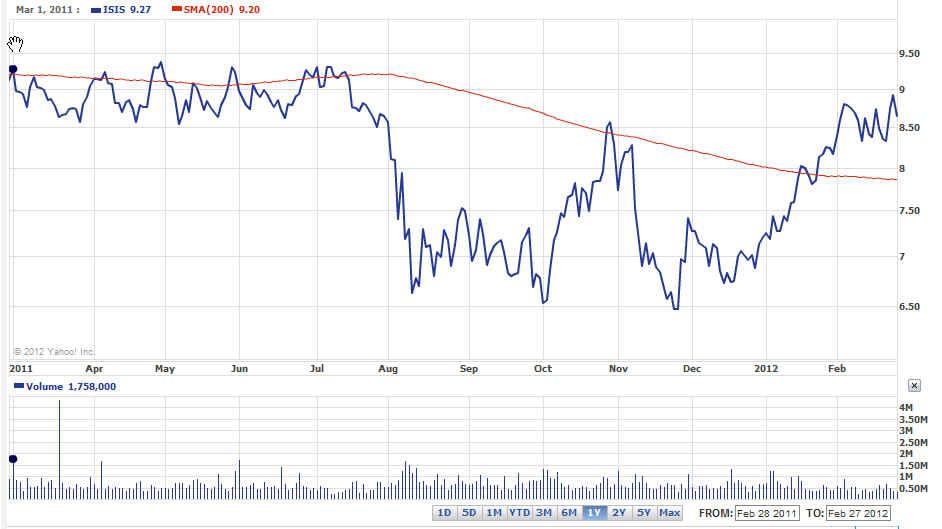 A stock dip post earnings could provide an opportunity for long investors to take an entry point into the stock. By 2014, the company is expected to bring positive EPS. Total debt is approximately $200 million with cash totaling over $350 million. For the sector, one could do worse factoring the IP potential. To invest in Isis, you are banking on its strength to withstand the dips and it looks poised to do so.
Insider buying is not currently strong, but watch for this to pick up after earnings if Isis's trend holds true. A one year target of $11 and pipeline potential for a homerun, Isis could bring timely investors confidence in 2012 and gains moving forward. Do your research and continue to keep your eye on Isis.
Disclosure: I have no positions in any stocks mentioned, and no plans to initiate any positions within the next 72 hours.