ConocoPhillips (NYSE: COP) has announced its Q1 FY16 results, with the company beating the EPS estimates by $0.10 -- not much to rejoice about. COP reported a per-share loss of $1.18, which -- after adjusting for special items -- is reduced to $0.95, narrower than the FactSet consensus of a per-share loss of $1.05.
Special items for the quarter were non-cash impairment charges in the Lower 48 ($172 million), in Europe and North Africa ($60 million), and a pension settlement charge of $58 million.
As per CEO Ryan M. Lance:
I think it's important for investors to know how we're thinking about the current environment, but also how we have positioned the company for strong performance when prices recover.
The company blamed lower realized prices for the earnings plunge on a year-over-year basis. In the corresponding quarter a year ago, the company had reported $0.22 in earnings. During Q1 2015, the average realized price for crude oil was $48.05, while in Q1 2016 it stood at $31.47 per barrel.

Source: Supplemental Information
Similar comparisons for the average realized prices for natural gas liquids, bitumen, and natural gas can be seen below.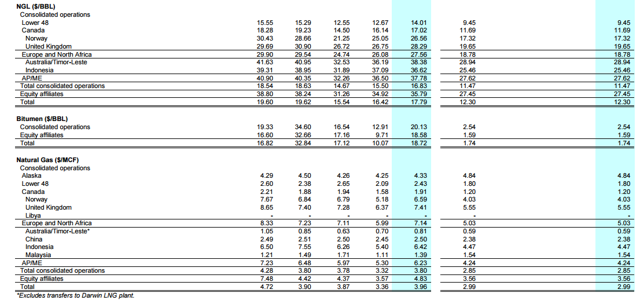 Crude oil is currently hovering near $45 per barrel, and talks of the oil market rebalancing in the second half of 2016 are getting louder. So, I was taken aback and a little disheartened to see the capex guidance lowered from $6.4 billion to $5.7 billion. Coming from a company that is the world's largest independent E&P based on production and proved reserves, it is disappointing given that BP (NYSE:BP) just reported better numbers and Exxon Mobil (NYSE:XOM) has hiked its dividend. Is ConocoPhillips being ultra-conservative? Maybe.
In my previous analysis on the company, titled "ConocoPhillips' Prudent Dividend Cut," I had suggested that cost cutting and capital preservation measures will help the company in long term. Although the management remains highly committed to strengthening its balance sheet, it seems that they are more inclined to returning the money to the shareholders via dividends.
I think that we have seen the end of dividend cuts from ConocoPhillips, and we might see increased shareholder returns going ahead. Lance hinted at higher capital returns to shareholders. When Blake Fernandez, analyst at Scotia Howard Weil questioned the management on shareholder returns, Ryan said:
I think when you look at what we've kind of set as priorities, we've got clearly in the medium term, we need to get the balance sheet repaired and back down to the target levels that Don described. But at the same time, we think we're going to target annual real increases to the dividend at the same time. I mean, to put that in perspective, a 3%, 4%, 5% dividend increase is less than $60 million. So I think we're going to -- that will be important to us to demonstrate that as well as we're going forward.

So, we'll be targeting some of those annual returns to the shareholder through the dividend channel and also reducing the debt as we come out of an area where we're generating free cash, or we've reached that point of cash flow neutrality that you referred to. Now, as we get that free cash and we think about it, what we've said is we're just going to be really judicious about allocating the capital. We'll make sure that per share growth competes with organic growth that we have in the portfolio. I think we'll probably, maybe a bit less ratable, we'll try to be a bit more opportunistic around that.
The company has raised $4.6 billion of low-cost debt. However, in an environment of rock-bottom rates, I don't think interest would be a significant burden.
The capex reduction has fueled fears that the company might not be able to keep its production flat, but Alan J. Hirshberg -- EVP of Production, Drilling & Projects -- has clarified that they can easily hold their production flat for over a decade in the $5 billion to $6 billion capex range.
Your Takeaway
ConocoPhillips is attempting to pass this cyclical downturn with a disciplined mindset. It has indicated that levels of $60 per barrel of crude would be really good for the company. Additionally, with the management focusing its attention on higher shareholder returns, the stock will become attractive for dividend investors. Although the yield is currently unattractive at 2%, I am banking on the management to provide competitive dividends going ahead.
There will be some misses along the way, but I can say with full confidence that there will be significantly more hits. And that is what makes COP a worthy, long-term buy.
Disclosure: I/we have no positions in any stocks mentioned, and no plans to initiate any positions within the next 72 hours.
I wrote this article myself, and it expresses my own opinions. I am not receiving compensation for it (other than from Seeking Alpha). I have no business relationship with any company whose stock is mentioned in this article.