I haven't written on Apple (NASDAQ:AAPL) in a good long while. My last article was from February 17, and the article before that one, titled "Apple: If iPhone Keeps Shrinking," included a good quantification of my expectations for the future. I can preliminarily say that Apple hasn't strayed off the course I saw it on back then. But let's cover it in more detail, since there are actually a few relevant developments to be added.
The Underperformance
My previous main conclusion was that Apple stock was likely to underperform at least until July/August.
At the time, even after the massive hit post-Q1 FY2016 earnings, Apple sat at $95.91 (discounting the $0.52 dividend paid since then). The S&P, on this date, stood at $1939.38.
Fast forward to today, and Apple closed at $94.83 while the S&P closed at $2075.81. Thus, Apple went down by 1.1% while the S&P went up by 7%. Apple underperformed by 8.1%.
It should be said that this underperformance wasn't large. It wasn't large not because Apple had any favorable developments, though, but because its low valuation already discounted a measure of pessimism regarding its prospects.
Q2 FY2016 iPhone Numbers
During Q2 FY2016, Apple sold 51.2 million iPhones. In my article, I had predicted a range of 46.8-51.1 million units. It might seem that the actual number was slightly above this range.
Alas, in practice it wasn't. The difference was iPhone SE channel filling amounting to a few million units. This is borne out by the ASP (average selling price), which went down significantly - $642 in Q2 FY2016 vs. $690 in Q1 FY2016.
Indeed, iPhone revenues were down 18%, which was within my predicted range (-12.4% to -19.9%), and not far from the worst end of that range. Again, this shows that one-off channel filling was the reason why iPhone numbers weren't worse still.
On the other hand, it's clear from the ASP impact that while the iPhone SE helped unit sales, it is hurting gross margins already. This effect will become more noticeable going forward. Here's how the quarter looked in terms of iPhone relevance versus gross margins: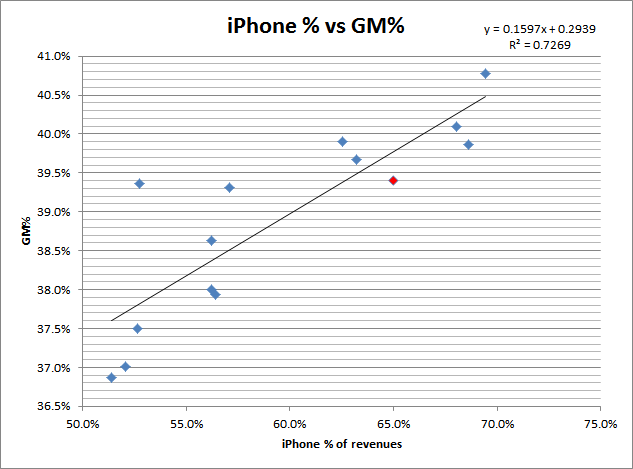 Q3 FY2016 Guidance
What was really surprising about Apple's quarter wasn't the quarter itself, though. It was the guidance for Q3 FY2016.
You'll remember that I had already concluded that Q3 FY2016 would have to be guided down heavily, on account of my models for that quarter. The models indicated revenues of $43.4-$45.7 million, gross margins of 38.5%-39.0% and EPS of $1.50-$1.63.
Apple, however, guided like this:
Revenue between $41 billion and $43 billion.
Gross margin between 37.5 percent and 38 percent.
Operating expenses between $6 billion and $6.1 billion.
Other income/(expense) of $300 million.
Tax rate of 25.5 percent.
Of notice:
The high end of Apple's revenue guidance is below the low end of my Q3 FY2016 models.
The high end of Apple's gross margin guidance is below the low end of my Q3 FY2016 models.
Naturally, with the new guidance my models were taken lower, as follows: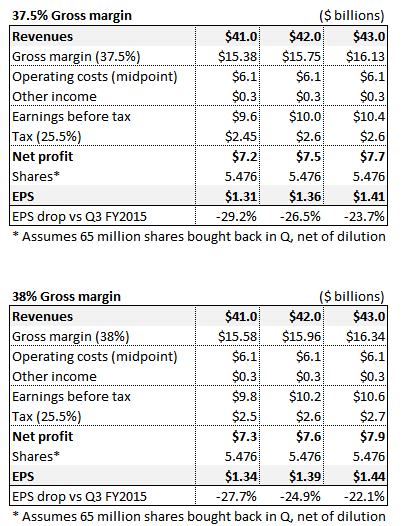 Apple's consensus for Q3 FY2016 has taken a large hit as well, so it's now consistent with my updated models for Q3 FY2016: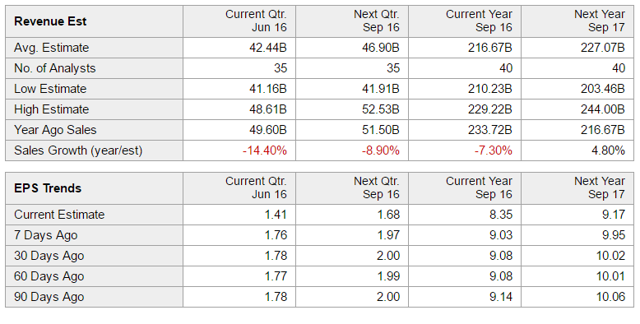 Source: Yahoo Finance
The consensus projections for Q4 FY2016 still look optimistic, though - since they predict a much lower drop in revenues for Q4 FY2016. Of course, this is very dependent on when the iPhone 7 launches.
The iPhone 7
As I've said a few times already, Apple was likely to underperform until about one month before the iPhone 7 launch and then outperform. This is a common pattern for Apple stock, as hopes build into the launch of the "next big thing."
While this year the pattern might yet repeat itself, there is an added risk. The added risk comes from Apple seeming to be taking yet another huge risk with the iPhone 7 design. Credible leaks have the iPhone 7 external design and dimensions as being nearly identical (there's doubt on thickness) to those on the iPhone 6 and 6s. While the specifications are certain to be better, this is still a huge risk.
Android users might buy a lot of phones on specifications, but Apple users are not so inclined. If they were, they'd already have gone over to the Android space. The iPhone is a status symbol as much as an easy to use and fast smartphone. As a status symbol, it can suffer if the design does not remain incredibly appealing. If Apple keeps the same design and dimensions, that means it will keep a look that is getting increasingly outdated (never mind the removal of the ugly antenna lines).
If Apple keeps the dimensions, then it will keep the very large bezels which make the phone look outdated. Contrast it to the gorgeous Samsung (OTC:SSNLF) S7 Edge and the difference is striking.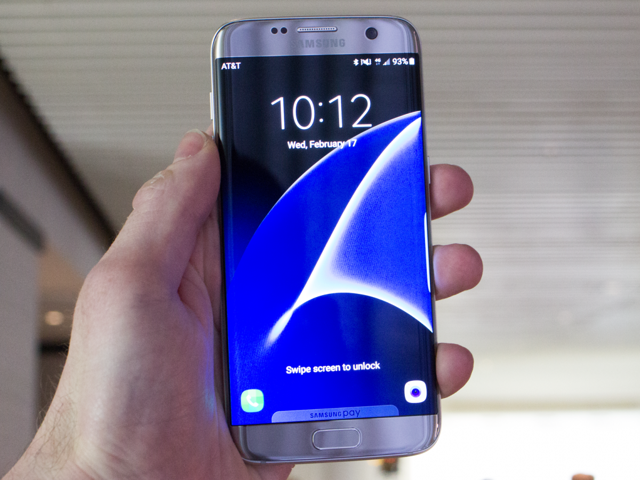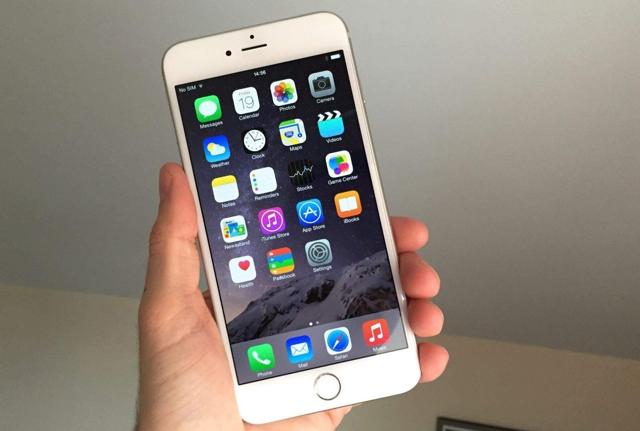 If these rumors materialize - and for now, as I said, the sources are very credible - then the iPhone 7 will have difficulties in growing over the iPhone 6s. Moreover, this would also mean Apple was leaving its tradition of renewing the entire design after the "s" cycle. This is particularly strange in that it would follow Apple launching the iPhone SE with a 4/5-year old design. Could this design laziness be a function of Jony Ive no longer taking much of an interest?
Conclusion
From what I stated above, I draw the following conclusions:
Apple stock is still likely to continue underperforming, though the magnitude and probability are getting lower as we approach the iPhone 7 launch.
From August until the iPhone 7 launch, Apple stock has a higher likelihood of outperforming, on account of hope building up into the launch.
However, right after the launch, and if rumors that the iPhone 7 will use the 6/6s design are proven true, I expect further Apple underperformance. I expect it because it's highly likely that such an iPhone would have trouble getting a lot of traction in the market, since it would have an obviously outdated design.
Disclosure: I/we have no positions in any stocks mentioned, and no plans to initiate any positions within the next 72 hours.
I wrote this article myself, and it expresses my own opinions. I am not receiving compensation for it (other than from Seeking Alpha). I have no business relationship with any company whose stock is mentioned in this article.