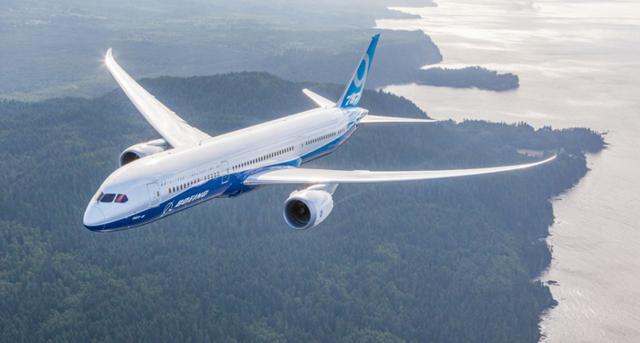 I've been bullish on aerospace giant Boeing (NYSE:BA) for some time now as I have thought the market was far too pessimistic regarding its future. Recent moves in the Euro against the dollar have produced a less competitive position for Boeing and an SEC investigation didn't help either. However, those fears were overblown and BA is now flying again as Q1 earnings and guidance came in very strong. With BA up so much from the bottom, are there still gains to be made or is BA going to hit the same brick wall it has on prior rallies?
A bit of housekeeping: I'll be using charts from Simply Wall St. to support my case.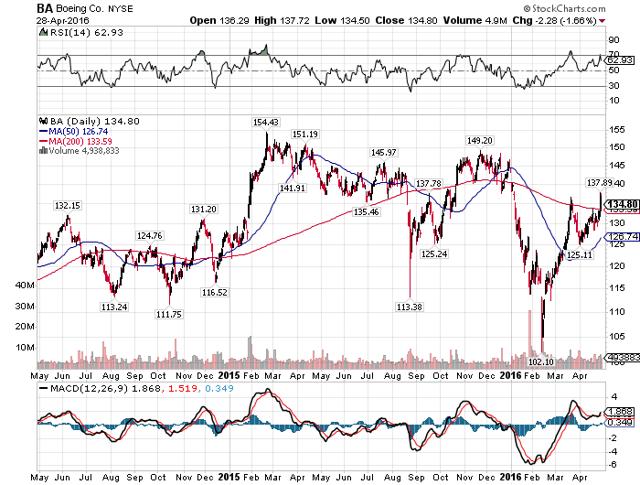 Boeing's fundamental backdrop has been mixed for some time as it battles with Airbus (which is taking share in some spaces) and as it grapples with writedowns on programs that have been less successful than hoped. Q1 earnings showed the picture for BA is still mixed but on balance, the results and accompanying guidance indicate to me that the risk to the stock price is still to the upside.
Boeing's revenue picture looked slightly positive on the whole as weakness in the commercial business was offset by terrific strength in the defense business. The former produced a 6% drop in revenue on a 4% drop in volume but the latter picked up the slack and then some, hitting +19% revenue during the quarter. That strength produced a slightly positive revenue number for BA during the quarter, although weakness in the commercial business cannot be ignored.
BA has been struggling to compete with the likes of Airbus in particular as that company produces strong commercial offerings and has been helped of late by a weak Euro. BA can't do anything about either of those factors and the Import Export Bank shenanigans haven't helped either. In short, it seems the universe is against BA right now but with the company producing some growth despite all of those challenges, it speaks to the inherent strength of the model and BA's product offerings.
Operating margins were weak across the board in Q2 as BA took charges against its tanker and 747 programs and pricing in general was weak. BA has seen somewhat weaker pricing of late in order to maintain competitiveness with its rivals and that is showing up in operating margins in a negative way. It was enough to send Goldman Sachs over the edge and come out with a very bearish assessment of the quarter and the stock in general, with a very pessimistic price target of just $101. Obviously, I disagree with the sentiments expressed by GS but operating margin losses as sizable as what we saw in Q2 are not sustainable; BA is hopefully mostly or completely done taking charges against its tanker and 747 programs, although lingering concerns over the Dreamliner persist as well. We shall see.
BA reiterated its full-year outlook for revenue, EPS and cash flow despite the weakness in the commercial business and the writedowns the company took. That seems pretty bullish to me as management thinks the rest of the business can absorb the costs associated with the writedowns but it seems not all agree.
Analysts certainly have somewhat muted expectations for future growth as they set a bearish path for revenue for the next few quarters followed by a gradual recovery in the growth rate.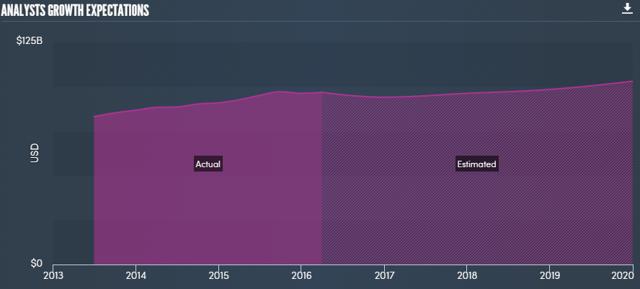 That seems about right but given the fact that the defense business is booming, if we see even a moderate uptick in commercial deliveries, there could be meaningful upside to these estimates. Of course, if the defense business falls off a cliff we could see the opposite but given that the commercial business is weak already, it seems the bias is to the upside, if any.
Profits, however, should recover much more quickly.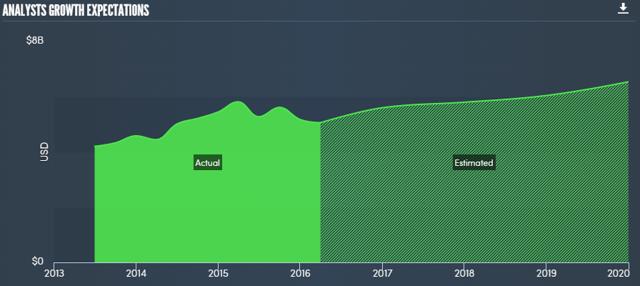 Analysts have a steady rise in profit levels despite the relatively weak revenue outlook and that is what really matters. The only risk here is that BA saw very weak operating earnings in Q1 and while it was due largely to charges, it is still a headwind to be sure. When Boeing reports Q2 earnings I'll be watching operating margins more closely than anything else because BA's profit trajectory depends more upon that than anything else. Q1 was not a good start to the year but its headwinds here should be transitory barring some nasty surprise from the Dreamliner program.
More importantly, EPS should continue to rise at a rate that is faster still than absolute profits due to BA's prodigious buyback. Analysts have EPS flying higher in the coming years, something I'm very excited about.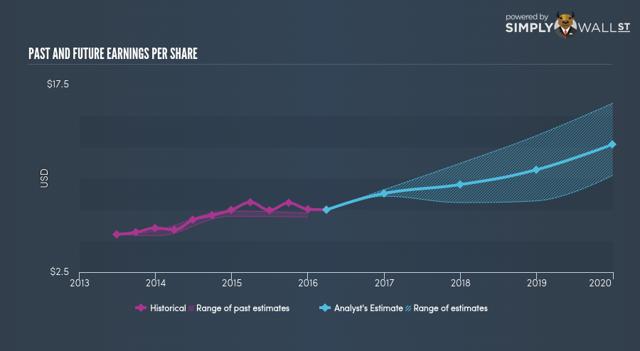 We can see two things in play here. First, BA's EPS growth trajectory is very much intact and second, estimates in the out years vary wildly to say the least. That variability is to be expected considering that BA has so many headwinds and tailwinds for future growth; the rate at which each expands or contracts is going to have a bearing on ultimate EPS production. But overall, even the most pessimistic analysts have EPS slightly higher each year while the most bullish ones have BA hitting the mid-teens in EPS by 2019. Obviously, I come in on the more bullish side as I think temporary weakness in BA's business is being blown out of proportion and that its buyback is being underestimated or ignored.
BA repurchased a whopping $3.5 billion in shares in Q1 and while that run rate isn't sustainable, BA always produces strong buybacks. BA's weighted average diluted share count fell Y/Y by 6.8% as BA has retired roughly 48 million shares in that time. That's tremendous and with a huge allotment still remaining on its buyback, we'll continue to see a mid-single digit annual reduction in the share count for the foreseeable future. That means that it would take a reduction in absolute earnings for BA to post flat EPS - as Goldman is saying - and I just can't see that for years to come. One quarter of weakness is not a reason to extrapolate poor results out for three or four years.
In addition to buybacks, BA also pays a sizable dividend, currently sitting at about 3.3%. That is great on its own but it is also well in excess of BA's recent historical yields, meaning that BA is undervalued and attractive for income investors as well. Even if you don't care about BA's growth story or don't believe in it, the dividend is rock solid and growing and that means you can take your 3.3% and growing payout for years to come. That is a big draw for investors of income stocks and with that group being so large, it is a long term tailwind for demand for BA shares.

BA's historical yields have been in the low 2% range; nothing close to the current yield and that is a sizable positive for bulls.
Overall, I think the outright bearishness expressed by Goldman is very shortsighted and reeks of an analyst team trying to paint a particular picture instead of interpreting the results the way they are. That sort of bias leads to what I'd consider a ridiculous price target of $101 and on the flip side, Sterne Agee is out with a $196 price target. The answer is somewhere in between and for now, I think we'll see BA climb towards its old highs in the $150s on strong results without enormous writedowns for the rest of the year. What happens after that is a story for another day but for now, BA is still cheap on a PE, yield and FCF basis and that's good enough for me.
Disclosure: I am/we are long BA.
I wrote this article myself, and it expresses my own opinions. I am not receiving compensation for it (other than from Seeking Alpha). I have no business relationship with any company whose stock is mentioned in this article.