Now well into the first quarter 2016 earnings season, a familiar sounding theme has emerged:
Despite past several quarters and fiscal 2015 being positive, this trend reversed with a thud as both operating revenue and net income fell by 13% and 31% respectively in the first quarter of the year from Q1 2015.
Lazard Ltd. (NYSE: LAZ) echoed a general, underlying theme with its first quarter results release on April 22nd. That is a decline in both top and bottom line growth on lower activity across its two business segments - financial advisory and asset management.
They were not the first to experience a "challenging first quarter." But what exactly did that entail and more importantly what does it imply for Lazard moving forward for the rest of this year?
Perception vs. Reality
Despite clear warning signs - falling oil prices, slowing growth in China, and the possibility of a Brexit, the analyst consensus estimate for Q1 of $0.69 in earnings per share remained relatively high compared to the $0.77 the company reported a year ago.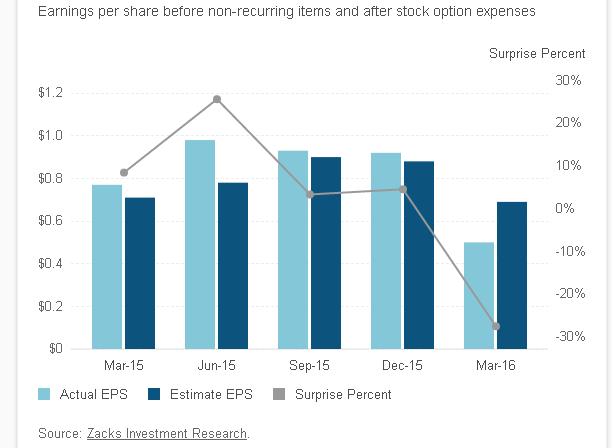 This undoubtedly was a downer on Wall Street's rosy outlook and played a part in inducing the immediate 2.05% drop in the company's share price after earnings were made public. The "analyst expectations game" is getting the better of the market this time around.
Parsing a far more accurate earnings measure - cash flow from operating activities, which is free from one-time charges/gains and GAAP accounting aberrations, this figure was also negative for the quarter on account of an accumulation in customer payables over the prior quarter.
Strong franchise endures
M&A activity through the first quarter of 2016 visibly declined, a noteworthy occurrence because such activity accounted for over 85% of Lazard's overall advisory revenue in fiscal year 2015. Despite this, the firm received and retained significant M&A assignments on a global scale, advising on four of the ten largest announced deals in the first quarter including:
Deutsche Börse on its €27 billion proposed merger with London Stock Exchange
Columbia Pipeline Group's $13.0 billion sale to TransCanada
ITC's $11.3 billion sale to Fortis
Thanks to its top 20 global M&A advisor ranking as per dealogic.
No small feat when considering the fact that most of the names ahead of them on the list such as Goldman Sachs (NYSE:GS), which is number one globally, the former House of Morgan in JPMorgan (NYSE:JPM) and Morgan Stanley (NYSE:MS), and the likes of Credit Suisse (NYSE:CS) and Bank of America Merill Lynch (NYSE:BAC) are each respectively over a century old. That is the epitome of entrenched competition for you.
A more minor component (16.1%) of its overall advisory business - restructuring assignments increased amid a higher level of activity in the U.S. energy sector.
Similar opportunities are likely to emerge across the Asia pacific region at present and in the near future as China's credit fueled boom is burgeoning demand for re-organizations and restructurings throughout both the public and private sectors. Lazard currently finds itself outside of the bulge bracket in Asia (sans Japan), but such aforementioned emerging opportunities could provide it with an impetus to make a renewed push and inroads into the region.
On asset management
The business of institutional asset management is Lazard's largest segment accounting for 51% of total firm revenue in fiscal year 2015 and one that has been steadily built up into a top 100 manager-based on assets under management.
In Q1 2016, assets under management declined year over year by 4% leading to a commensurate drop in management fees from the record level achieved in Q1 2015. A direct result of U.S. equity fund outflows equaling their largest total since 2009 to begin the year. The current expectation though is that this will stabilize in Q2 given less volatile markets overall.
As a stress test, assuming an outsized $50 billion loss of assets under management as occurred in fiscal year 2008 amidst the Great Recession, this would still leave Lazard with just under $100 billion in AUM and a spot on the top 150 largest asset managers in the world even under such adverse circumstances.
The company is also much better positioned today to deal with an associated $110 million drop in management fees given the growth of its advisory business since that time.
Concluding thoughts
This was decidedly a down quarter for Lazard with performance across all business segments dropping off and aggressive capital deployment into dividend expansion and share buybacks putting a hamper on its balance sheet.
Too much weight should not be placed on any three-month period in isolation as there were distinct positives as well, with cost containment being among these as both compensation and non-compensation expenses were down coupled with an advisory business that continues to produce steady deal flow winning a range of highly visible assignments which are slated to be completed after March 31st and be accretive to earnings in subsequent quarters.
Lazard's "other" corporate segment, which manages the firm's cash, investments, and also owns the Paris-based operating subsidiary Lazard Frères Banque SA also bears much opportunity. If capital can be compounded accordingly within the firm's present areas of focus of private equity, mezzanine debt, and a specialty fund targeting significant non-control investments in established private companies, this segment can grow into one of real significance for the company and its shareholders in the future.
Disclosure: I/we have no positions in any stocks mentioned, and no plans to initiate any positions within the next 72 hours.
I wrote this article myself, and it expresses my own opinions. I am not receiving compensation for it (other than from Seeking Alpha). I have no business relationship with any company whose stock is mentioned in this article.