The market has a few landmines coming for the rest of the week. We have GDP coming out on Thursday which will be weak. We also have the FOMC meeting and finally earnings season is still in full throttle. I expect the GDP growth to be weak. GDP growth with a one handle is quite weak considering it was the warmest winter in 122 years. I expect the FOMC to remain consistent with previous statements.
I've always believed the Fed is addicted to zero bound rates and will never normalize them. This point that the Fed will never raise rates is unprecedented because it has never occurred and goes against the idea that the Fed has always said it will unwind its policies which were initially necessary because of the financial crisis. However, I am only judging that this is the case based on the past actions and current trajectory of global central banks. From Japan to Europe central banks around the world are cutting rates. The Fed cannot raise rates in this environment. It may be silly to say the Fed will never raise rates because no one can predict 10-20 years in the future, but my point in making this absolute claim is that the Fed will not raise during this economic cycle.
Landmines is certainly a great way to describe this earnings season as layoffs have been prominent along with sell-offs in the after-hours market. In the past few days, Microsoft, Visa, Apple, Buffalo Wild Wings, Google, Twitter, Starbucks, and Chipotle have all gone down after earnings. I saw a comment on Seeking Alpha asking if the market is run by 8 companies. It basically is run by a few companies although not those ones in particular. Facebook and Amazon definitely should replace Buffalo Wild Wings and Twitter to make it more accurate. Apple made 40% of the profits in Silicon Valley in 2015 , so its movement is critical for the overall market and the NASDAQ in particular. Apple going down effects the suppliers as well making it difficult for the market to make up this negative impact.
This anecdotal earnings commentary brings me to the chart below. The chart is a blended mix of Q1 sales estimates and actual results as of Friday April 22nd. As you can see, sales are down 1.2%. Declining sales have been the cause of the layoffs as firms try to maintain their profitability.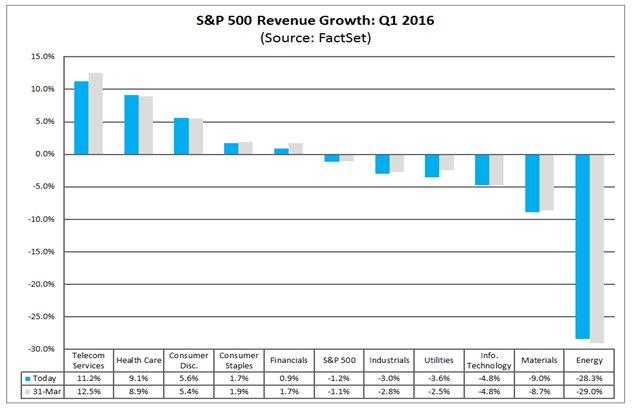 As you can see from the chart below, these layoffs to preserve profitability are greatly needed as the blended average decline in S&P 500 earnings is 8.9% as of Friday.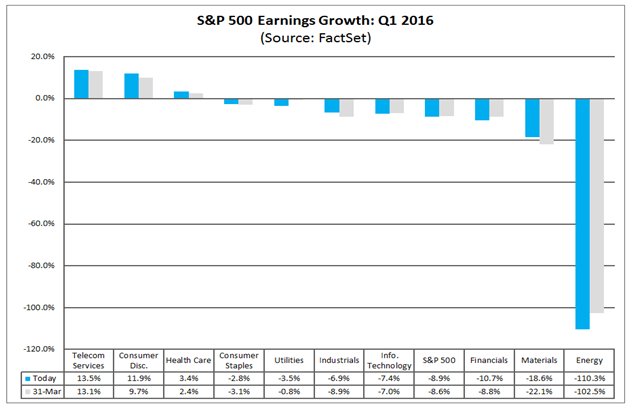 Getting back to Apple, the chart below shows the effect Apple has on overall earnings in the technology sector. For example, in Q4 2014 Apple single handedly grew technology earnings from 2.3% to 10%. This quarter earnings missed, meaning they were down 18.4%. This means the technology sector as a whole may have as much as 10% due to this negative impact.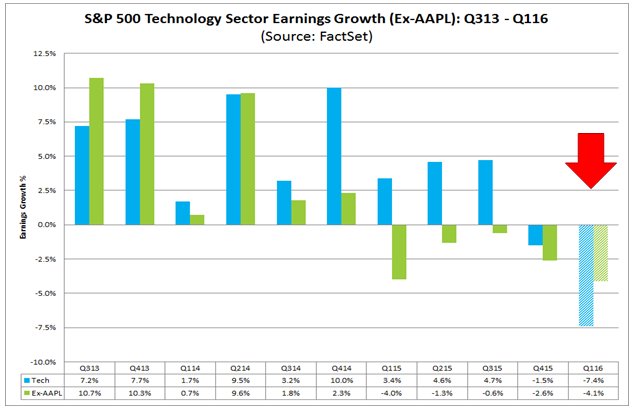 Disclosure: I/we have no positions in any stocks mentioned, and no plans to initiate any positions within the next 72 hours.
Business relationship disclosure: I get paid to contribute to this account.