The pharmaceutical industry exhibits the characteristics of a boom-bust industry. Once a new, novel compound is identified, tested and brought to market, many years of a substantial, monopoly like margins are at hand thanks to exclusivity granted via a patent on the intellectual property (IP). IP is beset with a finite shelf life which requires the holders to innovate continuously in order to grow and replace revenues. The article below discusses some of the steps taken by AbbVie (NYSE:ABBV) to broaden their overall patent estate, along with a discussion on the merits of Gilead Sciences (NASDAQ:GILD) emulating a similar strategy.
AbbVie
ABBV and GILD face a similar predicament with an over- reliance on a blockbuster product to derive a significant portion of their revenue stream. Let's discuss ABBV first, along with the strategy undertaken to broaden their overall pipeline. ABBV blockbuster product is Humira, with a broad range of uses such as psoriasis and Crohn's Disease.
Humira is facing a patent challenge from Coherus, with an upcoming US patent office ruling. The decision is expected in the May-June time frame over the validity of Coherus patent challenge. A victory for Coherus would then proceed to a courtroom trial and subsequent appeals. My expectation is the earliest a biosimilar challenger will enter the market is the end of 2019. Management has ample time and visibility, the key here is utilizing the windfall in revenue generated by Humira for the next gen version plus additional lines of therapy to further diversify ABBV overall clinical offerings. A well-executed plan will shower investors with above average gains in addition to the over generous dividend.
Pipeline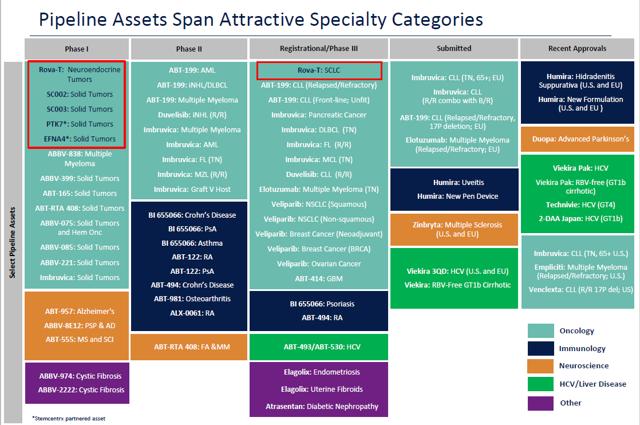 ABBV is targeting the enormous oncology market as a source of significant demand. I share a similar view; the oncology space is rapidly shifting from an often fatal disease with a grim prognosis to one that is managed as a chronic illness. ABBV initial foray into the field was last year's aggressive bid to purchase Pharmacyclics this gaining a 50% stake in Imbruvica. Imbruvica was recently granted first line therapy in Chronic Lymphocytic Leukemia (CLL) which will enable them to generate significant sales. In the oncology field, the label is critical as winning approval as a first-line therapy versus a second and third line is essential for the products ultimate sales ramp.
Not to be outdone, recent approvals of Venclexta and Empliciti further broaden ABBV oncology pipeline. Yesterday brought news of ABBV again showing significant foresight by snapping up Stemcentrx and their novel lead product Rova-T for small cell lung cancer.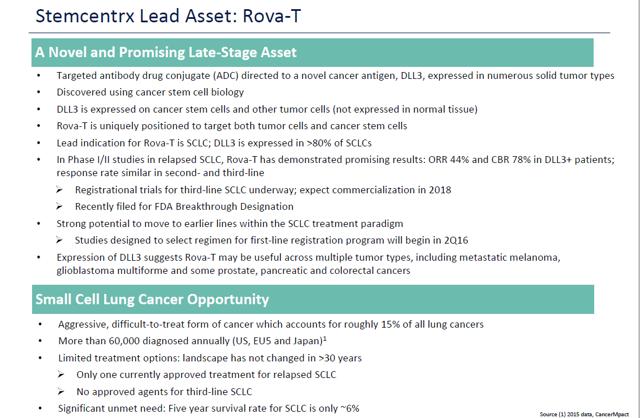 In my view, the fundamental promise of this compound is the high degree of DLL3 expression in small cell lung cancer (SCLC). Stemcentrx is further along in SCLC yet significant opportunities exist to broaden the clinical label as shown below.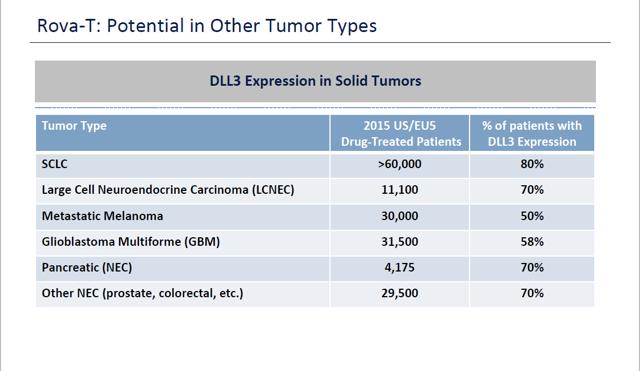 The clinical read provided thus far is quite compelling. Management used the term "derisked asset" a term I would concur. The term is derisked not "risk-free" as significant work remains before bringing the product to market. The expected arrival is the 2020 time frame with a peak sales number of $5 billion dollars. The results look promising thus far; I applaud management's aggressive approach.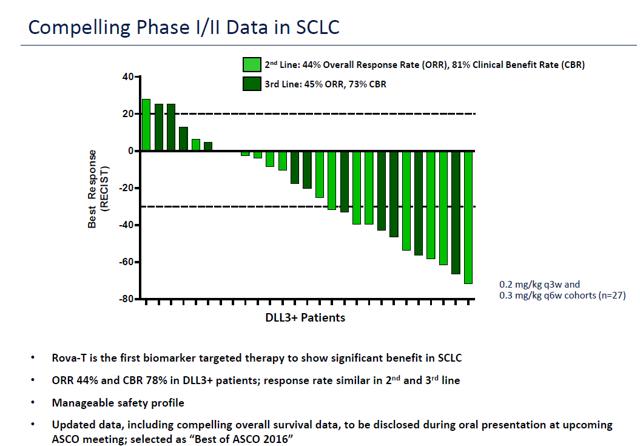 Finbox. io Fair Value Model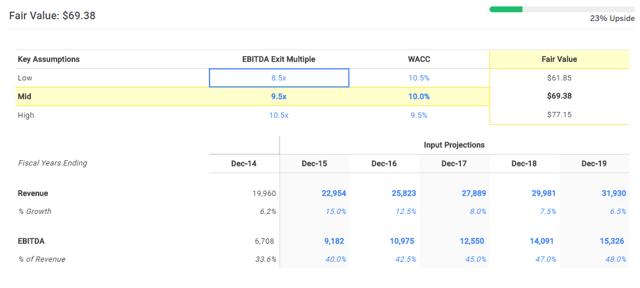 Link to full Calculations. To see additional models, please visit Finbox.io, a wonderful site for constructing Discounted Cash flow models as shown above.
My fair value for ABBV is $69.38 yet significant future share price drivers remain. The first revolves around the generous dividend. ABBV continues to generate a substantial amount of cash; management is far from greedy here sharing the wealth with investors via dividends. The current dividend of 57 cents per share equates to a current yield of 3.73%. With the market remaining a challenging environment as witnessed by the S&P 500 less than stellar one-year return of 0.36% (April 2015 through present) dividends loom as an even larger portion of overall returns. The second driver as detailed above is the continued foresight shown by management to broaden the overall clinical offerings.
The path forward for Gilead Sciences
The similarities between ABBV and GILD provide an attractive template for the management team of GILD to follow. GILD is blessed with a dominant position (over 90%) in Hepatitis C (HCV) similar to ABBV position with Humira. The HCV franchise continues to generate over $10 billion in revenue, yet GILD is faced with the vexing question of "What's next". Due to the curative nature of the therapy (a real breakthrough) the steady, predictable sales ramp that most products undertake is absent. GILD sales have more than likely peaked; the question remains how do they stem the decline and grow revenues once again.
The path forward from my view is quite clear, acquisitions to augment internal R&D is critical. Thus far, GILD has made some tuck-in acquisitions targeting NASH, a very worthy goal. A viable treatment for NASH would more than likely entail long-term chronic treatment thus ensuring the compound would follow the traditional pricing model seen in pharma. NASH would build on GILD existing infrastructure of clinical support personnel thus ensuring overhead is kept at a minimum further bolstering profits.
I believe the time is ripe for GILD to speed up the timetable and broaden its product lineup by acquiring de-risked assets such as ABBV move for Stemcentryx. The biotech sector is a mess, with the triple overhang of a busted bubble, fear of further pressure due to political concerns and funding drying up as the Fed continues to saber rattle about raising rates. With the recent ascension of John Milligan to the top role at GILD, a much bolder move becomes more of a reality.
Conclusion
I admire the continued push on the part of ABBV to broaden their offerings and offset the revenue decline once Humira faces a biosimilar challenge. I remain long the shares; a special alert was sent out to subscribers of the Undervalued Gems service detailing a successful entry into ABBV at $51.87 coming off of the back of a sell-off due to fears of a revenue shortfall from ABBV HCV franchise. The move is an apparent overreaction with ABBV shares up 20% since initial purchase including dividends in late October. The position remains well suited for a long term hold showering investors with an appealing blend of dividends and capital gains. I would like to thank you for reading, and I look forward to your comments.
Investors are always reminded that before making any investment, you should do your own proper due diligence on any name directly or indirectly mentioned in this article. Investors should also consider seeking advice from a broker or financial adviser before making any investment decisions. Any material in this article should be considered general information, and not relied on as a formal investment recommendation.
Disclosure: I am/we are long GILD, ABBV.
I wrote this article myself, and it expresses my own opinions. I am not receiving compensation for it (other than from Seeking Alpha). I have no business relationship with any company whose stock is mentioned in this article.