On Aug. 17, 2015, I suggested to "Off The Beaten Path" subscribers that Dreamworks (NASDAQ:DWA) was misvalued by the market. With Comcast (NASDAQ:CMCSA) taking out DWA, it is unfortunately one of the few ideas that has worked so far: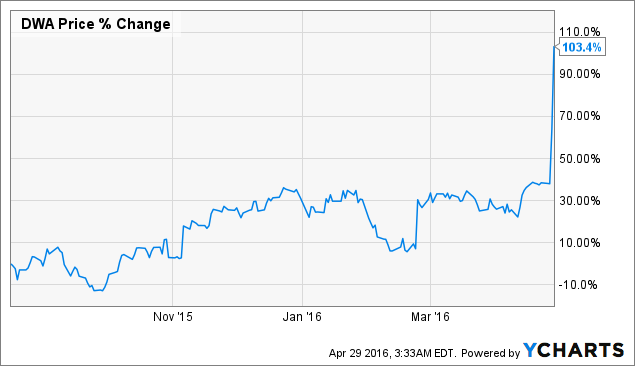 DWA data by YCharts
With the deal in the news, there isn't a great reason to hold on to the shares except as an M&A bet. Getting the equity taken out at $3.8 billion right now is a fair deal. Actually, I sold down the majority of my position at $32 even. There are a multitude of reasons why I favor cashing out instead of waiting around for another ~10% premium.
Comcast isn't anywhere near as undervalued as Dreamworks pre-deal, at 16x forward earnings or 8x EV/EBITDA. It isn't possible to profit effectively from the optionality in Dreamworks' interesting set of assets - ODW, the IP library and merchandising around "Trolls" - by staying invested through buying Comcast, for example. It will be just one tiny part of Comcast.
The deal is done and there have been no names of competing bidders circulated. The 50% premium over the market price a few days ago means the shares could fall back down a long way if things soured, decreasing the probability of the deal becoming even better. It's noteworthy the shares were already on a tear YTD, and have often traded far below the pre-deal $27 level.
Dreamworks engaged in talks with several different parties, such as Hasbro (NASDAQ:HAS) and SoftBank (OTCPK:SFTBY), which took the price up to $30. But when these talks ultimately fell apart, shares traded below $20. These talks never reached the deal stage, but it goes to show what kind of effect they had.
At $3 billion, Dreamworks would have been sold at close to a fair price, given its very interesting OTT/TV assets and library of IP rights. With the equity valued at $3.8 billion, shareholders are collecting a nice little premium.
Tax considerations could convince me to hold if it was advantageous in a significant way, but the Dutch tax code doesn't give me any breaks for waiting. Therefore, I favor selling out completely at ~$40 and hopefully deploying the capital more productively elsewhere. More information on the deal (timing, etc.) or the deal spread widening could convince me to look at it as an M&A opportunity.
Disclosure: I/we have no positions in any stocks mentioned, and no plans to initiate any positions within the next 72 hours.
I wrote this article myself, and it expresses my own opinions. I am not receiving compensation for it (other than from Seeking Alpha). I have no business relationship with any company whose stock is mentioned in this article.