GrubHub (NYSE:GRUB) has a significant short interest of 23M shares or about 29% of float despite their share price increasing 19% in the past three months. As you can see in the chart provided, GrubHub's share price peaked in late April 2015 and declined almost linearly until January 2016. There were two catalysts for the increased short interest and subsequent decline: the announcement of Uber's (Private:UBER) new initiative UberEATS, and a downgrade by Cowen on competitive fears. In the following article, I analyze where we stand on those issues now and how GrubHub's short interest may affect its share price going forward.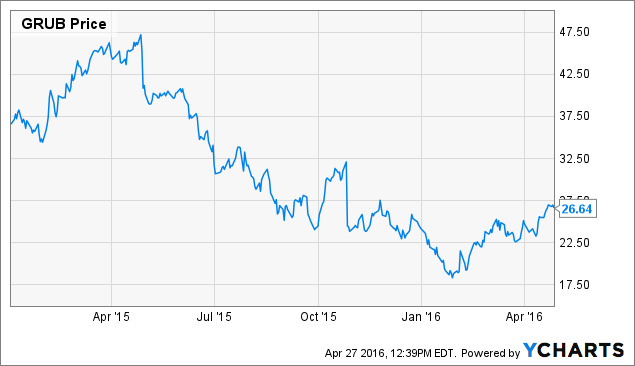 GRUB data by YCharts
It was almost one year ago to the day that Uber announced its UberEATS initiative would launch in NYC with the goal of delivering meals to customers in 10 minutes through its extensive delivery network. GrubHub's share price dropped 10% during the subsequent week and short interest doubled to 13% of float between May and July 27th. On July 27th, the ever-bearish-on-Grubhub Cowen downgraded their outlook and price target for GrubHub and from then until mid-January of 2016, short interest doubled again to 23M shares and 26% of float.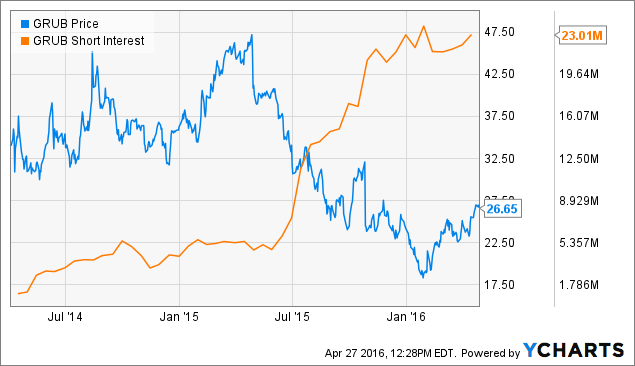 GRUB data by YCharts
The two aforementioned catalysts had a significant impact on GrubHub's share performance in 2015, but where do we stand now with regard to those catalysts and how do they affect GrubHub going forward?
While Uber claims that their UberEATS standalone app has been met with positive sentiment, clearly it has had trouble figuring out the unit economics. The company claims to have hundreds of thousands of users, but despite strong initial growth, just two weeks ago UberEATS shut down its instant-delivery option (i.e. 10- minute delivery time guarantee) in New York City. UberEATS represents an enormous logistical challenge, which includes, according to the Wall Street Journal, requiring drivers to maintain heated containers via the cigarette-lighting outlet and significant wait times for the driver on both sides of the transaction. Investors value Uber at $50B, and they have a large war chest, but they also are spread thin. They are struggling to achieve profitability in China where well-funded, by the likes of Tencent (OTCPK:TCEHY) and Alibaba (NYSE:BABA), local competitors vie for market share, and they have spent many millions of dollars attempting to build a self-driving car because they face what they call an "existential threat" from Google (NASDAQ:GOOG) (NASDAQ:GOOGL) in that arena. While I admire Uber for the massive logistical network they have built, I do not think that expanding UberEATS can continue to be a focus of the company given that they face serious challenges in their core (read: profitable) business.
The report in late July of 2015, released by Cowen mentions further headwinds in the food delivery space for GrubHub. Unbeknownst to Cowen's analysts at the time, food-related (not just delivery) startups would go on to raise $5.7B in 2015 according to CB Insights, and Cowen certainly got the trend right, but how have those competitors sized up? Not so well. 2015 shaped up to be what many in the industry called tech's peak year (in this cycle) with regards to VC investment. So far in 2016, Kitchensurfing (KTCHN) (total raised: $19.5M) and SpoonRocket (SPOON) (total raised: $13.5M) shut down, and DoorDash (DASH) (total raised: $186M) had 16% shaved off their valuation. This is all to say that the food delivery business is difficult, and achieving profitability is a milestone for GrubHub that cannot be overlooked when comparing them to their well-funded private competitors. There is simply no substitute for solid earnings and increasing free cash flow.
Meanwhile, GrubHub continues to perform well. In the most recent quarter the company saw >35% YoY quarterly revenue growth along with an increase in diners and daily "grubs" in the mid-20 percent range. Furthermore, GrubHub recently announced just two weeks ago that it had expanded delivery into New York City's outer-boroughs, which provided for an outer-borough increase of 32% and 57% in restaurant partners and food sales respectively. I expect Q1 earnings to be strong despite it historically being GrubHub's weakest quarter.
Where does this leave us with GrubHub's significant short interest? One of the more interesting metrics to evaluate with regards to short interest is days-to-cover (DTC). This measure indicates to investors how many days it would take short sellers to cover their position with the stock trading at average volumes. In the case of GrubHhub, the DTC currently stands at 13.87. In other words, it would take short sellers about 14 days to cover their short positions. When short sellers seek out new opportunities, they tend to look for stocks with a DTC of seven or below. Anything above seven signals that there is the potential for illiquidity in the event of good news.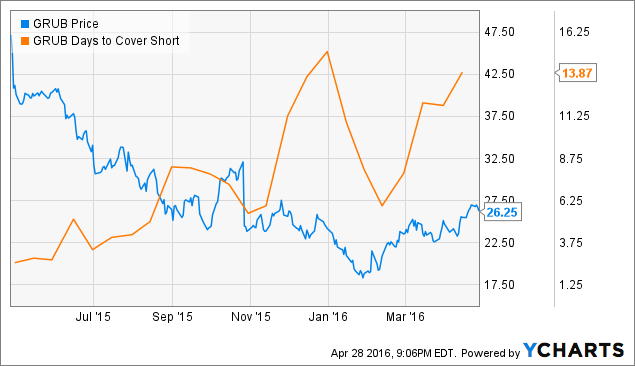 GRUB data by YCharts
When short squeezes do happen, they are generally violent. In May of 2013 when Tesla's (NASDAQ:TSLA) DTC stood at 10.86, they announced their first quarterly profit, and the stock price almost tripled in the subsequent 2.5 months due to short sellers rushing for the exits.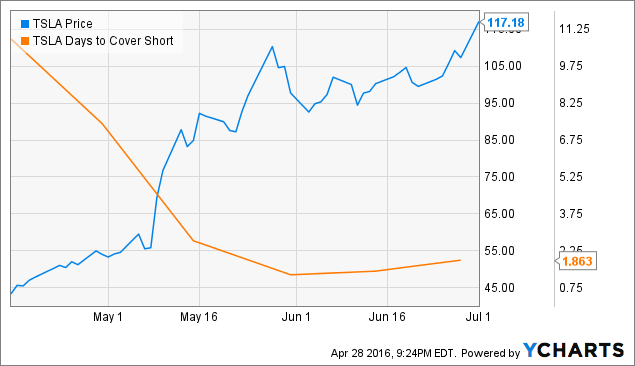 TSLA data by YCharts
GrubHub should continue to report strong results in the coming two quarters due to high organic growth. Furthermore, in recognition of a tightened funding environment, GrubHub's private competitors will strive to achieve profitability, which means they will have to cut back on loss-leading promotions, raise prices and leave unit-economically unprofitable geographic regions. I expect GrubHub to reach the $30-plus range on fundamentals alone with a short squeeze only exacerbating those gains and pushing them higher.
From the short interest chart I provided earlier in the article, it is clear that more than 66% of GrubHub's short interest was sold short at or below $30/share. Short interest reached its 23.72M share peak in mid-January when GrubHub was trading at $18.85/share. By mid-February short interest had decreased by 11%, precipitating a share price increase of 9%, what one might call a mini short squeeze, which gives the reader an idea of what to expect. If GrubHub does manage to reach the $30-plus range on the back of fundamentals, short sellers positions will become unprofitable, which will cause a cascade of buying-to-cover, and likely see GrubHub's share price rise into the mid-to-high $30s.
I do not invest in companies to take advantage of short squeezes. I subscribe to the theory that investors who take on significantly more risk by short selling are generally better informed than John Q. Public. But I think that they got this one wrong. I'm invested in GrubHub on a multi-year time scale. They have more than 6M users (myself included), and have barely scratched the surface of the massive online food ordering market. Even if private competitors do end up becoming successful, I still see GrubHub having the ability to triple their market cap in the coming few years. But, just because I'm invested on a longer horizon, does not mean that I will not recognize and be appreciative of inefficiencies that result in large short-term gains.
Disclosure: I am/we are long GRUB.
I wrote this article myself, and it expresses my own opinions. I am not receiving compensation for it (other than from Seeking Alpha). I have no business relationship with any company whose stock is mentioned in this article.