A source of comfort for investors over the past several years has been the steadily growing U.S. economy. While certainly nothing close to robust, economic activity has been sufficiently solid that it has supported an environment of rising stock prices with a still generally accommodative policy backdrop. The key to holding this investment narrative together, however, has been that the U.S. economy had to sustain itself just enough to avoid falling back into recession. And while the economic backdrop is still sustaining itself so many years removed from the financial crisis, some notable cracks in the façade of the American economy are continuing to present themselves and warrant attention as we move forward through the remainder of 2016 and into 2017.
What ever happened to the regular business cycle anyway? It is widely assumed that the current economic expansion will simply continue well into the future. And the last thirty years have understandably conditioned investors to such an idea. But is this actually healthy? Prior to the late 1980s, the business cycle would move in four year phases on average with a roughly three-year period of expansion followed by a subsequent recession lasting roughly six months on average. These cycles provided the U.S. economy with a healthy rhythm of extended periods of growth followed by a relatively short period of cleansing where the excesses from the expansion phase could be worked off in supporting the economy into its next growth phase. But starting in the late 1980s and continuing over the next three decades, the U.S. Federal Reserve first under Chair Alan Greenspan and continued under Chairs Ben Bernanke and Janet Yellen embraced the notion that the natural rhythm of the business cycle could be eliminated and that periods of recession were no longer necessary. Unfortunately, such policy ambition has left the economy unable to cleanse itself as needed, resulting in longer expansions but also more epic periods of economic and market weakness once the need to cleanse has accumulated to the point where it finally explodes.
Such is a risk that is potentially accumulating in the economy today. While it is sometimes hard to believe, it has been roughly seven years now since the end of the Great Recession that came with the outbreak of the financial crisis. And thanks in part to persistently easy monetary policy that was once extraordinary but has since become far too ordinary, the U.S. economy has been able to sustain itself on a lackluster but still positive growth path for seven years. Historically, the U.S. economy would be long overdue for a recession after so much time. But growth continues on its sluggish path higher through today. But despite ongoing policy support, a number of cracks are increasingly accumulating for the U.S. economy. And whether policy makers will have the flexibility to prevent the next recession once these natural cleansing forces eventually try to force their way through remains to be seen.
Where Do We Stand Today?
On the surface, the U.S. economy looks solid enough. U.S. Real GDP continues to rise at a steady albeit unexciting clip.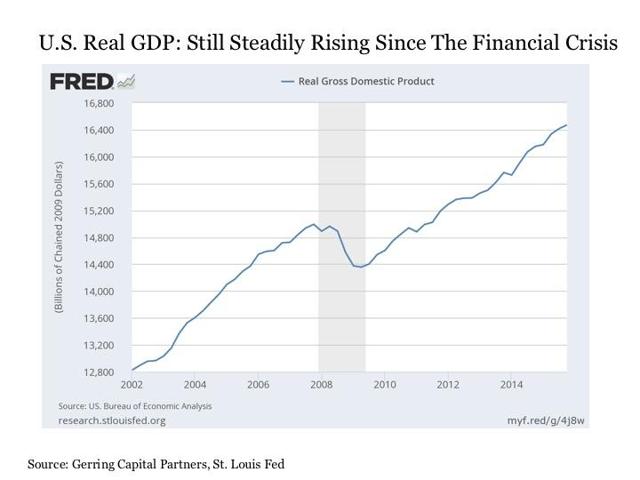 Supporting the solid economic growth environment is the fact that the unemployment rate has fallen all the way back from the post crisis highs near 10% to the natural rate of unemployment just below 5% today. This has been tremendous progress for an economy that was on the brink of collapse several years ago.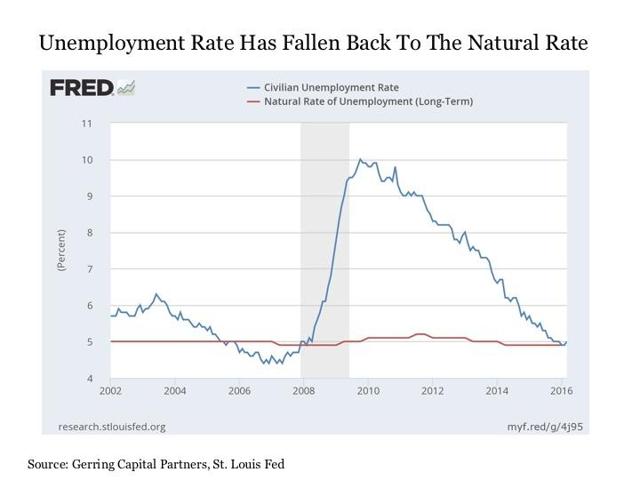 And we are even starting to see the accumulation of building pricing pressures, which has been a long sought after objective by policy makers in seeking to bring the U.S. economy back to normal. For example, the Consumer Price Index for all items less the more volatile food and energy components has shown signs of firming over the last several months and has increased back above a 2% annualized inflation rate. While some investors worry that the Fed might be inclined to start raising interest rates amid such potential pricing pressures, it is reasonable to expect that the Fed will welcome any such inflation pressures as long as they remain in check for an extended period of time until they feel compelled to act with higher interest rates.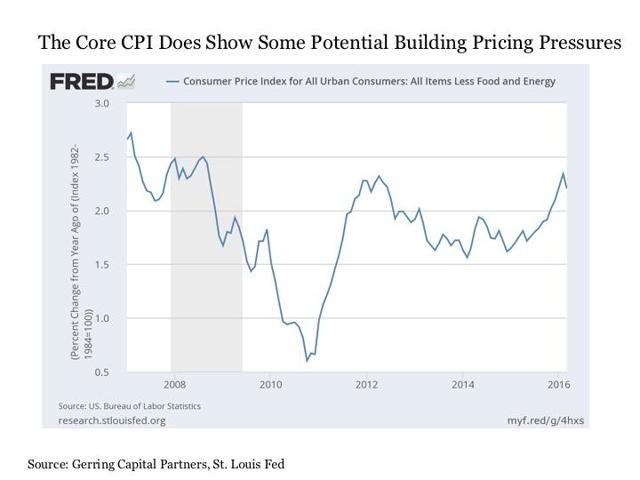 So all of this supports a favorable narrative for the U.S. economy. But it is also not without its lingering signs of weakness under the surface. The first and most commonly cited is the fact that the decline in the unemployment rate to 5% has been accompanied by a labor force participation rate that fallen from above 66% prior to the financial crisis to below 63% today. This suggests that the unemployment rate has fallen not only because people have been getting jobs but perhaps just as much if not more so because so many people have become discouraged and simply exited the labor force. But in a potentially promising recent development, we have seen the labor force participation rate suddenly pick up in recent months and move back toward 63%. While not a big move as of yet, it does have the potential to represent a reversal in trend if it continues going forward. This will be worth watching in the coming months.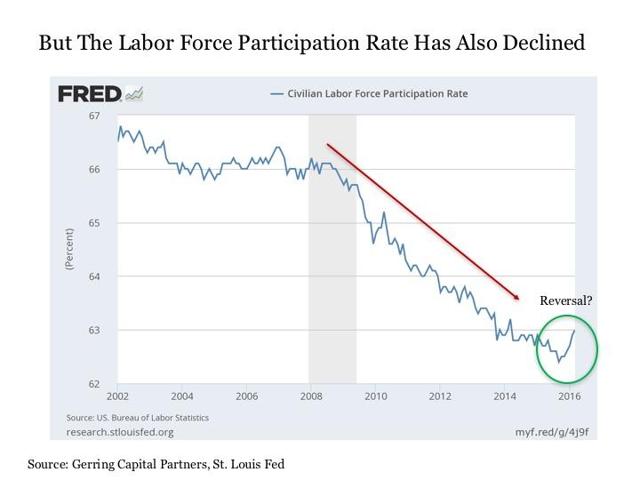 Of course, other forces remain at work within the U.S. economy that have left many people not feeling as good as they might have otherwise hoped. For example, household incomes remain well below where they were prior to the financial crisis.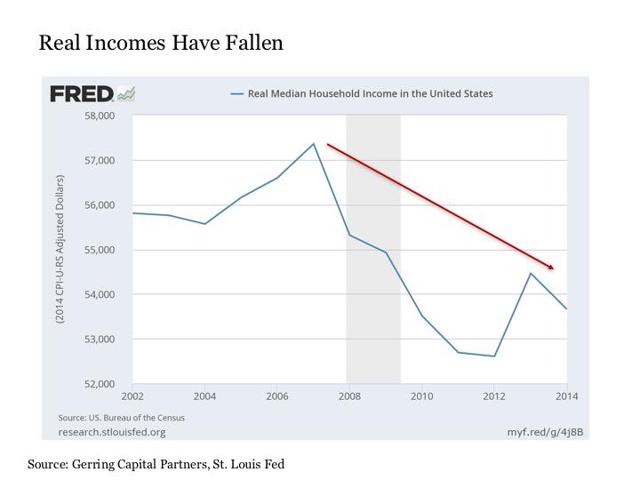 And the housing market despite so many reports to the contrary remains a shadow of its former pre-crisis self. For example, while housing starts have certainly rebounded from post crisis lows, they remain well below average levels from the decades leading up to the financial crisis.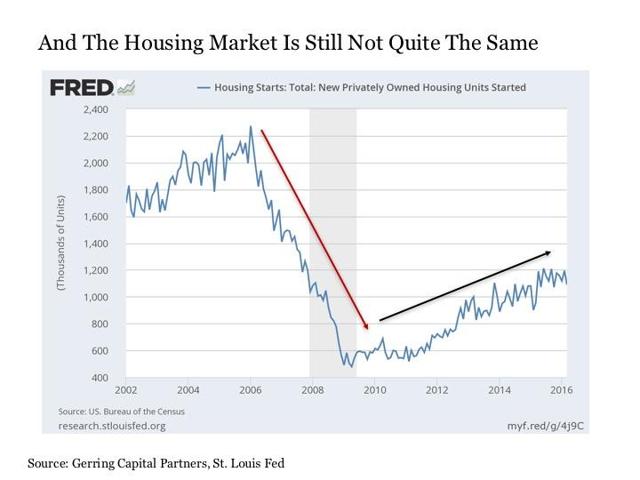 The ongoing challenges facing the average U.S. consumer is one of the reasons why we have seen the rise of less conventional political candidates during the latest presidential election season. For it is certainly unusual times in American politics when a self proclaimed Democratic Socialist and a bombastic Populist would end up playing such prominent roles in the primary season for the Democratic and Republican parties, respectively. In some respects, these candidates have served as vehicles for the economic unrest and frustration that so many Americans are feeling today.
A Sense of Unrest in Some Segments of the U.S. Population

Looking ahead, the economy is continuing to accumulate signs that conditions may first become more difficult before they start to improve from here.
While it has shown tremendous resilience in recent months, the U.S. stock market remains roughly one year removed from its last all-time high in May 2015. While it can be debated whether the U.S. stock market (NYSEARCA:SPY) is still a reasonable barometer for predicting future economic activity, the fact that it is no higher today than it was in late 2014 bears note.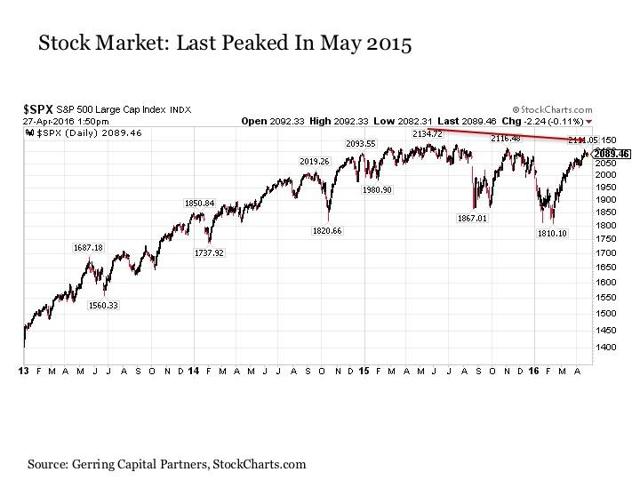 In fact, it could be reasonably argued that it is impressive that the stock market has held up as well as it has over the past year given the fact that underlying corporate earnings have effectively been in recession for some time. First quarter earnings season is now well underway, and we are almost certainly going to register the fifth consecutive quarter of annual profit declines based on as reported earnings. And it is already expected that we will see further declines in the second quarter as well. It becomes increasingly difficult for the stock market to continue rising when the underlying earnings that support it have been falling for so long. And declining profits certainly does not bode well for future economic activity.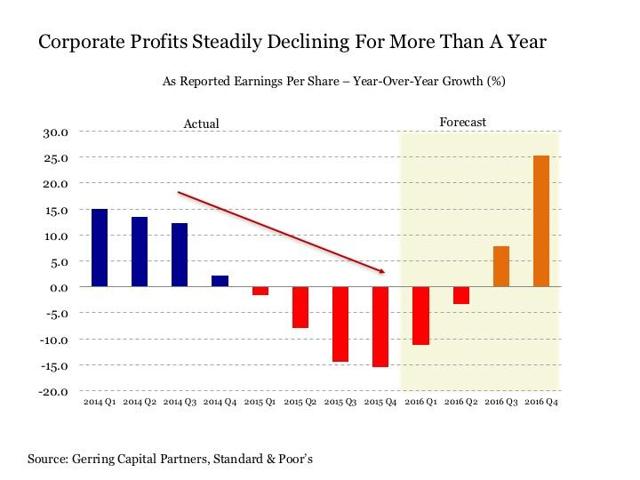 In many ways, we have been seeing troubling signals related to economic activity for some time. Industrial Production and Capacity Utilization reached their post crisis peaks roughly 18 months ago in November 2014 and have been steadily falling ever since.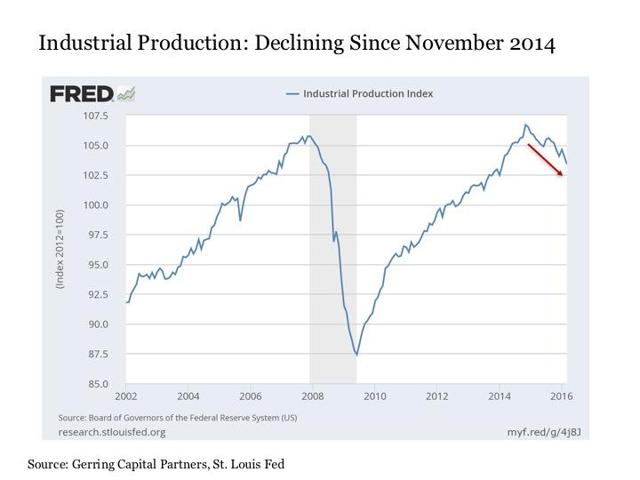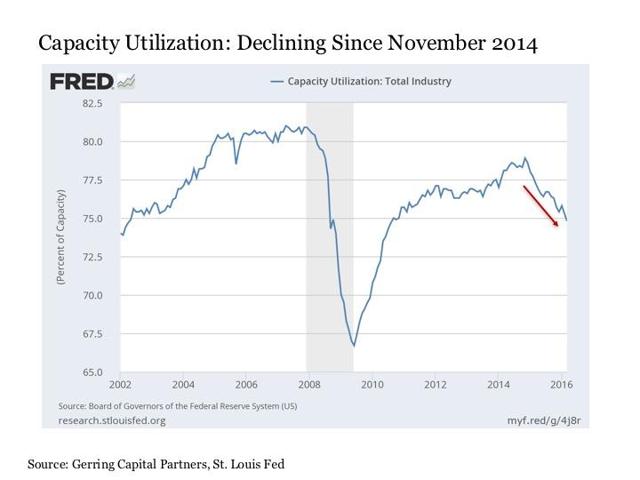 Productivity has also been languishing for some time, with overall productivity growth for the U.S. economy and manufacturing productivity specifically both remaining mired well below 1% for the last several years.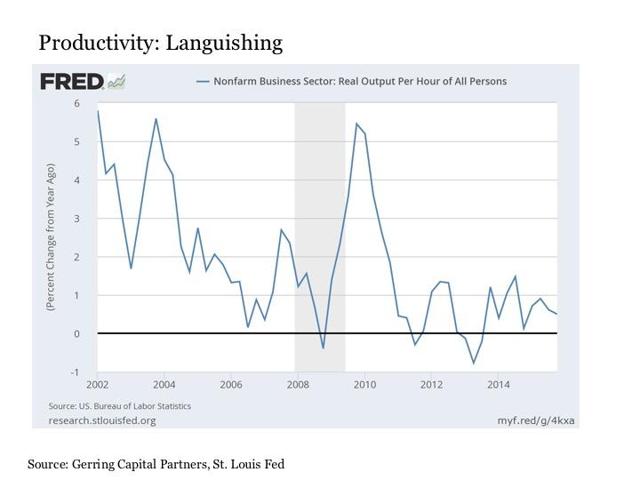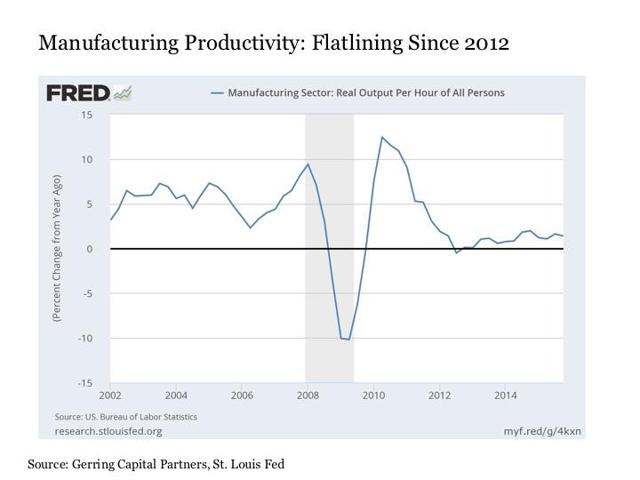 And even much celebrated auto sales that bounced back so impressively from the financial crisis have been showing signs of potentially rolling over. Since October 2015, auto sales have been sliding lower.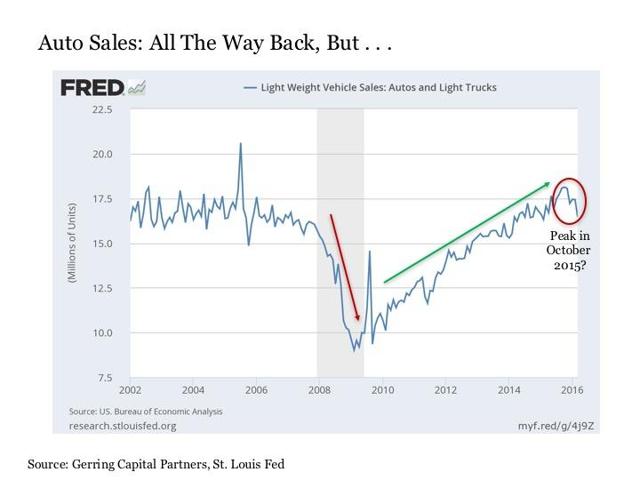 While one could easily dismiss this recent weakness over the past several months as nothing more than an overdue leveling following what has been overall strong gains in auto sales in recent years, the shares of leading auto makers in General Motors (NYSE:GM) and Ford (NYSE:F) have been telling a decidedly different story for some time now. Despite the fact that both auto makers trade at less than 6 times and 8 times earnings, respectively, and have dividend yields well north of 4%, the shares of both companies have been on the fade for two years now.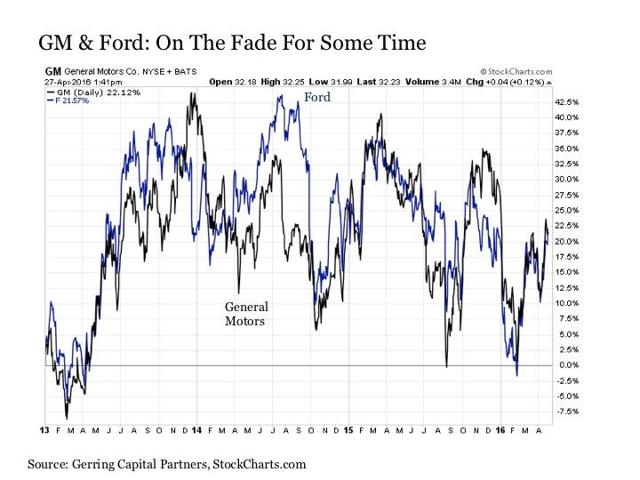 If investors were truly enthusiastic about the prospects for even greater auto sales in the coming years, they would likely be bidding up the shares of these companies. But instead, they have been shying away from these holdings for some time in a market environment where pretty much everything else in the market place is notably overvalued.
Bottom Line
The U.S. economy continues to plug along with steady real GDP gains, a still declining unemployment rate and developing signs of long desired pricing pressures. Such an environment continues to remain supportive of the stock market despite the fact that it has already come so far in the post crisis period. But the U.S. economy is not without risks, and signs of underlying cracks in the U.S. economic façade continue to accumulate. If these areas of weakness continue, they may eventually begin to find their way into the headline numbers and may even start to bring long overdue recessionary pressures to the overall economy. Such a development would present a challenge for resilient investors, particularly given the fact that policy makers are now fairly limited in the policy prescriptions they will be able to apply during any future phase of economic weakness. So while certainly not an immediate threat, such are risks that remain worth monitoring as we continue through 2016 and into 2017 and beyond.
Disclosure: This article is for information purposes only. There are risks involved with investing including loss of principal. Gerring Capital Partners makes no explicit or implicit guarantee with respect to performance or the outcome of any investment or projections made. There is no guarantee that the goals of the strategies discussed by Gerring Capital Partners will be met.
Disclosure: I/we have no positions in any stocks mentioned, and no plans to initiate any positions within the next 72 hours.
I wrote this article myself, and it expresses my own opinions. I am not receiving compensation for it (other than from Seeking Alpha). I have no business relationship with any company whose stock is mentioned in this article.