I thought after SemiLEDs' (NASDAQ:LEDS) first quarter report that there was a faint glimmer of hope for a company I've long argued ultimately was headed for bankruptcy. After the company's second quarter report, I think that glimmer is gone. The company executed a reverse split this week to salvage its Nasdaq listing; shares have sold off steadily to $2.20, a split-adjusted all-time low.
Simply put, time is running out. The company has just $5.3 million in cash but burned through over $2 million in the first half of its fiscal 2016 (ending August). Yet there wasn't a single piece of evidence in the Q2 results to give any confidence in the turnaround. A liquidity plan and the sale-leaseback of the company's headquarters in December raised some hopes. I think at this point, however, those hopes are dashed.
In terms of revenue, SemiLEDs has had a couple different products that it argued would be difference makers, including camera flash components and architectural lighting. The only one that gained any traction at all was the sale of UV components to a cosmetic manufacturer, which gave some support to revenue of late. LED basically has exited the commoditized chip business (what sales there are appear to be inventory liquidation), and the hope was that moving to higher-margin components would start the process of turning gross margin positive. (Yes, positive, gross margin in FY15 was -29%, according to the 10-K, a noted improvement from the -78% figure the year before.)
As recently as the Q1 10-Q (for the November quarter), SemiLEDs was optimistic about the product line. LED component sales were up 41% year-over-year, with the gain attributed to the UV LED business, which also drove an increase in pricing. SemiLEDS wrote at the time that sales "are expected to continue to grow steadily," and would boost sales, margins, profits and cash flow.
What's crazy about LEDS - which traded as high as $28 (pre-split, $280 pre-adjusted) after its late 2010 IPO - is this really was the first differentiated product to gain any traction. But it didn't last. Demand appears to have tanked in Q2, per the 10-Q, though SemiLEDs insisted elsewhere that sales would continue to grow (an odd formulation after the quarter). One key driver seems to have been pricing - ASP was up 12% in Q1 but is now down 12% year-to-date, which implies a huge pricing swing in Q2.
SemiLEDs added a new module product in Q2, which generated some sales, but the addition was swamped by a decline in UV revenues on a year-over-year basis. (Component revenue was flat sequentially, but given the contribution from modules, that implies a likely substantial decline in the UV business Q/Q as well. That probably was a demand issue. If there was some sort of one-time or timing issue, it seems highly likely SemiLEDs would have explained it.) And the company's plan - to sell an end-to-end solution with technical support and design assistance - seems difficult, if not impossible, to execute with the company trying to cut costs so substantially.
Except costs aren't really coming down: opex increased over 8% sequentially even excluding termination costs in Q2. SemiLEDs is supposed to have begun the process of shifting production to its ODM partner, but the impacts as yet haven't really been seen - gross margin actually fell year-over-year in Q2. The year-over-year decline comes from previous cost-cutting, and the ODM process appears behind schedule.
Meanwhile, SemiLEDS's cash balance increased ~$0.5 million in the first half of FY16. But that includes a $3 million down payment on the sale-leaseback of the company's headquarters building. Another $2.2 million is due, but even including those funds, the burn rate only gets LEDS to the end of CY2017. And as has been seen so many times with liquidity concerns arise, the reality doesn't always match the theory - suppliers change terms, accounts receivable collections get stretched, and customers start to flee.
What's really incredible about the SemiLEDs story is how negative the long-term trend has been. The company disappointed right out of the gates following its IPO and the news simply never got better: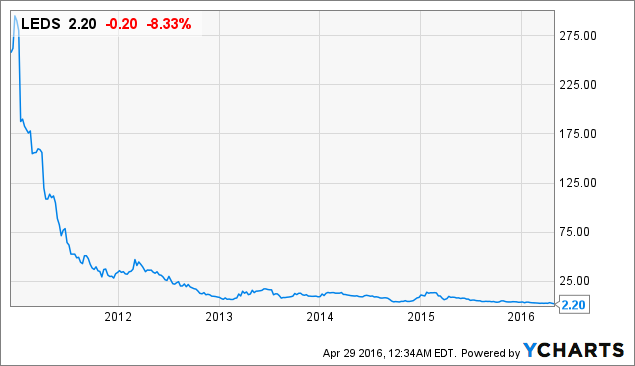 LEDS data by YCharts
Shares are now down almost 99% from the IPO price - and after Q2, I think that the figure will reach 100%. The plan LEDS had at the beginning of the year - slash opex, hit on the UV product, extend the cash runway long enough to maybe pull off another successful product - took a big hit in Q2. Unfortunately, SemiLEDs simply didn't - and doesn't - have any room for error.
Disclosure: I/we have no positions in any stocks mentioned, and no plans to initiate any positions within the next 72 hours.
I wrote this article myself, and it expresses my own opinions. I am not receiving compensation for it (other than from Seeking Alpha). I have no business relationship with any company whose stock is mentioned in this article.
Editor's Note: This article covers one or more stocks trading at less than $1 per share and/or with less than a $100 million market cap. Please be aware of the risks associated with these stocks.