Who would want to be a central banker these days? It seems as though very few wield any real power, with the markets firmly in control. Our interpretation of the shock decision by the Bank of Japan to leave rates and easing on hold was the realization of Governor Haruhiko Kuroda that there is nothing he can do to bring the yen down.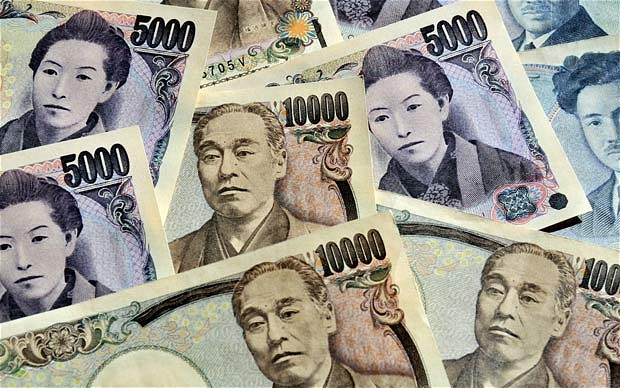 If you look around the world, whether it be Japan, Australia, or New Zealand, there is little that their respective central banks can do to control their currencies. Whether it is a consequence of the rise of NIRP and ZIRP, is hard to say. But something certainly seems different for central bankers these days, making their jobs all the more harder.
It may be easy to point the finger, but we feel the Federal Reserve is potentially the reason for this. Until it raises rates we don't believe there is anything that other central banks can necessarily do to bring their currencies under control. We also feel that this is largely understood to be the case now, as well. Which may explain why central banks have been holding fire.
Why waste stimulus or reduce rates if ultimately it will have zero effect. The New Zealand dollar is a prime example. On March 9, just before the RBNZ cut rates by 25 basis points to 2.25%, the NZD was worth 67.4 US cents. Here we are now, seven weeks later, and the NZD is fetching 69.7 US cents!
This is a 3.4% rise in spite of a rate cut. We may be barking up the wrong tree here, but we think this and the reaction the JPY has taken to negative interest rates, is a sign that central banks are now resigned to just waiting for the Fed to lift rates. It just appears as though a strong USD is the only way these currencies are going to weaken. Which is why we are continuing to remain long the JPY versus the USD until at least the next Fed meeting on June 15.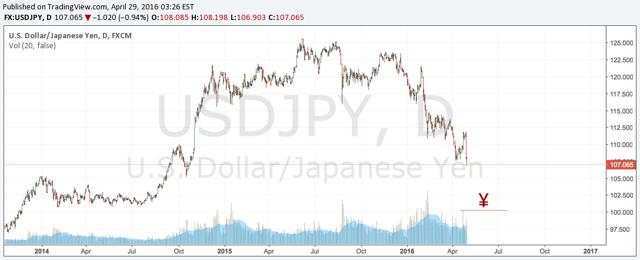 We are sticking with our forecast for one dollar to drop in value to be worth ¥100 at some point this year, which would mean the USD giving up a huge 6.6%. The Fed doesn't appear to be in a rush to raise interest rates. At present the market is favoring a rise in September, rather than June, which should give the JPY plenty of time to gain on the USD.
This is terrible news for the Bank of Japan who have seen any inflation hopes they had disappear without a trace thanks to the strong JPY. Japan's national consumer price index dropped by 0.1% year-over-year in March, leading the nation into deflation territory once again. Added to this, the country's exports recently dropped 6.8% year-over-year, leading to a 6-month streak of declines. In our opinion, these are especially worrying times for the Japanese economy. In around three weeks we will get to see what damage this has truly done to the economy when Japan reports its GDP. We don't believe the data will make for good reading at all, which should of course weaken a currency. But the way things are at the moment, we believe it will only strengthen it.
But as we have said earlier, at this point in time we don't believe the BOJ is willing to get the bazooka out in an attempt to control the JPY, assist it hitting its inflation targets, or boost exports. Some believe that NIRP is going to have negative long-term effects that come back to haunt the BOJ in the future. If this is the case, that bazooka is only going to make things worse in the long run. Sadly, the best thing the BOJ can do is sit on their hands and wait for the Fed to make its move.
Because if this, we feel a good number of traders will be buying up the JPY over the next few months and feel reasonably confident that it will strengthen the currency to ¥100 to the dollar. We intend on remaining in our long positions with the yen (NYSEARCA:FXY), Aussie (NYSEARCA:FXA), Kiwi (NZDS), whilst staying clear of the US dollar (NYSEARCA:UUP) at present.
Disclosure: I am/we are long FXA, NZDS, FXY.
I wrote this article myself, and it expresses my own opinions. I am not receiving compensation for it (other than from Seeking Alpha). I have no business relationship with any company whose stock is mentioned in this article.