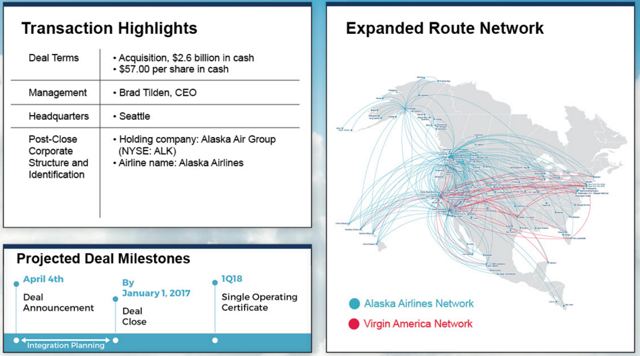 Img 1: Alaska Virgin America merger
Alaska Air Group (NYSE:ALK) reported excellent financial results last week, with net income of $184 million up 23% year over year. ROIC was a stunning 25% while the cash balance increased to $1.6 billion. The excellent financial performance amid a set of mixed results from its U.S competitors further reinforces its decision to acquire Virgin America (NASDAQ:VA), even at the price that many believed to be too steep.
For Alaska, the Virgin America deal will cost them a staggering $2.6 billion in cash and Alaska will assume $1.4 billion in debt. As Alaska only has $1.6 billion in cash, the airline is using low interest loans to finance much of the transaction. Many originally scoffed at the decision for Alaska to spend so much on an airline that only owns a handful of aircraft and I admit I was also initially skeptical.
Alaska Financials
Taking a look at both the Alaska Q1 earnings alongside Virgin America Q1 earnings shows a lot of interesting points. I pulled numbers I believe to be relevant from the Q1 results of both airlines.
| | | |
| --- | --- | --- |
| | Alaska Air | Virgin America |
| Total Revenue (thousands) | $1,347,000 | $364,009 |
| Operating Income (thousands) | $290,000 | $31,928 |
| Revenue Passenger Miles (millions) | 7,835 | 2,615 |
| Wages & Benefits | $336,000 | $78,868 |
| Aircraft Maintenance | $68,000 | $16,834 |
| Sales & Marketing | $49,000 | $32,380 |
| Utilization | 10.6 hours | 10.4 hours |
| CASM Ex Fuel (mainline) | 7.49 cents | 7.96 cents |
| Yield | 13.22 cents | 12.34 cents |
| Employees | 14,357 | 2,715 |
| Load Factor | 82.0% | 80.1% |
| | | |
| | | |
Table 1: Alaska and Virgin America Q1 Results
The numbers in the chart above do not mean a whole lot until you really start dissecting them and this is when it gets interesting, and the potential for Alaska really becomes clear.
When it comes to operating margins, Alaska has an excellent profit margin of 21.5% while at Virgin America it is only 8.77%. This is in part due to operating costs at Virgin America that are higher than those at Alaska and a yield that is at the same time lower.
For Virgin America one area that stood out was wages. Its average employee in the quarter earned $29,097, or 24% more than counterparts at Alaska who made an average of $23,403 in the quarter. One reason for this may be the higher concentration of management and executives in Virgin America due to its smaller size, something that will be fixed and could in fact fall for both airlines post acquisition as executive pay is diluted among even more employees.
Sales and marketing was another interesting area. For Alaska, the company spent an average of 0.625 cents per revenue passenger mile on sales and marketing. By comparison, Virgin America spent 1.238 cents on sales and marketing per revenue passenger mile or almost double that of Alaska. This number, almost double came while Virgin America benefits from the internationally recognized Virgin brand and despite huge marketing spend, yield was less at Virgin America than at Alaska.
One area that Virgin America actually excels in is in aircraft maintenance costs. For Alaska, the airline spent 0.868 cents per revenue passenger mile on maintenance while Virgin America spent 0.644 cents, or around 34% less. This may be in part due to a younger average fleet age at Virgin America or it could show that the A320 series aircraft have lower maintenance costs. If true, the staying power for the A320 at Alaska may be greater than many assumed.
Alaska excelled in all other metrics with a load factor almost 2% points higher than that at Virgin America while average aircraft utilization was 0.2 hours higher. These numbers may be small but small differences like this can add up quickly.
I decided to take a look at how Virgin America financials would look if they were more in line with the results at Alaska and this is the result I got.
Assuming Virgin America could capture the passenger yield that Alaska can, passenger revenue would have been around 7% higher or $345.808 million. This would have resulted in total revenues of $387.186 million. Assuming then that Virgin America was able to deliver a 21.5% operating margin due to reduced employee costs, sales costs, etc., the airline would have earned a total of $83.245 million. This result is 2.60 times the actual results of $31.928 million operating income.
Out of 12 analyst estimates the average EPS estimate for Virgin America for 2016 is $3.58. If the results above carried over and this increased by 2.60 times due to higher yields and lower costs, Virgin America would have an EPS of $9.33 in 2016. An EPS of $9.33 would translate to approximately $413 million earnings. This in turn would lead to a P/E of 6.3 of the $2.6 billion price Alaska paid to acquire Virgin America. When including the debt the P/E increases to just below 10.
Conclusion
While Wall Street was quick to label the price that Alaska paid for Virgin America as far too high, if Alaska can transform the operation financially to better mirror its own it could be an excellent deal. The above calculation does not take into account merger synergies that the combined larger airline would enjoy, nor does it include things like Alaska switching both its own and Virgin America's rewards program to a revenue-based system rather than mileage based. If Alaska was going to follow the other major U.S airlines and make the switch, it would likely do so during the Virgin America acquisition. Risks remain for Alaska and a downturn in the economy could be negative for Alaska as it has used much of its cash reserve for the Virgin America acquisition. Troubles merging the two carriers could also be problematic for Alaska and cost the airline a lot of money which is a possibility, considering the airline has had no recent merger experience and has not had the time prior to the acquisition to hire substantial staff with experience in airline mergers. Despite the risks, the continued excellent financial metrics being posted by the team at Alaska bode well for the Virgin America acquisition if they can transition these financial results over.
Disclosure: I/we have no positions in any stocks mentioned, and no plans to initiate any positions within the next 72 hours.
I wrote this article myself, and it expresses my own opinions. I am not receiving compensation for it (other than from Seeking Alpha). I have no business relationship with any company whose stock is mentioned in this article.