As I talked about in previous articles (see TransCanada, Consolidated Water Corp.) I am a value investor who loves the wide economic moats that come along with energy infrastructure. Many of the companies making up the North American infrastructure network are vital to our energy security. For this reason, they will remain relevant, and essential, for the foreseeable future; a prospect I am willing to invest in.
My analysis of Algonquin (OTCPK:AQUNF) will look at three factors that, in my opinion and experience, are essential to assessing the value of a company. First, the company's fundamentals: what is Algonquin does and how they go about doing it. Second, what are the growth prospects for this company. And lastly, perform an intrinsic valuation of the company, measuring its ability to generate cash flows.
Algonquin Power operates through two main subsidiaries, Algonquin Power (responsible for their power generation), and Liberty Utilities (responsible for their utilities). Algonquin's operations can be broken down into three main areas: generation, distribution, and transmission (Algonquin Power & Utilities).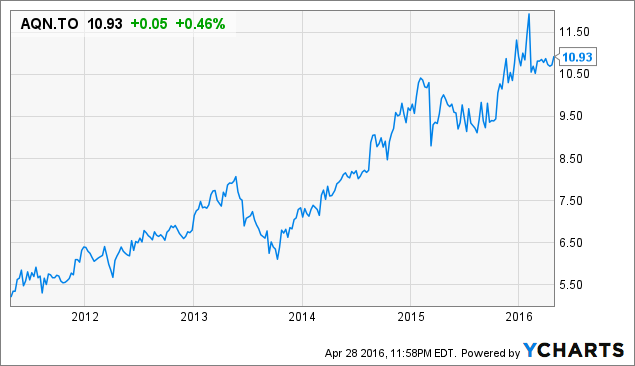 AQN data by YCharts
The generation side of their business is made up of non-regulated renewable generation facilities across North America. They own hydroelectric, wind, solar, and geothermal facilities with respective capacities of: 120MW, 650MW, 10MW, and 335MW. Management has a development plan that will increase their generation portfolio capacity by 529MW by 2018 (Capital IQ). Another very attractive feature of their power generation business from a value investing point of view is their power purchase agreements (PPA). These PPA's currently average a length of 16 years (Capital IQ) and are a way for the company to guarantee revenue, and ensures stability on this side of their business. 85% of Algonquin's power generation is under a PPA.
(Algonquin Power asset map)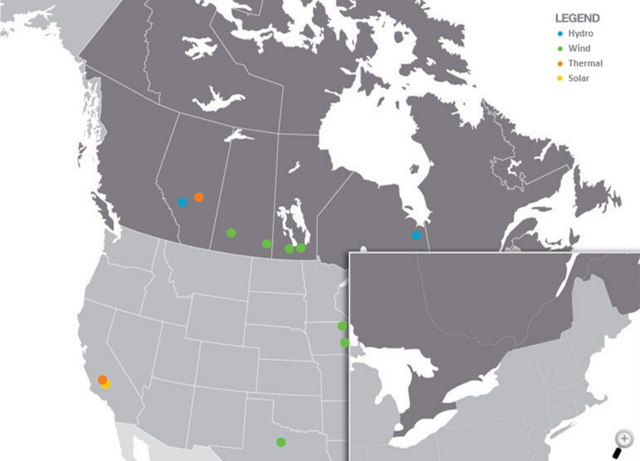 (Algonquin Power asset map)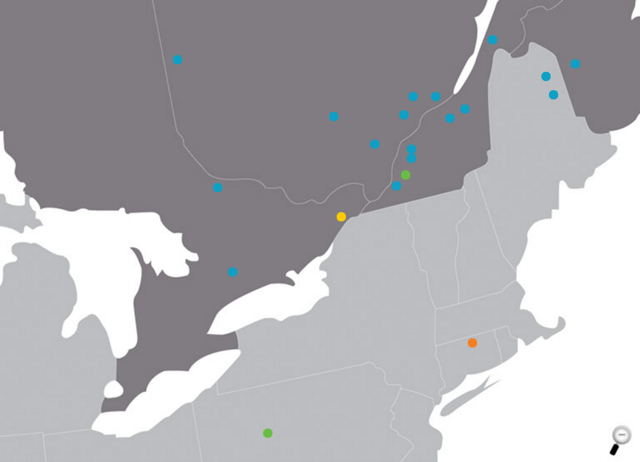 Algonquin's distribution subsidiaries operate across electric, water, and natural gas markets, as well as waster water collection. This asset portfolio generates stable cash flows to the company through its more than 560,000 customers. Their distribution assets are entirely US, and generate a regulated rate-base of $1.3 billion per year.
On the transmission front, Algonquin is a relatively new player, creating its transmission group in 2014. They are currently looking for opportunities to invest in, and develop natural gas and electricity transmission projects. For instance, they are currently involved in a project with Kinder Morgan building the North East Supply pipeline, with an initial 4% interest that has the option to grow to 10%. This project is estimated to cost Algonquin up to $207 million, and will be scalable to 1.2 Bcf per day.
Algonqiun's management have significant expansive aspirations over the next few years. Since the beginning of this year Algonquin has taken huge strides towards generating acquisition based growth. Management say that they see $3.6 billion in investment potential across all three areas or operation, funding both organic and acquisition based growth.
On February 9 of this year Algonquin announced their acquisition of Empire District Electric Company (NYSE:EDE). This acquisition will cost Algonquin $2.4 billion (both Algonquin and Empire will maintain BBB credit ratings). The purchase of Empire District is a massive step forwards for Algonquin in terms or acquisition based growth, increasing its regulated rate-base by 123% and their customer base by 39%. This deal also comes with significant geographic synergies as shown in the map graphic below. Both these companies have significant operations in Missouri, thus creating a geographic advantage weakening the threat of competition in the region (Algonquin Investor Presntation).
(Algonquin Investor Presentation)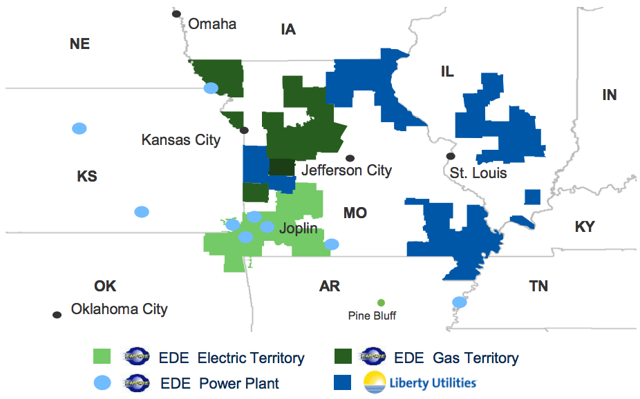 (Algonquin Investor Presentation)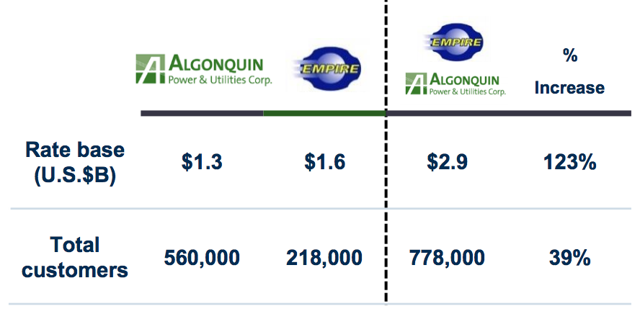 Algonquin is also seeing growth in their power generation portfolio with 6 projects currently under construction with a total added capacity of 459MW. Management aims to achieve unlevered, after-tax IRRs of 8% on these new power generation projects. Below is a summary table of generation projects provided by Algonquin. They also aim to have wind generation revenue make up a larger portion of their EBITDA by 2020 (from 68% to 77%).
While all this investment is good for the company's growth, it is still under the assumption that management will be able to execute effectively. While they do have a good track record and plenty of industry experience, it is still a risk that must be kept in mind when contemplating the future prospects of this business.
(Algonquin Investor Presentation)

When considering a long-term investment like this, I find it is important not to neglect cash yield. While equity growth should be seen in the-long term, I need to know that I will see short-term returns on my investment. Algonquin currently has a dividend yield of 4.43%, something that has been on the rise, and management has committed to increase. Acquisitions like Empire will help to make this growth possible. This company has been able to consistently pay out a dividend for the past 16 years and I am hopeful that this trend will continue.
(Original Content, Data From Google and Algonquin)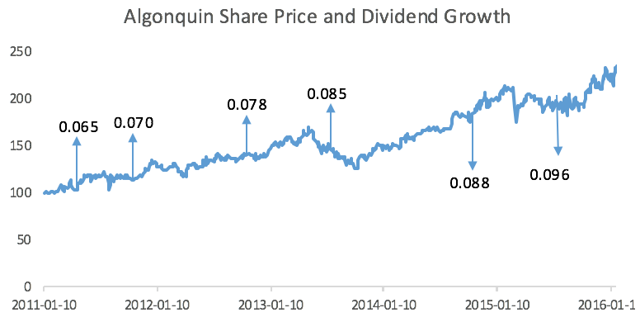 In North America and around the rest of the world there has been substantial environmental pressure to begin to shift towards more renewable forms of power generation. Actions like the Clean Power Plan (CPP) initiated by the Obama administration, set significant carbon emission abatement targets. The positive effect this will have on companies like Algonquin can be seen in our aggregate demand for power coming from renewable sources.
(Both Charts are Original, With Data from the EIA)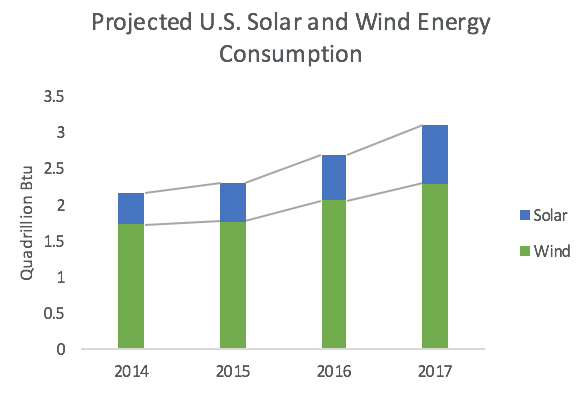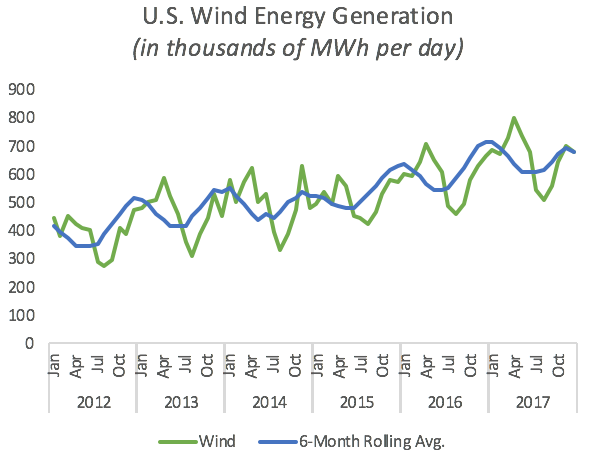 Lastly, I would like to present an intrinsic valuation of Algonquin's ability to generate cash flows using a discounted cash flows (NYSE:DCF) analysis. Before going into it I would like to lay out some of the assumptions I made in building my model.
First, although Algonquin's effective tax rate for the trailing 12 months is 23% (Capital IQ), I used 35% in my deleveraging of their 5Yr beta and projections of tax expenses. This in my opinion is more realistic as it is the rate that they will effectively pay into perpetuity.
Second, that their CapEx will only represent the cash portion, not the total value, as it is the free cash flows that I am interested in calculating, and a significant portion of their acquisition CapEx is done using convertible debentures.
Third, I myself did not have access to the yield to maturity of their debt and was therefore incapable of calculating their exact cost of debt. I decided to use a conservative 12% which is larger than it should actually be, which will lead to an overstatement of the weighted average cost of capital (WACC).
All content is original with data coming from Capital IQ.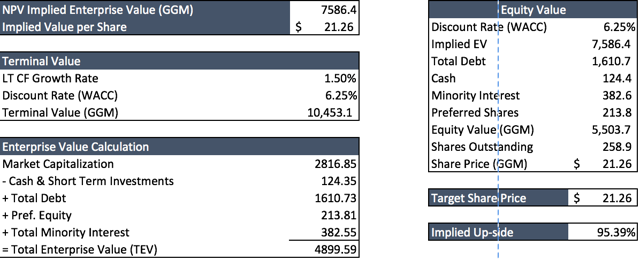 According to the DCF model Algonquin's equity will be worth $21.26 a share by the end of 2020. This is 95% increase over the $10.88 at which Algonquin closed on April 29 on the TSX. This return on investment is also ignorant of any cash earned through dividends throughout the duration of the investment. My projections appear to be in-line with what Algonquin is projecting - and EBITDA just south of $1.2 billion in 2020.
(Algonquin Investor Presentation)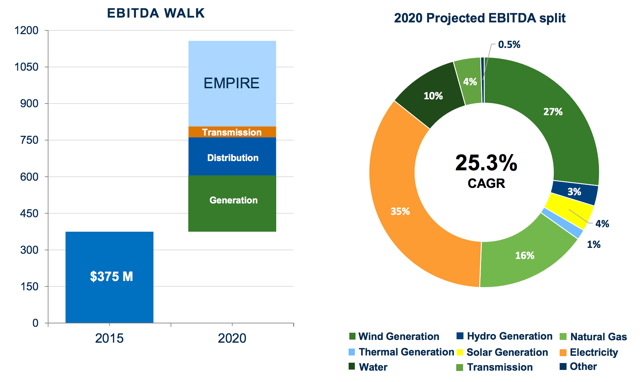 Disclosure: I am/we are long AQUNF.
I wrote this article myself, and it expresses my own opinions. I am not receiving compensation for it (other than from Seeking Alpha). I have no business relationship with any company whose stock is mentioned in this article.
Additional disclosure: It is important to note that discounted cash flows valuations are incredibly subjective, and before making any decisions based on the information presented in this article you consult a financial advisor.
Editor's Note: This article discusses one or more securities that do not trade on a major U.S. exchange. Please be aware of the risks associated with these stocks.