adidas is a worldwide player in the sportswear industry
adidas (OTCQX:ADDYY) (OTCQX:ADDDF) is a world player in sportswear and probably the most important competitor of Nike (NYSE:NKE). The company has worldwide operations, and has recently presented results and beaten analysts' expectations. The recent stock performance shows how well the business grew and that the future looks bright.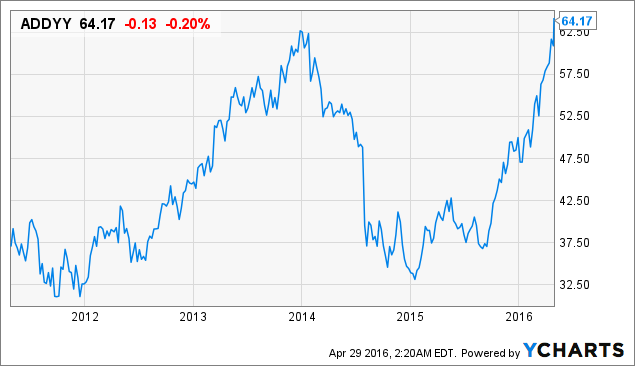 ADDYY data by YCharts
Whereas tech giants like Apple (NASDAQ:AAPL) and many others have weak results and struggle to satisfy investors' expectations, adidas and Nike have significantly outperformed the market.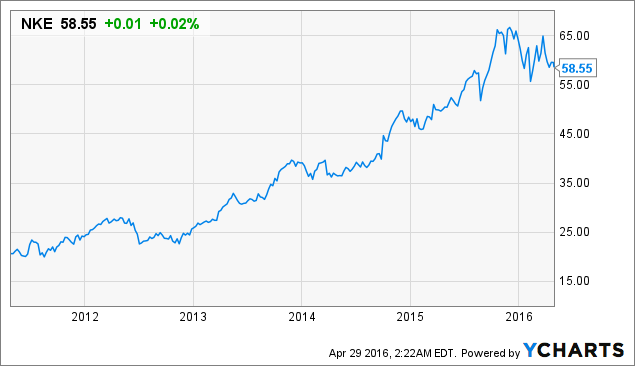 NKE data by YCharts
Operations in China
Many firms are expecting low growth from the Chinese market in the coming years. adidas is currently operating around 9,000 stores in mainland China and has recently announced to increase that number to 12,000 until 2020. In recent years, the government in China has shown an increased interest in soccer. adidas would benefit out of that interest by selling more sportswear. And since the Chinese have declared that soccer is about to become a nationwide priority, adidas will try to position itself with more stores in order to meet the increasing demand.
Since 2010, China is the strongest growing market for adidas. The company is also heavily involved in sponsoring sports events across mainland China. The ultimate goal for adidas in China is that the nation qualifies and wins the world championship one day and the event to drive the demand to the skies. Already many Chinese conglomerates are investing in European soccer clubs, such as Dalian Wanda Group in Atletico Madrid. Also, soccer coaching is now mandatory in over 20,000 elementary schools in mainland China.
adidas has signed a partnership agreement with the government in order to promote soccer and its sportswear. The company will try to overtake Nike as the largest sportswear provider in China. Nike currently has a market share of 17.5% in China, whereas adidas has a market share of 16%, according to Euromonitor International. Another factor is that China is in the process of abandoning its one-child policy. And since brands like adidas are trying to acquire loyal customers at a very young age, this will be a supportive factor for growth (adidas and China (German), 4th March, 2016), (adidas in China, 4th of March 2016).
adidas has missed the digital train - with its acquisition of Runtastic, the digital future looks brighter
adidas has recently acquired one of the most promising e-health startups. It is headquartered in Austria and is called Runtastic. The acquisition in 2015 was worth over $240 million. Runtastic is a fitness app maker and has seen huge user growth over the past years. Founded in 2009 by four Austrians, it has focused on creating the best fitness app. It has shown strong user growth also in North America and Asia. adidas, being an old economy company in comparison to Runtastic, has missed the train to digitalization. The major reason for the acquisition was to ensure that adidas's clients can also use online products (such as a fitness app) and that the company can further promote its products through such apps. Runtastic's apps have gathered more than 140 million downloads and has more than 70 million registered customers as of 2015. adidas hopes to cross sell its products to those 70 million registered customers (adidas and Runtastic, 2nd August 2015).
Sales are growing and investors are happy
Most of the investment banks think that the rally is going to continue. For one, sales are growing steadily, and the firm has a clear plan for the future and has constantly developed its business strategy. For two, Goldman Sachs said that it targets the price at about $117 (Analyst expectations, 22nd April 2016).
Brazil and France
This year, there are two major soccer events. There is the Euro 2016 in France and the Olympics in Brazil. Expectations for adidas are high, but demand will be high too. adidas expects sales for 2016 to climb another 15%. Further, net profit should increase by 15%. adidas logo will be on the jerseys of nine teams in the Euro 2016 championship (Euro 2016 and Olympics, 27th April 2016).
Conclusion
Of course, expectations are high, but from my point of view, the firm has done everything right and has also made sure to stay in the market with its recent acquisition of Runtastic. From my point of view, the company will continue to beat analysts' expectations for two major reasons. The first being the two large sports events (Euro 2016 and the Olympics), and the second, its growth strategy in China, where soccer is about to become a nationwide sport.
Disclosure: I/we have no positions in any stocks mentioned, and no plans to initiate any positions within the next 72 hours.
I wrote this article myself, and it expresses my own opinions. I am not receiving compensation for it (other than from Seeking Alpha). I have no business relationship with any company whose stock is mentioned in this article.
Editor's Note: This article discusses one or more securities that do not trade on a major U.S. exchange. Please be aware of the risks associated with these stocks.