It's time for our monthly update on the state of the multifamily housing sector. As usual, ABODO provided us with the helpful infographic below that sums up April 2016's apartment report for the nation: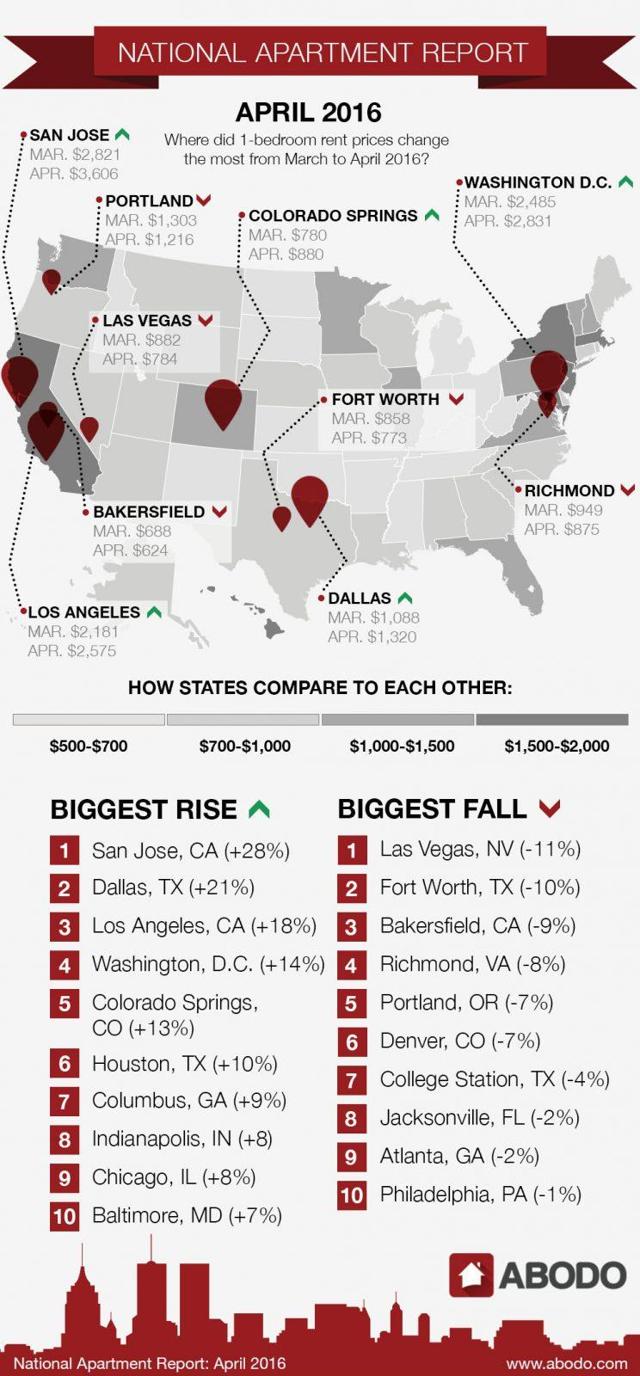 According to the ABODO infographic report, the first five cities including San Jose, Dallas, Los Angeles, Washington D.C, and Colorado Springs bear the highest increase in monthly rental rates ranging from a total of a +7% to a +28% rental climb month-over-month for April. In contrast, Las Vegas, Fort Worth, Bakersfield, Richmond and Portland experienced a staggering decrease in rental rates rangign from -7% to -11%.
But let's take it a step further and compare April's national rental rates to our previous analysis of the multifamily sector in March. The only city that maintained a steady increase in rental rates over both months is Los Angeles. Last month, the City of Angels saw an increase of +7% which climbed up to +18% as of this month—an increase that is more than double from March.
Evidently, San Jose is at the top of list of cities with the highest rental increase, with a price that increased from $2,821 in March to a current $3,606 for April. The large increase in rental prices for San Jose prompted consumers and residents to act on council votes to slow the pace of rental rate increases. After a nine-hour meeting, the San Jose city council decided to lower the annual rent increase cap rate from 8% to 5% in an effort to increase affordable and practical housing for residents. The recent cap on San Jose's increase may heavily impact the city's future by limiting growth for the multifamily market revenue.
On the flip side, cities that experienced a decrease in rental rates partially met a few forecasted predictions from Dailyfinance on expected decreased rental rates for 2016. Among the cities from ABODO's statistics, Dailyfinance reported that Las Vegas would experience a decrease in median rent by -1.8%. Cities including Richmond and Philadelphia surpassed the expected median rental rate as predicted—Richmond was expected to decrease by -1.3% and Philadelphia a minor 0.5%. The projections from Dailyfinance also reflected anticipation on San Jose's large increase. Seems these predictions surfaced early this year, thether for better or worse.
The relatively high influx of rental rates from ADOBO's infographic could impact residents' future decisions between renting in the multifamily market or seeking home ownership. High rental rates may end up driving many renters out of the market. Rental rates in cities such as San Jose, Dallas and Los Angeles will be tough to match if they continue to grow this year due to the current unemployment rate in such markets. Information compiled from the Multihousing News illustrates employed and unemployed groups by occupation: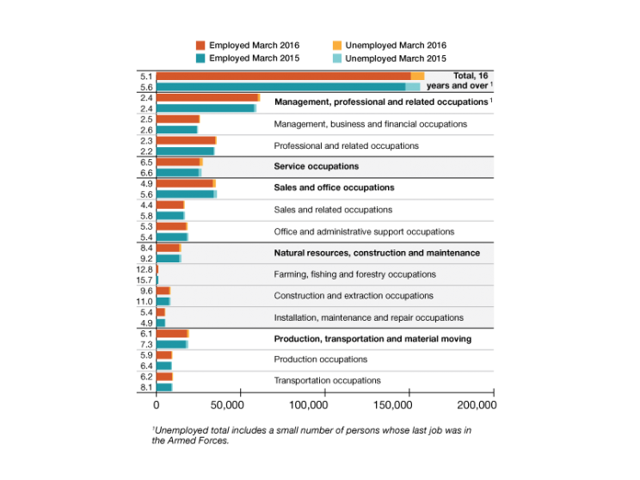 More than 50,000 individuals in management and professional occupations are unemployed, occupations which are most likely to enable a renter to afford that high rental rate. According to the Bureau of Labor Statistics, the overall national unemployment rate increased 0.1 percent from February to March of this year.
Varying employment rates and a volatile market/economy can severely impact overall affordability from residents and demands from the multifamily market. Either more individuals will choose to opt out of renting or there will be increased cap rates for rents in cities such as San Jose's.