Illinois Tool Works (NYSE:ITW) has been working on a smart strategy of increasing its profits over the years. The company has built a dynamic portfolio and has sustained a smart strategy of investing 80% of its capital in highly profitable businesses. This strategy has laid a strong foundation for future growth. ITW's end markets are not depressed and their extensive geographic reach lends further stability to the company's broad-based foundation. ITW's widely diversified portfolio has the potential to weather any sort of negative economic environment, as evidenced by the company's most recent performance.
ITW's diversification across both consumer and industrial platforms allows it to offset the impact of any risk - expected or unanticipated - and grants it the ability to capitalize on growth opportunities in both aspects of its business. Its consumer businesses account for 60% of its overall revenue and are spread across Food Equipment and Automotive OEM segments, as well as portions of its Construction Products and Specialty Products divisions.
With the potential to generate high-margin growth, the company's capital and expansion focus has been shifting toward the Food Equipment, Automotive OEM, Construction Products and Specialty Products businesses. In the first quarter of this year, ITW's consolidated operating margin soared 120 basis points, with six out of its seven business segments contributing to that growth.
Its Specialty Products increased some 350 basis points, while Construction Products grew by 440 basis points, Automotive OEM increased by 140 basis points, and Food Equipment by 190 basis points.
ITW's compelling strategy of investing in high-margin growth has generated extensive profits for the company despite low single-digit growth in sales. Since 2013, its operating margin from Construction Products improved by 930 basis points, with Automotive OEM up 600 basis points and Food Equipment up 780 basis points.
On the other hand, the company's industrial businesses - including Welding and Test and Measurement and Electronics, which account for nearly 40% of its revenue - are facing microeconomic headwinds. However, the company's timely strategy of restructuring its businesses as necessary has limited the impact of these headwinds. ITW's consumer businesses declined by 3% Y/Y, but improved steadily over the final quarter of last year, thanks to timely restructuring strategies.
Moving forward, the company has committed to the restructuring of low-performing products in both consumer and industrial businesses, while investing aggressively in its high-margin segments. Its investment focus currently targets Food Equipment, Automotive OEM and both Construction and Specialty Products.
Following last quarter's strong margin growth performance, ITW has raised its full-year EPS guidance by $0.05 to a new range, from $5.40 to $5.60. The company is expecting 100 basis points of margin growth for this year. This projected earnings guidance appears strong, compared to last year's earnings per share of $5.13.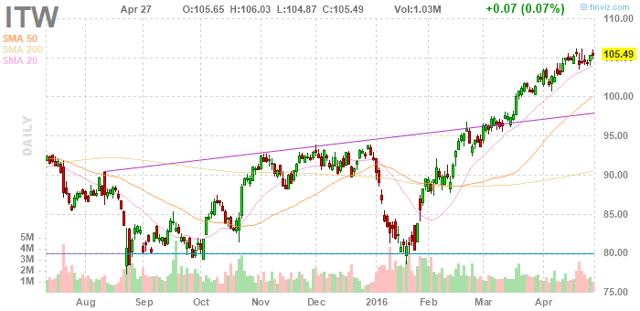 Investors are enjoying ITW's growth and are admiring its business strategies. The company's stock improved sharply since February. In the last three months alone, the company's stock price gained more than 22%, a huge rally for any company. Consequently, we strongly suggest investors hold on to this stock as it is poised for further increases on the back of the company's sustainable growth and its smart margin-expansion strategies.
The latest results have only vindicated our opinion. Even after its recent rally, the company's shares are likely to extend their price gains further in the coming days, thanks to an improving microeconomic environment and ITW's sustained double-digit growth in earnings. In addition to its share price appreciation, the company's dividend growth also is safe, with its cash conversion ratio expected to remain near 100% of its income. As a general principle, holding any stock that has the potential to generate strong top- and bottom-line growth is a wise strategy. Illinois Tool Works falls firmly into this category.
Disclosure: I/we have no positions in any stocks mentioned, but may initiate a long position in ITW over the next 72 hours.
I wrote this article myself, and it expresses my own opinions. I am not receiving compensation for it (other than from Seeking Alpha). I have no business relationship with any company whose stock is mentioned in this article.