The S&P-500 has had a rollercoaster of a year thus far, with a range of over 16% from highs to lows and several doomsday predictions. Despite this, the index currently sits just 3% shy of all-time highs and all that can be found is skepticism and denial wherever you look. In over 10 years of investing I have never seen such hatred of the stock market while being just short of new all-time highs. The narrative surrounding the market seems to be a consensus of limited upside and severe downside risk, from newsletter writers and CNBC. I've had several bearish newsletters forwarded to me from colleagues stating that it's foolish to buy the S&P-500 (NYSEARCA:SPY) at these levels, as there is only 2% upside and 20% downside.
My question to those in the limited upside camp is, why do we only have 2% upside left?
Are we so confident that the market has topped at 2120 that we can't even entertain the thought of new highs?
I heard these exact same arguments in February 2013 as we approached the so called "top" of the market. Guess what happened? The market drove an armored tank through that impending resistance line of doom. The S&P-500 gained over 32% over the next 17 months after providing one 4% dip along the way. The truth is all-time highs are anything but bearish, and the fact this rally is so hated, is due to the lack of participation by both money managers and retail. Several money managers have stated they are waiting for more reasonable levels to buy as they are mainly in cash. Reasonable levels for who? Since when has the market conformed to anyone's logic on cheap and expensive? Apple (AAPL) has been called cheap for months between $95.00 and $120.00 yet it is trading below that range currently. Amazon (AMZN) and Facebook (FB) have been expensive for over a year yet continue to grind higher, leaving value investors in the dust. Fighting price is never a successful strategy in the stock market; just ask Bill Ackman who attempted to catch the Valeant (VRX) falling knife earlier this year. Anything is possible and this could be the inevitable top in the market, but selling or shorting the market just because we are 3% from all-time highs is not a winning strategy.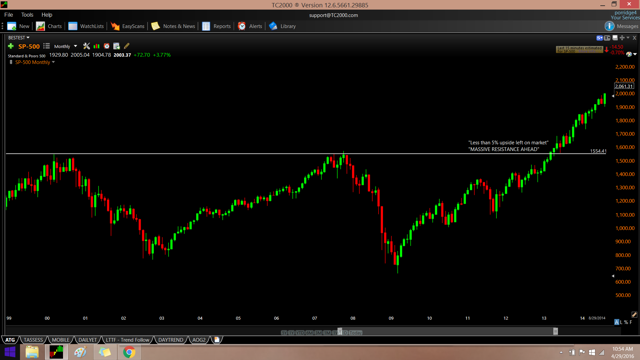 Economic indicators are not bearish
While most of the media and talking heads want us to believe we are in a recession, I would respectfully disagree. Two indicators that StoneCastle Funds looks at that warn of recessions and red flags in the market both remain completely healthy. The first indicator is a chart of the LEI -- Leading Economic Index and its 18-month moving average. In past recessionary periods, the LEI has fallen below its 18-month moving average and begun to trend under there, signaling severe red flags for the stock market. In early 2000 and later, the LEI dipped and stayed below it's 18-month moving average (yellow line) trending down before the eventual market collapse. Currently as shown on the chart below, the LEI is well above its 18-month moving average with a strong uptrend in place. In 1996 during one of the largest bull markets in history, the LEI dipped below its 18-month moving average but quickly regained it as the market ripped higher. This indicator is telling me that so far the economy is fine and innocent until proven guilty.

The second indicator StoneCastle Funds uses is a chart of the U.S. unemployment rate vs. its 12-month moving average. In past bear markets, the unemployment rate has jumped above its 12-month moving average and begun to trend up. The current chart shows no such sign of a recession as the 12-month moving average is trending down and unemployment is trending down with it. While unemployment is trying to make a higher low on the chart, it has done so several times during this rally but has been purely noise as long as it does not breach the 12-month moving average.

Sentiment indicators are extremely bearish
All I hear about as we approach all-time highs on the S&P-500 is fear mongering and skepticism that we could possibly go higher. Despite this feeling it's nice to have charts and actual readings to back this up. Taking a look at several different sentiment indicators, this pervasive bearishness is confirmed.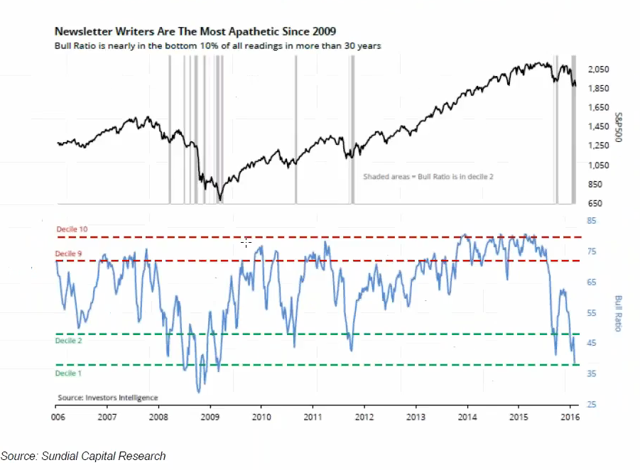 A) Newsletter writers are the most bearish they have been since the 2008 crash. In past instances readings at these levels have led to major stock market rallies, not tops.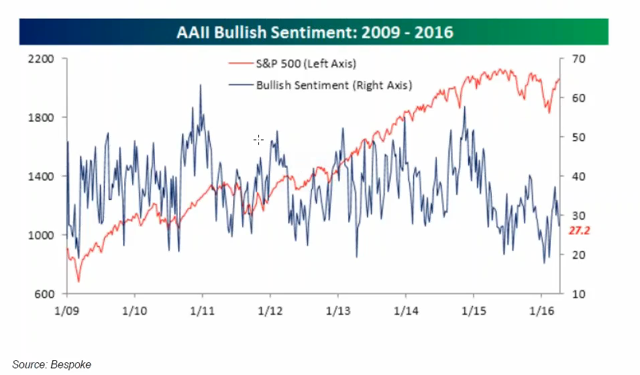 B) Bullish sentiment is at extremely bearish levels. The last time we were this bearish was in early 2013 before moving to new all-time highs. The most interesting part about this statistic is that while SPY has moved up 15% from the lows, people have actually become more bearish. The last time this occurred was again in 2013 before the market surged over 30% from 1500 to 2000 on the S&P-500.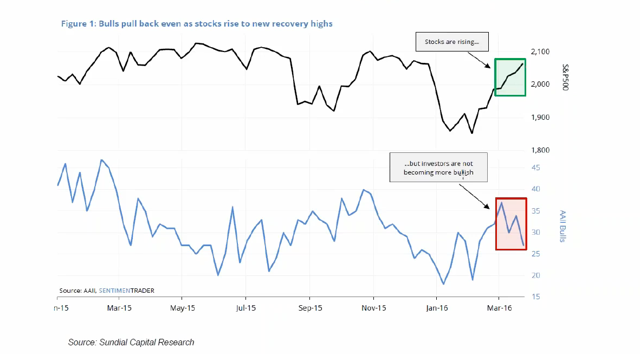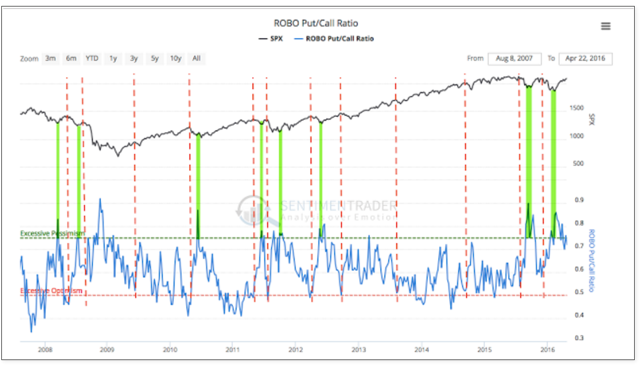 C) Small investors put/call ratios are at levels that have also preceded significant rallies in the stock market. While this is not the highest reading of the past 8 years for the indicator, the past three similar readings were at the August 2015 lows, the 2012 lows and the 2011 lows. The fact that put buying leads call buying while the market grinds higher is more fuel for the fire if the S&P-500 does continue higher.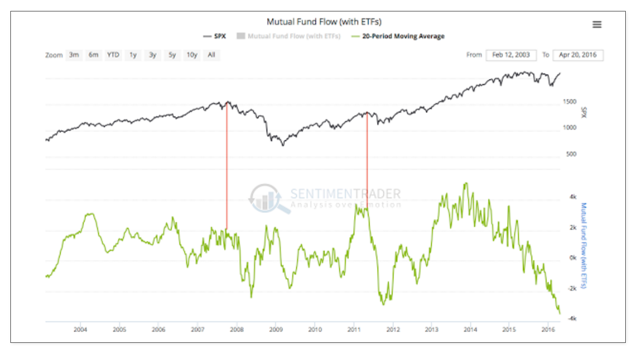 D) Mutual fund outflows with ETFs are at their highest level in the past 12 years. Despite SPY climbing its wall of worry, mutual fund outflows continue to come out of the market week after week. It's very rare for stock markets to top when small investors are bearish and similarly mutual funds are fleeing the market at record levels.
Weighing all of these indicators, this would be the first time in history that everyone telegraphed the impending bear market and stock market top. CNBC, small investors, mutual funds and the average investor are all fearful while the market continues to rise.
What are the charts saying despite all this bearishness?
With such bearish sentiment readings and such flight from the market, one would expect the market to be falling like a ton of bricks from its highs. Currently the S&P-500 is trading 4% from all-time highs and bullish on every single timeframe.
The daily chart shows SPY regained its 20-day moving average in February and has been on a vicious rally since, giving no opportunities for dip buyers to join the party. In addition to this, SPY made a new 55-day high near 204 in late March that would bring trend followers long the market once again. This signal proved to be correct thus far as the market has traded 3% higher since and is still above that buy zone. The bull and bear line in sand is the 200-day moving average and SPY currently trades above its 200-day moving average with rising 50-day moving average support. Paul Tudor Jones stated that his barometer for the stock market is its position in relation to its 200-day moving average; currently above it we are completely healthy. I believe a dip to 2035-2040 on the S&P-500 will likely be bought as this is the first opportunity for those who have missed out to get long the market.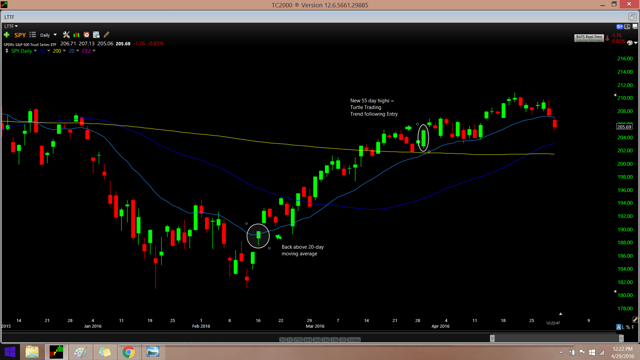 Taking a look at the weekly chart, we have broken out of the downtrend that was in place and are currently retesting it on the downside. The weekly chart is also in an intermediate uptrend, having risen from its lows at 1820 and made higher lows the past 10 weeks.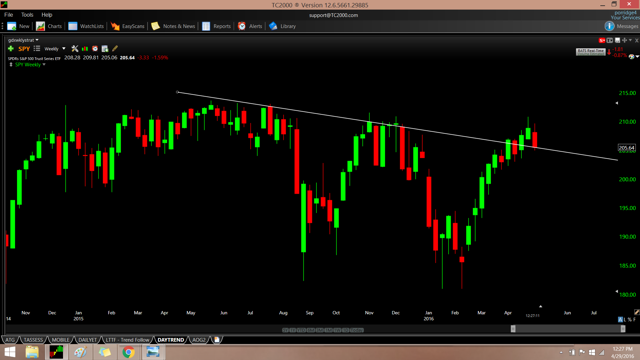 Zooming out to the monthly chart, we can see that we have been stuck in a range for the past 2 years and we have clear support at 1800 and resistance at 2100. While this does not provide much help with direction of the market, we can look to the 20-month moving average to give us an idea of stock market health. The below chart shows SPY over the past 20 years and how it reacted to the 20-month moving average. Dips to the 20-month moving average are often buying opportunities, and falls below the 20-month moving average are red flags. While dips below the 20-month moving average are red flags, that does not mean we are on the verge of a new bear market. As you can see in 2000, SPY broke its 20-month moving average and it became resistance after attempting to regain its footing, this signaled a bear market. In 2008 the same thing happened and SPY broke its 20-month moving average. It attempted to rally for 5 months but found stiff resistance at its 20-month moving average. Both of these instances fueled new bear markets as supply above was too strong and a ferocious amount of sellers and bears entered the market to profit from the collapse. In 2011, however, the market broke below its 20-month moving average but had no trouble regaining it and began a new massive rally of over 50%.
Looking at the current position of the 20-month moving average, we went below it on two occasions and both times we have surged above it. If we use the 20-month moving average as a barometer for stock market health as it has signaled past bear markets, currently trading above 2030 we are completely fine. Obviously things would change if we close below this level and it becomes supply, but for now the S&P-500 is innocent until proven guilty. The 20-month moving average currently sits at 2036.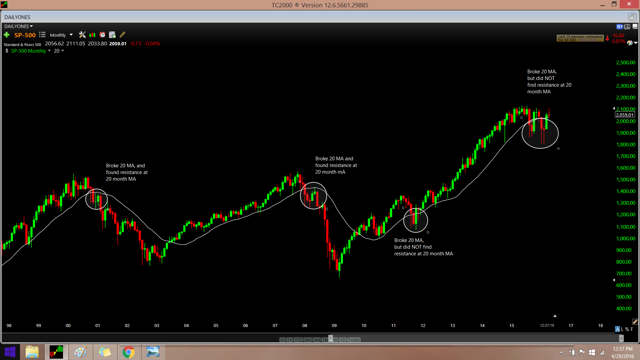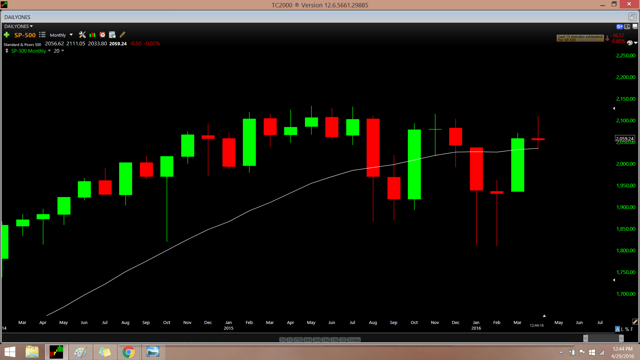 All of these charts are in clear uptrends until proven guilty as the market trades above all of its key moving averages. While I do believe a dip to 2015-2030 is possible, I believe it would represent a buying opportunity.
Conclusion
With bears coming out of the woods everywhere we look, one would be led to believe we are already in a bear market or 10% off highs. The fact is we are just over 3% from all-time highs and on a dividend adjusted basis, SPY actually made a new all-time high last week. There has been no cheering of the all-time high, no Dow 16000 flags, only fear mongering and skepticism over this current rally. I believe sentiment like this is giving those who are willing to embrace price an opportunity to buy the market ahead of new all-time highs. Economic indicators are completely healthy and show no signs of a recession, yet everyone continues to attempt to predict one. Predicting does not pay in the market and no one has a crystal ball; reacting is a much more viable strategy. One of my favorite quotes for investing is "strong opinions weakly held" meaning that we have the right to be bullish the market here, until it proves us wrong. Currently the market is being wrongfully convicted of being bearish; those willing to await trial and a clear verdict should be rewarded. I am currently 100% long the Canadian stock market as I trade in Canada and see no reason to panic and sell any of my stocks. My thesis would change if SPY closes below the 200-day moving average at 202 and breaks and holds below its 20-month moving average. Until those things happen, I see no reason to be bearish this market and believe this represents a buying opportunity for investors at these levels.
Disclosure: I am/we are long SPY.
I wrote this article myself, and it expresses my own opinions. I am not receiving compensation for it (other than from Seeking Alpha). I have no business relationship with any company whose stock is mentioned in this article.
Additional disclosure: If you liked this article and found it useful, please feel free to follow me by clicking on my name next to my avatar at the top of this article. I also invite you to check my performance at TipRanks.com where my average return this year is 65% on new long positions.