Tucked deep in the dark recesses of Ford Motor Company (NYSE:F) lies a relatively unknown and unappreciated aspect of the Detroit-based auto giant. This asset generated $2.1 billion in pre-tax profit in 2015 and is expected to generate at least that much but likely more in 2016. It extends the reach of the company and provides great defense during down times in the market. This portion of the company is both self-sustaining and self-liquidating. I am of course talking about Ford Credit.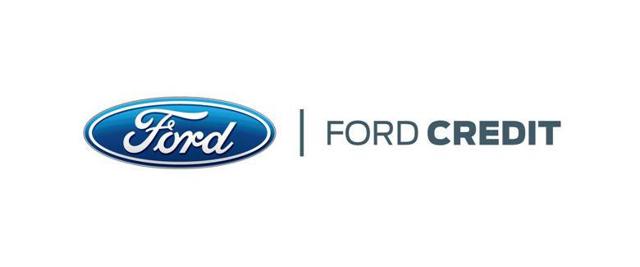 At one point in time not too long ago an in-house financing arm was viewed unfavorably by investors. During the Great Recession they proved to be a huge liability and was a huge contributor to the fall of General Motor's (NYSE:GM). When the government stepped in to "save" GM they forced GMAC and their horrible loan portfolio to be spun-off in 2009 and it became Ally Financial (NYSE:ALLY). Ford avoided government intervention and as a result was able to retain Ford Credit. Many lessons were learned and Ford has done remarkable things with Ford Credit.
Many investors in the past have called for Ford to spin-off Ford Credit to "unlock" some value for shareholders. Looking at the contribution that Ford Credit makes to Ford Motor, I think that is an incredibly short-sighted and foolish idea. The financing capabilities of Ford Credit extend the reach of the company and helps ensure dealership success and even protects against down markets.
The Q1 2016 earnings release that Ford just posted was their best ever. In three months they recorded a pre-tax profit of $3.8 billion and their operating margins rose to an impressive 9.8%. Ford Credit results during this quarter were equally impressive and contributed greatly to the overall success.
Thankfully for investors Ford realizes the importance of Ford Credit and therefore has begun a separate conference call to cover these results. The accompanying slideshow is also a wonderful resource and is where all the images in this article originate. The below slide shows the performance metrics of some major areas.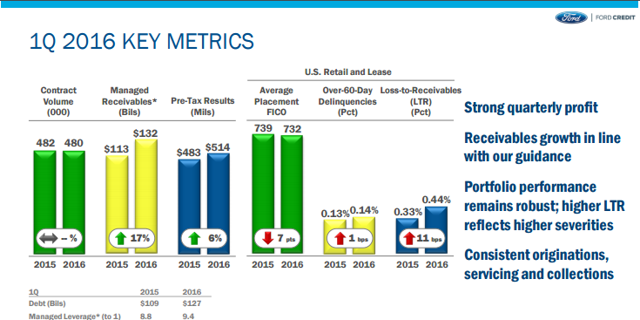 Most encouraging was the 6% increase in pre-tax profits, contributing $514 million to the $3.8 billion quarterly total. That strong 17% growth in managed receivables is also impressive and should drive profits for this division even higher in subsequent quarters.
There are concerns that warrant additional coverage.
Investors may take issue with the drop in the average FICO score and the rise in loss-to-receivables along with 60+ day delinquencies. Historically this is typical of the first quarter given the promotions that the company runs at the start of the year. These promotions, typically 0% financing, attract many potential buyers into dealerships. Not every customer will qualify for 0% but if they went to a dealership with the intent of buying a car they're more likely to walk out with a car. As a result we get a drop in overall quality.
Historically a 737 FICO score is typical of the average for Ford Credit.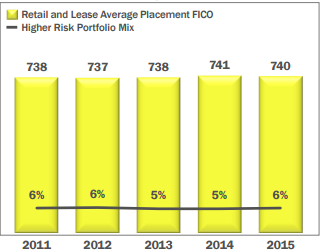 It just so happens that 2014 and 2015 were high-water marks for the average going back to 2011 coming in at 741 and 740 respectively. The high-risk loans are still sticking at 6%, which is where the company intends to keep them. No concerns here.
The loss-to-receivable also experienced an uptick, and unfortunately is at a multi-year high. Both the slideshow and the conference call addressed this concern in depth. The LTR increase was due to the rising bankruptcies and the rising severities as a result. Increasing severities can also be blamed on the auction market. Auction prices have been lower due to an increased inventory of used vehicles and an increase in new vehicles sales. Repossessions rose slightly to 1.04%, which is still historically low. For years repossessions had been dropping and in 2015 sat at just .98%.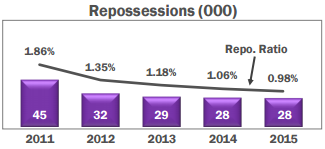 To address these issues the company has put additional funds in credit loss reserves, which now sits at $463 million. So long as losses don't go over $463 million, the overall company is not at risk and the balance sheet will remain stable. Though concerning, I'm not overly worried but will be eager to see how they do in the second quarter.
The one bps increase in 60 day delinquencies is hardly worth mentioning. The increase to .14% it may seem alarming compared to 2015, especially as the "sub-prime" loan fears continue to be peddled about. Using 2015 as a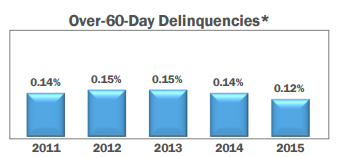 benchmark provides an unfair comparison, but going back to 2011 this is actually average. The overall consistency with this rate says volumes about the loan portfolio that Ford has. It is clear that year over year the company maintains a favorable balance and they clearly know the auto market that they are selling into. I'm not too worried about this metric right now.
The record rates of auto sales has opened the door to a rise in these unsavory statistics as well. The company still maintains a very healthy loan portfolio and the high-risk loans are stable at 6%. The strong growth in pre-tax profits indicates a very healthy balance and the average FICO score of 737 is still higher quality than other lenders; GM for example has 31.7% of their loans at a FICO of 679 or lower with 18.4% in sub-prime territory. As I've stressed in an earlier article, investors need not worry about Ford when it comes to sub-prime loans.
Conclusion
Ford turned in a record quarter and Ford Credit was an integral part of that success. Without Ford Credit they would not be able to easily access attractive financing for their dealerships and customers. The over half a billion dollar contribution in the quarter cannot be understated. Their loan portfolio remains healthy and management has done a remarkable job ensuring the company is not subject to any unnecessary risk. This segment of their business deserves much more recognition. Ford management has been bringing more awareness to Ford Credit by doing a separate conference call and providing more material to investors. Of course as a Ford investor, my ultimate hope is that the market begins to appreciate what Ford Credit really means to the company and Ford begins trading at a higher multiple.
Disclosure: I am/we are long F.
I wrote this article myself, and it expresses my own opinions. I am not receiving compensation for it (other than from Seeking Alpha). I have no business relationship with any company whose stock is mentioned in this article.