Overview
Iron ore prices have been taking a beating along with most commodities worldwide. This is due to tough economic conditions, with the global economy still feeling repercussions from 2007. Furthermore, Chinese demand for iron ore is slowing down, compounded by a global oversupply that has been taking grip and is expected to continue well into the foreseeable future.
Surprisingly however, Kumba Iron Ore (OTCPK:KIROY) was handed a "pass" in February of this year, with a temporary increase in iron ore prices taking effect and pushing the price of the Johannesburg Stock Exchange listed share upward to around ZAR120.00 towards the end of April this year.
The longer term prognosis for the iron ore price is not looking particularly cheerful, with an extended period of depressed prices expected well into next year. This is where the management of Kumba has really stepped up to the plate, restructuring operations and "bankrupt-proofing" the business to remain a viable entity. They have adopted a new value strategy, focusing on deriving the maximum value they can from their available mining operations providing an adequate stripping ratio. This shift has allowed them to increase their cash holding to keep the business running in times of low turnover, even going so far as suspending their dividend pay-outs.
At the moment, the short run increase in iron ore prices are unsustainable. The rebound in steel prices has spurred on an increase in iron ore production from producers in China. This will inevitably push the oversupply to heated levels, once again pressuring iron ore prices.
Kumba has realigned itself to expectations of further downside on the iron ore price, staying lean and remaining competitive and will only realize its true potential when iron ore prices stabilize at a higher level and hold fast in the longer term.
The Business
The exploration sites in South Africa are based near existing operations in the Northern Cape and are used to review geological models, ensure life of mine estimates and to enable long-term planning. All mining operations of Kumba use open-pit methods and beneficiation is done through dense medium separation and jigging technologies.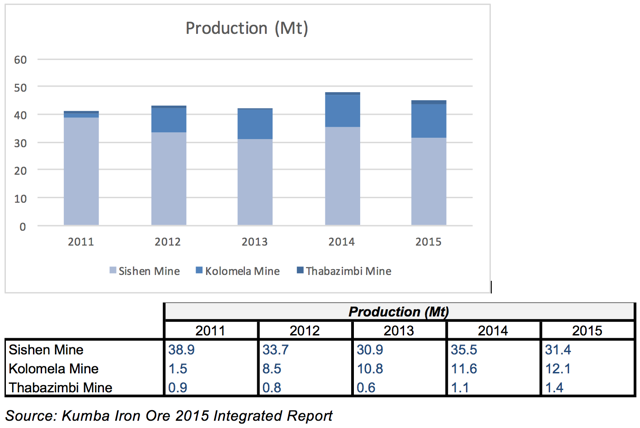 In these turbulent times, Kumba has adopted a new strategy involving cutting costs and focusing on value ("cash generation") as opposed to volume from their mines. This shifting in focus has lead to a decrease of ZAR4bn in controllable costs and a net debt reduction of 42%, to ZAR4.6bn.
This is a noteworthy shift in strategy and shows Kumba's concerns regarding future price movements. They realize that increasing their own output won't make up for the lost revenue from depressed iron ore prices, with the prediction of a fresh doubling in oversupply of Seaborne glut to 38 million tons next year. This implies that management has the foresight to move itself towards a defensive strategy, decreasing costs and staying lean.
The Industry
The South African economy is struggling, affecting the way companies operate within its confines. Weak governance, volatile markets and shifting regulation all adding to the turmoil.
Kumba had a challenging year in 2015, with no immediate relief in sight. Most large developed economies' central banks still have a dovish outlook, supporting investment and driving inflation for 2016.
The largest consumer of Kumba's iron ore exports is China, the majority 63%, with other Asian countries coming in second, with Japan and Korea taking 20% of the pie. China is still ahead of the global GDP growth average of 3.2%, with a GDP growth estimate coming in at 6.5%. This is not to say that iron ore demand will drastically pick up, the downward pressure will persist well into 2017 (even 2018). It is also worth noting that China has shifted from their usual infrastructure-driven to consumer-led growth, which will skew the GDP growth figure away from an iron ore recovery. These factors are putting immense pressure on iron ore producers - including Kumba Iron Ore.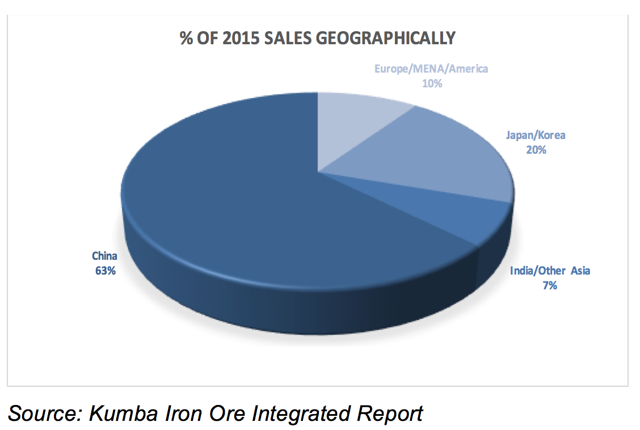 An increase in export market competitiveness has further dampened the mood (especially with low-cost suppliers from Australia having new efficient projects coming to fruition). This has been due to lower freight charges, weaker producer currencies and improved production efficiency. Crude steel production is also slowing down, with a drop of 2.9% from the previous year.
All this has lead to a substantial decrease in the iron ore price, with about a 40% decline during 2015 based on the Chinese 62% Ferrous Content Iron Ore Deliveries (Ticker: MBIO62DA Index).
Profitability
Operating profit dropped by 86% from 2014 to 2015, this can in part be explained by the impairment charge of ZAR6bn for the Sishen mine. If you ignore the impairment, operating profit would only have dropped 56%. The Sishen mine impairment was due to a revised mine plan and the medium term outlook on iron ore prices (which as we know, is less than stellar).
Total revenue decreased by 24% over 2015, driven by low realized FOB export prices (down 42%), but was partially offset by South Africa's depreciating currency against the US Dollar. Export sales increased marginally from the selloff in stockpiles and a strong performance by the rail network.
The key factors affecting Kumba's drive for value creation is the following, as per their 2015 Integrated Report:
Negative commodity sentiment
Flattening of the global cost curve
Organizational restructuring
Increasing socio-political pressures
Heightened stakeholder expectations
Regulatory and policy uncertainty
Nature of iron ore reserves and life of asset
All of the above will contribute to a trying time for Kumba, with outside factors having a large impact on profitability and sustainability.
Capital Expenditure
Capital expenditure was ZAR6.8bn for the 2015 fiscal year, comprising of expenditure on expansion, stay-in-business activities (infrastructure and mining equipment) and deferred stripping. As can be imagined, Kumba is shifting away from high capex activities for the foreseeable future, with deferred stripping dropping a targeted +/- 72% in 2016.

Impairment Charge
Due to the current iron ore price and other external pressures, Kumba initiated an impairment test on its operations in the Northern Cape province. The two mines, Sishen and Kolomela are considered as separate cash-generating units. The impairment test was based on the fair value of the mine less the cost of disposal.
The impairment test of Kolomela lead to no impairment cost being realized, with Sishen racking up an impairment of ZAR6bn. This was based on a DCF valuation of ZAR20.5bn. The impairment charge is before tax with an associated deferred tax credit of ZAR1.7bn and an after-tax impairment of ZAR4.3bn.
Costs
Operating expenses decreased by 2% in 2015, when ignoring the Sishen mine impairment charge (when including the impairment charge, the figure mutates into an increase of 18%). This is attributed to the decrease in head count, a shifting in strategy from volume to value and reduced support/project related costs.
Kumba's cost structure involves the following key inputs, as per the 2015 Integrated Report:
Labor
Distribution (rail, port and freight)
Energy
Capital expenditure
Maintenance
Drilling and blasting
Tax and mineral royalty payments
Mining contractors
Social investments
Rehabilitation
Marketing
In further efforts to cut costs and operate as efficiently as possible, the Sishen pit mine was optimized to reduce waste, and high strip ratio areas will not be pursued in the foreseeable future. This has lead to a decrease in the cash breakeven price from USD63/ton to USD49/ton in 2015, with a target of <USD40/ton in 2016.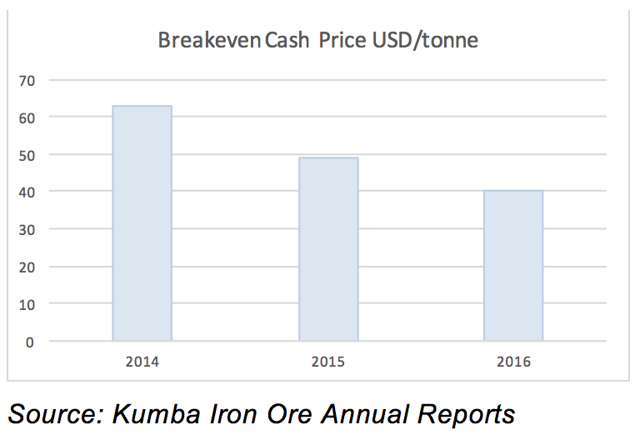 Other Risks
Of major concern is the current state of the South African economy and its regulatory bodies. A downgrade of government debt will undoubtedly lead to capital flight from the South African economy, pushing all struggling businesses to the brink of extinction.
On the regulatory front, the outstanding 21.4% residual undivided share of the mining rights for the Sishen mine is still a major concern. During the course of 2015, the Director General of the Department of Mineral Resources (DMR) gave consent to the inclusion of the remaining 21.4%, however, contingent on certain conditions set forth by the DMR. Kumba is still in the process of negotiating these terms and are hoping for a speedy resolution.
Other major concerns include the current state of the commodity market and exchange rate fluctuations. An extended period of deflated iron ore prices will stretch Kumba's ability to operate profitably, even with extreme cost cutting measures in place, with volatile currency swings accentuating the problem.
Closing Remarks
The global outlook has been dire and continues to surprise on the downside, this has lead to Kumba's share price dropping to a staggering ZAR26.00 in early 2016. The current exuberance experienced by the market is based on optimism which is sure to fade, owing to an oversupply of iron ore on the horizon in the second half of 2016.
Kumba has positioned itself to weather the storm, by optimizing its operations and admitting to a perception of tough times ahead. However, without an iron ore price recovery and a dramatic increase in Chinese demand for beneficiated iron ore, the share price will remain depressed from its heyday prices in excess of ZAR600.00 in early 2013.
Kumba has done everything in its power to "keep the lights on". The management has had the foresight to admit that these times are not likely to change in the short term, wisely shifting strategy and preserving cash for a rainy day. This might not be the right time to climb in, but it is definitely a company to keep on the radar.
Supporting Documents
Disclosure: I/we have no positions in any stocks mentioned, and no plans to initiate any positions within the next 72 hours.
I wrote this article myself, and it expresses my own opinions. I am not receiving compensation for it. I have no business relationship with any company whose stock is mentioned in this article.
Editor's Note: This article discusses one or more securities that do not trade on a major U.S. exchange. Please be aware of the risks associated with these stocks.