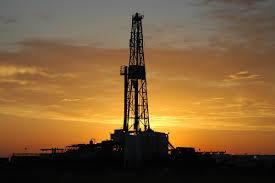 The Energy Information Administration (EIA) reported that production averaged 9.129 million barrels per day (mmbd) in February, down 51,000 b/d from their January estimate. This estimate was basically in-line with the weeklies that were reported for February. The total decline from the peak in April 2015 was 565,000 b/d over the 10-month period.
The largest drop - 291,000 b/d - was in the Gulf Coast (PADD 3). Production in the Gulf of Mexico was 42,000 b/d higher than last April.
But back in December, the EIA's Short-Term Energy Outlook (STEO) had projected that production would be 200,000 b/d lower in February than this number. Production has been declining slower than they thought.
Data from the Commodity Futures Trading Commission's (CFTC) Commitment of Traders (COT) reports show that oil producers indeed have higher hedge volumes even though prices are lower than in the past two years. The current 12-month WTI crude futures strip closed at about $47.80. The strip ending in May 2017 was about $49.50.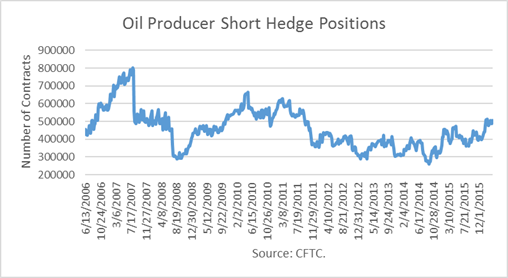 The most current level hedged is just over 500,000 contracts, which is over 500 million barrels, about 25% more than at the same time in either 2015 or 2014.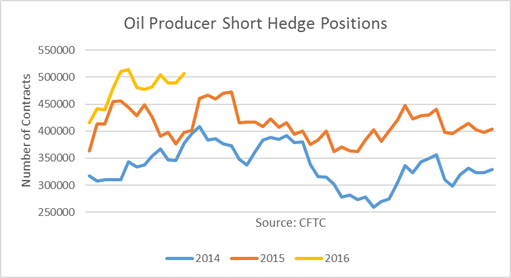 Energen Corp. (NYSE:EGN) recently said it had locked in about half of its expected 2016 production - or more than 6 million barrels - at around $45. EV Energy Partners L.P. (EVEP) hedged in recent weeks at prices about 50% for slightly above $40. Pioneer Natural Resources Co. (NYSE:PXD) has boosted its hedges for 2017 to cover 50% of its oil production.
The EIA's methodology for projecting future crude production does not take hedging into account. It is based purely on rig count and assumptions about the future. With more hedging, producers are going to be better able to maintain their production. Therefore, EIA's assumed decline rate in 2016 will be wrong.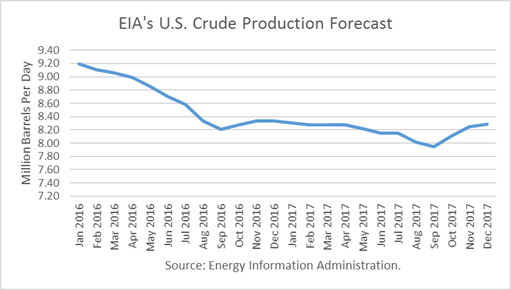 It is also important to understand that when companies lock-in prices for 2016 and 2017, it will not matter if prices drop in the future. And this is another reason why I think the sustainable potential upside for crude futures prices is limited.
Conclusion
If prices move higher, companies will hedge more, causing more selling pressure, and higher production will be maintained, pushing the date for market rebalance further into the future.
Disclosure: I/we have no positions in any stocks mentioned, and no plans to initiate any positions within the next 72 hours.
I wrote this article myself, and it expresses my own opinions. I am not receiving compensation for it (other than from Seeking Alpha). I have no business relationship with any company whose stock is mentioned in this article.