"There is nothing new in Wall Street. There can't be because speculation is as old as the hills. Whatever happens in the stock market today has happened before and will happen again." - Jesse Livermore

Bull markets are born on pessimism, grow on skepticism, mature on optimism, and die on euphoria - Sir John Templeton

Life and investing are long ballgames. - Julian Robertson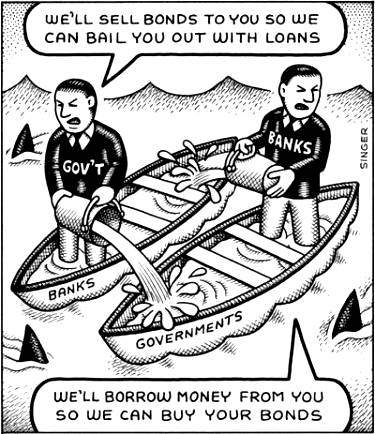 Introduction
While driving in my home state of Indiana, I heard a radio advertisement by Bernie Sander's presidential campaign that caught my attention. To paraphrase the personally approved campaign message by Bernie, he describes how three of the four largest U.S. banks that emerged from the 2008 financial crisis have gotten bigger, hinting that the "Too Big To Fail" problem that plagued the banks back then, is an even bigger problem today.
As an ardent believer in capitalism and as someone who has benefited more than many thought possible and been punished worse than many thought possible by decisions in the financial markets, I strangely find myself in agreement with Mr. Sanders.
With that premise, I wanted to take a look at the state of the largest banks today compared to their standing in 2008 and 2007.
Thesis
The largest U.S. banks are indeed larger today and pose a greater risk to the financial system.
The Biggest Banks In 2007
The following is a list of the world's biggest banks by assets in 2007. The table is from an October 1, 2007, article by author Dan Keeler, published in the Global Finance magazine.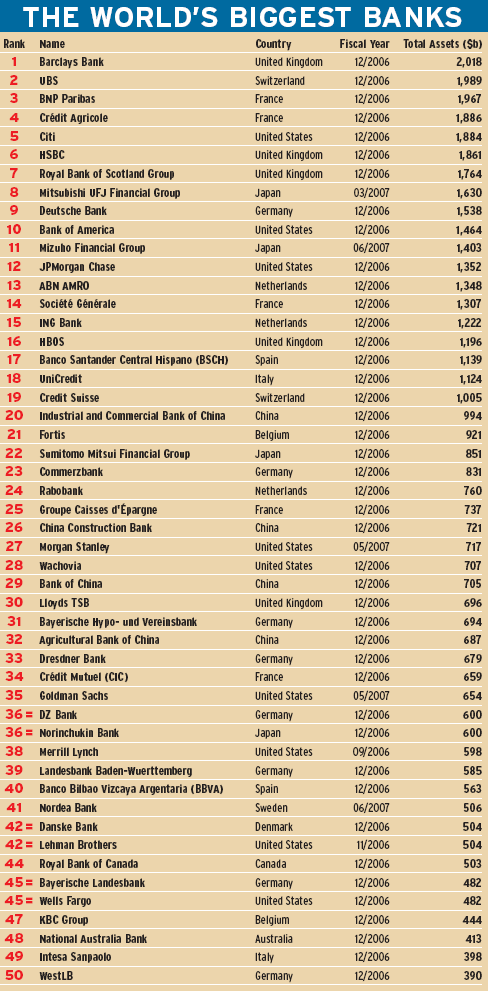 Europe dominated the world's largest banks by assets in 2007, with Barclays (NYSE:BCS), UBS (NYSE:UBS), BNP Paribas (OTCQX:BNPQY) (OTCQX:BNPQF), and Credit Agricole (OTCPK:CRARY), (OTCPK:CRARF), taking the top four spots, followed by the first U.S. bank in 2007, Citigroup (NYSE:C), at number five. For comparison and reference, Barclays had approximately $2 trillion in assets and Citigroup had $1.9 trillion.
The second British bank on the list, HSBC (NYSE:HSBC), clocked in at number six, with the Royal Bank of Scotland (NYSE:RBS) checking in a number seven in 2007, followed by Mitsubishi UFJ Financial Group, Inc. (NYSE:MTU) at number eight, Deutsche Bank (NYSE:DB) at nine, and Bank of America (NYSE:BAC) at number 10. Bank of America had $1.5 trillion in assets.
The next five largest banks in 2007 were Mizuho Financial Group (NYSE:MFG), JPMorgan Chase (NYSE:JPM), and for reference JPM had approximately $1.4 trillion in assets in 2007, ABN AMRO, Societe Generale Group (OTCPK:SCGLY), (OTC:SGCLF), and ING Groep N.V. (NYSE:ING).
Rounding out the top 20 banks by assets were HBOS, Banco Santander, S.A. (NYSE:SAN), UniCredit (OTC:UNCFY), (OTCPK:UNCFF), Credit Suisse Group AG (NYSE:CS), and Industrial and Commercial Bank of China Limited (OTCPK:IDCBY), (OTCPK:IDCBF), the first Chinese bank listed by assets in 2007.
Notable banks outside the top 20 banks in assets included: 27. Morgan Stanley (NYSE:MS), 28. Wachovia, 30. Lloyds (NYSE:LYG), 35. Goldman Sachs (NYSE:GS), 38. Merrill Lynch, 42. Lehman Brothers, 44. Royal Bank Of Canada (NYSE:RY), 45. Wells Fargo (NYSE:WFC), 48. National Australia Bank (OTCPK:NABZY). Looking back at this list circa 2007, it is amazing to see the names that are no longer there.
The Biggest Banks In 2008
By December 31, 2008, the list of the world's biggest banks had dramatically changed, with the largest banks growing their assets through government bailouts and mergers during the financial crisis.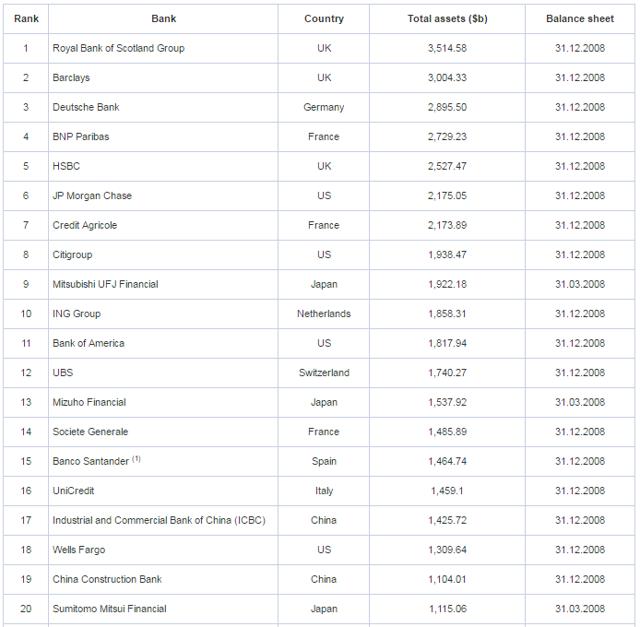 The European banks continued to dominate the world's largest banks by assets at the end of 2008, with the Royal Bank of Scotland Group doubling its assets on its balance sheet to $3.5 trillion, which was $1.5 trillion larger than Barclays's assets in 2007, when BCS was the largest bank by assets in the world. For reference, this is listed in the 2007 bank ranking earlier in this article.
In the United States, JPMorgan Chase leapfrogged Citigroup with its bargain basement purchases of Bear Stearns and Washington Mutual, increasing its assets on the balance sheet from $1.4 trillion to $2.2 trillion. Still, JPMorgan Chase was now only the world's sixth largest bank by assets at the end of 2008, where Citigroup had occupied the fifth spot in 2007.
Citigroup's assets stayed flat at $1.9 trillion from 2007 to 2008, and its position in the world rankings fell from 5th to 8th. Bank of America gained $0.3 trillion in assets, from its purchases of Countrywide and Merrill Lynch, increasing its total balance sheet assets to $1.8 trillion, yet its world ranking fell from 10th to 11th.
Berkshire Hathaway's (NYSE:BRK.A), (NYSE:BRK.B) Warren Buffett, who championed his investment in Wells Fargo throughout the 2008 financial crisis, was rewarded when WFC purchased Wachovia, growing its assets by more than double from 2007 to 2008, to $1.3 trillion, vaulting Wells Fargo from the world's 45th ranked bank by assets in 2007 to the 18th largest bank by the end of 2008.
The Biggest Banks In 2015
After a seven-year bull market in equities, the global bank rankings by assets took another dramatic turn, as the 2015 rankings show in the table below: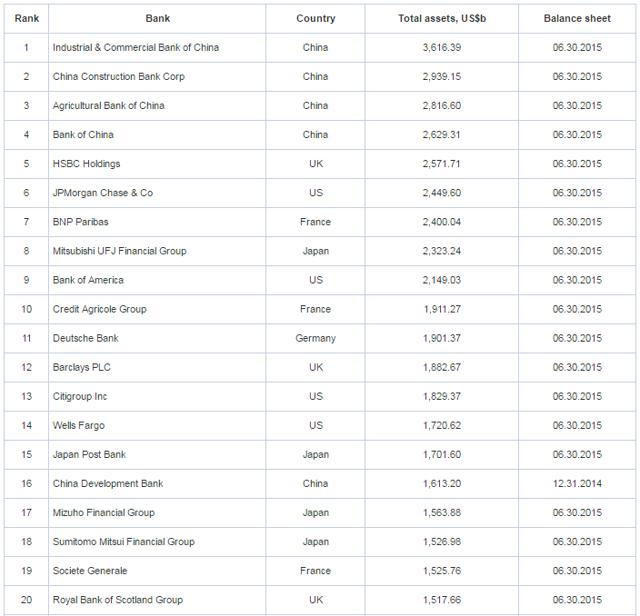 Chinese banks took over the top four positions with the Industrial and Commercial Bank of China at the top of the rankings with $3.6 trillion in assets, followed by the China Construction Bank (OTCPK:CICHY) (OTCPK:CICHF), and followed by the Agricultural Bank of China (OTCPK:ACGBY) (OTCPK:ACGBF).
Three of the big four U.S. banks saw their assets grow, with Citigroup being the lone big U.S. bank shrinking its balance sheet. JPMorgan Chase grew its assets by $0.2 trillion to $2.4 trillion, retaining its spot as the world's sixth largest bank by assets. Bank of America grew its assets by $0.3 trillion to $2.1 trillion, climbing from the world's 11th largest bank to the 9th largest.
As previously mentioned, Citigroup shrank assets by $0.1 trillion, ending 2015 with $1.8 trillion in assets on its balance sheet. Citigroup dropped from the 8th largest bank in the world by assets, to the 13th largest bank.
Wells Fargo, the biggest gainer on a percentage basis, over all the time periods researched, grew assets from $1.3 trillion to $1.7 trillion, becoming the 14th largest bank in the world by assets, up from the 18th largest bank at the end of 2008, and the 45th largest bank in 2007 by assets.
How Have The Bank Stocks Performed Over The Last Five Years?
The share price performance of the largest U.S. banks over the last five years ranges from very strong; in the case of Wells Fargo, up 94%, to moderate with JPMorgan Chase, whose shares are up 58%, to weak for Bank of America, whose shares are up 21%, to lagging for Citigroup, whose shares are up 2% over the trailing five years. For reference, the S&P 500 Index, as measured by the SPDR S&P 500 Index ETF (NYSEARCA:SPY), is up 68% over the same time frame.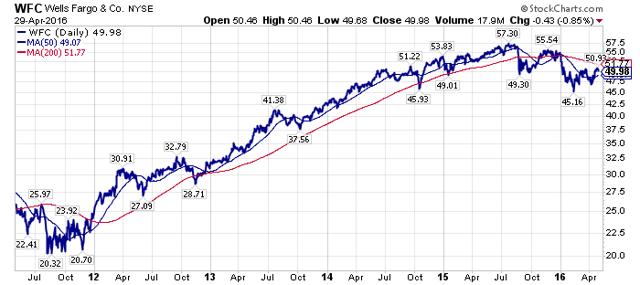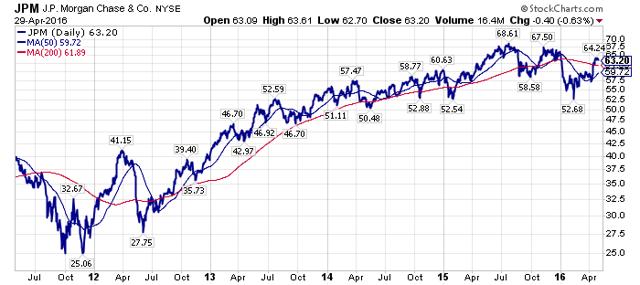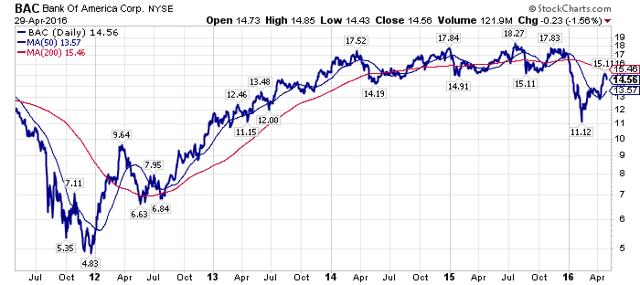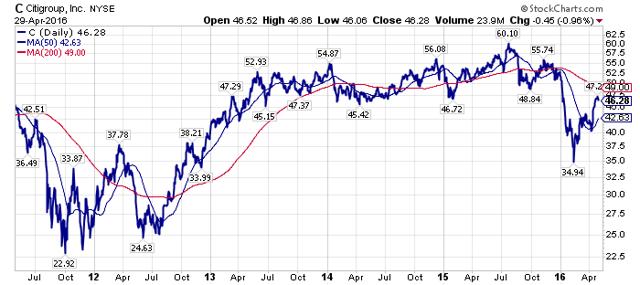 Rising Rates Are Positioned To Help Banks
Declining interest rates and the corresponding pressure on interest rate margins have kept a lid on the share price performance of JPMorgan Chase, Bank of America, Citigroup, and Wells Fargo, which as a group, have significantly underperformed the broader stock market over the last five years. The chart of the iShares Barclays 20+ Year Treasury Bond ETF (NYSEARCA:TLT) shows how far rates have fallen: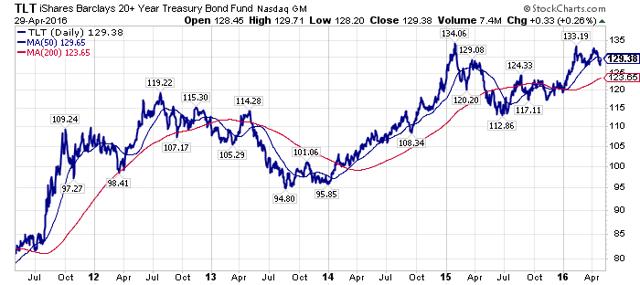 Conclusion - Bernie Sanders Was Right
Three of the four largest U.S. banks, JPMorgan Chase, Bank of America, and Wells Fargo, have indeed become bigger since the 2008 financial crisis, as each bank has seen the assets on its balance sheet grow. Cumulatively, the banks have grown their assets from $5.3 trillion in 2007 to $7.2 trillion at the end of 2008, to $8 trillion at the end of 2015. Thus, Mr. Bernie Sander's radio advertisements, which proclaim that the big banks have gotten bigger, have a valid point.
Citigroup is the only bank, out of the four, that has shrunk its balance sheet, and its share price has lagged the performance of its large-cap U.S. bank peers. Evidence clearly shows that balance sheet growth is an important metric, as the bank that has grown its balance sheet the most, on a percentage and on an absolute basis, Wells Fargo, has seen the largest share price increase.
Warren Buffett, who was an opportunistic investor in the banking sector during the financial crisis and in the years afterward, has seen the shares of the firm he championed the most, Wells Fargo, have the biggest increase in market capitalization and balance sheet size. Maybe Uncle Warren has become part of the establishment?
As a whole, bank shares have lagged the broader markets, as falling interest rates have hurt net interest margins. Rising rates in an inflationary environment could be positive for bank shares which have fallen significantly from their 52-week highs.
To close, the irony, from my perspective, is that the extreme views of Mr. Sanders are in line with the views of believers in raw capitalism. Is Bernie Sanders a secret admirer of the virtues of capitalism? If all the banks were forced into receivership and wound down, which is what would have happened without government intervention in 2008, we would not be in the position of facing the next "To Big To Fail" banking crisis, with banks that are larger today than they were in 2008.
Disclosure: I/we have no positions in any stocks mentioned, but may initiate a long position in DB over the next 72 hours.
I wrote this article myself, and it expresses my own opinions. I am not receiving compensation for it (other than from Seeking Alpha). I have no business relationship with any company whose stock is mentioned in this article.
Additional disclosure: Every investor's situation is different. Positions can change at any time without warning. Please do your own due diligence and consult with your financial advisor, if you have one, before making any investment decisions. The author is not acting in an investment adviser capacity. The author's opinions expressed herein address only select aspects of potential investment in securities of the companies mentioned and cannot be a substitute for comprehensive investment analysis. The author recommends that potential and existing investors conduct thorough investment research of their own, including detailed review of the companies' SEC filings. Any opinions or estimates constitute the author's best judgment as of the date of publication, and are subject to change without notice.
Editor's Note: This article covers one or more stocks trading at less than $1 per share and/or with less than a $100 million market cap. Please be aware of the risks associated with these stocks.