In these uncertain times, it is nice to be able to depend on a solid dividend from a stock. Global Partners LP (NYSE:GLP) provides this with a 9% dividend. On top of that analysts are currently forecasting 90.10% EPS growth in FY2012. If you want safety with a looming EU recession and a worrisome US economic picture, this may be your stock. A company that is forecast to nearly double its EPS in FY2012 may miss on earnings if things go badly. However, it is not likely to decrease its dividend. Its stock price is not likely to fall dramatically.
What does GLP do?
It engages in the wholesale and commercial distribution of refined petroleum products and natural gas. It provides ancillary services in the US and internationally. It operates in two segments, Wholesale and Commercial. The Wholesale segment sells gasoline, home heating oil, diesel, kerosene, and residual oil to unbranded retail gasoline stations and other resellers of transportation fuels, home heating oil retailers, and wholesale distributors. The Wholesale segment does much the same thing for industrial customers. It also purchases, custom blends, sells, and delivers bunker fuel and diesel to cruise ships, bulk carriers, and fishing fleets generally by barges. It performs a variety of other tasks for federal and state agencies, municipalities, industrial companies, etc.

(Yahoo Finance)
It is forecast to grow earnings strongly in 2012.
The basis for much of this growth are new contracts/projects it has entered into in the last year or so. GLP contracted to supply 150 million gallons of gasoline to other (non GLP) mobil distributors. It acquired the business of receipt, storage, and distribution of Bakken crude oil at the Albany marine terminal (in cooperation with Canadian Pacific (NYSE:CP)). It inked a contract with the DOE to provide a Northeast Home Heating Oil Reserve (expected to generate $4.2 million in storage revenue in the first year). Any one of these would be enough to provide significant growth. Together they are slated to provide great growth.
GLP is not satisfied with just seeming safe. Its goal is to have its inventory fully hedged - primarily with NYMEX-traded instruments. It intends to be as safe as possible. It intends to do constant rebalancing of futures, so it has no doubt moved some of its hedges upward over the last couple of months. This should help profits immensely later this year if commodities fall due to an EU recession and a slowing world economy. It also has empowered its Risk Management Group. This is charged with seeing all needed risk management actions are taken. GLP is no fly by night outfit.
The chart below shows its dividend distribution history in recent years. It is very consistent, even in the recession year(s).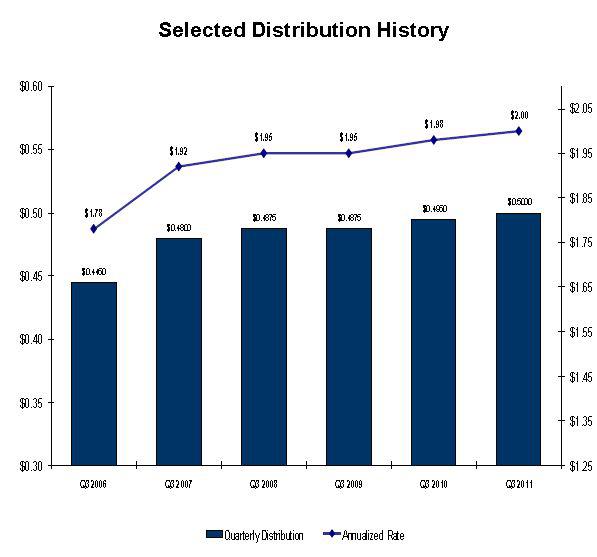 In addition to good growth actions, GLP completed a 10% workforce reduction during Q3 2011. This should result in annualized cost savings of $10-$12 million in FY2012. This is over 10% of FY2011 earnings, which will be in the range of $75 - $85 million. GLP has an active pipeline of potential acquisitions. It has numerous organic projects. Its write-offs have averaged just 0.01% of sales over the last five years, even with a recession. Its inventory and receivables turns are quick (10 to 20 days). These are all signs of a company that is being well and actively managed.
The five year chart of GLP provides some technical direction for this trade.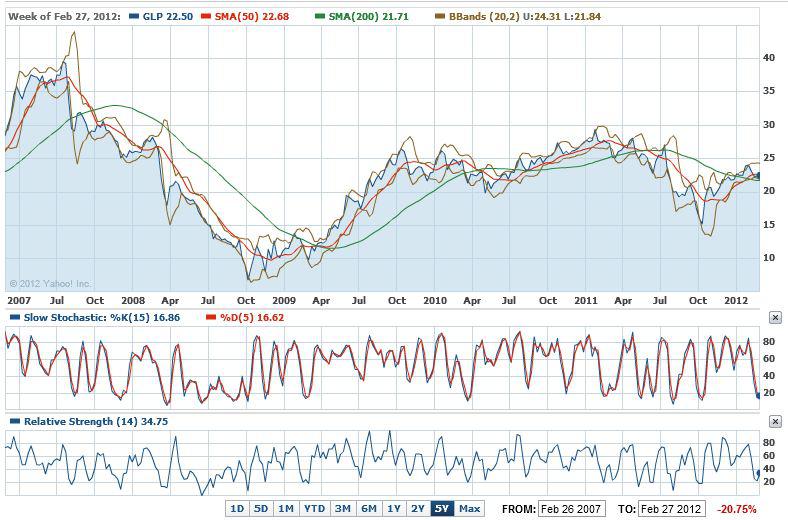 Both the slow stochastic and the relative strength sub charts show that GLP is at or near over sold levels. The main chart shows that the 50-day SMA has recently crossed its 200-day SMA moving upward. This is usually a buy signal. However, in this case, that signal appears to be weakening. Still you have to go with what you see. The current stock price is $22.50. There are a variety of support points from approximately $20 to $29.39. Many of these are above $25. If the market continues upward, GLP seems likely to do the same. If the overall market, which is over bought, retraces, it seems likely GLP may temporarily do the same. However, GLP seems likely longer term to show good strength in the area it is in.
It may blip down temporarily due to poor economic news, poor overall market performance, or a fall in oil prices; but it seems likely to hold up over time very well. It has good EPS growth slated. It has a great dividend, and it has taken measures such as decreasing head count and hedging to ensure a decent if not exemplary performance in FY2012 and beyond. If you do not foresee an immediate market fall, you can begin averaging in now. Then you can buy further on dips in the overall market, in oil prices, and in the economy. The stable 9% dividend is a comforting thought in the current uncertain circumstances. The active management is comforting too.
Good Luck Trading.
Disclosure: I have no positions in any stocks mentioned, but may initiate a long position in GLP over the next 72 hours.