Introduction
I picked up some Peyto Exploration (OTCPK:PEYUF) stock back in January when the oil and gas market was deemed to be almost 'damaged beyond all repair'. I only bought a few hundred shares as I was waiting for the share price to fall deeper but unfortunately that never happened. And with a good reason, as this company's operating performance is really strong which enables it to pay a pretty decent dividend on a monthly basis!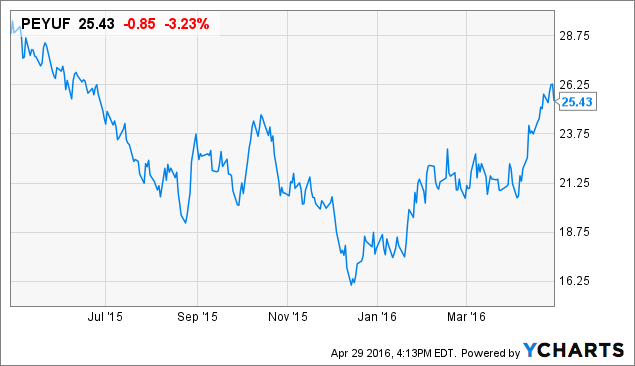 PEYUF data by YCharts
The company is Canadian and has its main listing on the Toronto Stock Exchange where approximately half a million shares are changing hands on a daily basis. The ticker symbol in Canada is PEY.
Cashing in my monthly dividend cheques is nice, but is it sustainable?
Peyto's production rate increased to in excess of 100,000 barrels per day as the company's exit production rate for FY 2015 was 102,000 boe/day (keep in mind the huge majority of the oil-equivalent production actually consists of gas), resulting in a full-year revenue of C$691M ($550M), but approximately 15% was caused by the positive impact of a hedging program.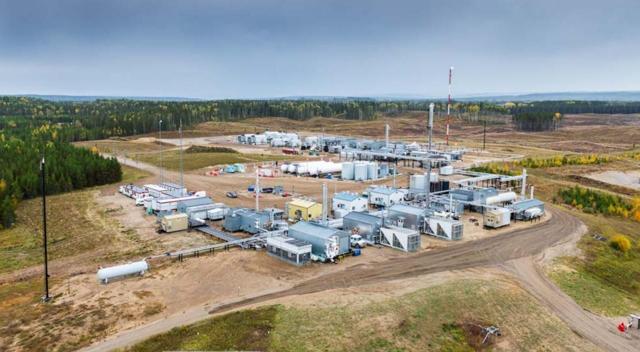 Source: company presentation
As two authors here on Seeking Alpha have correctly explained to you before, Peyto Exploration is one of the very few oil and gas companies that was able to report a positive net profit in 2015 as the company generated a net income of C$138M ($110M) or C$0.87 ($0.69) per share. This does mean the company's monthly dividend payments were approximately 50% higher than the net income, and this would worry quite a few dividend-focused investors.
That being said, at an oil and gas company it's not really the net income you should be looking at, but the cash flow statements. After all, the depreciation charges can be quite high and this could hide stronger underlying cash flows. And indeed, as Peyto's depletion and depreciation charge in 2015 was approximately US$260M and as this is a non-cash charge, this could camouflage the true value of the cash flowing assets. And yes, indeed! The operating cash flow was much, much higher than the net income as Peyto generated an operating cash flow of in excess of half a billion Canadian dollar (US$425M).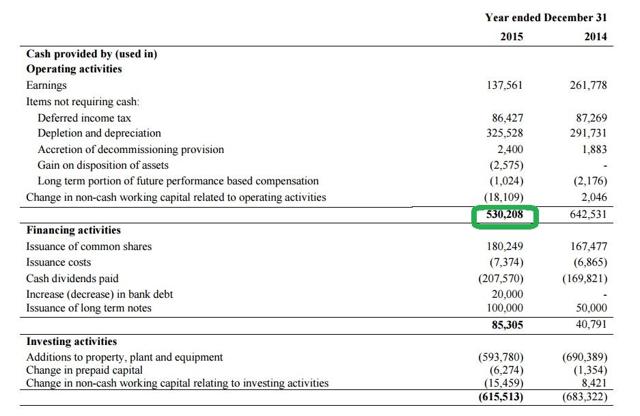 Source: financial statements
Even though this wasn't sufficient to cover the total amount of capital expenditures, I'd like to emphasize these capex numbers did contain quite a bit of growth capex (how else would Peyto have been able to increase the production rate with a double-digit percentage?) on both the producing properties as well as approximately US$60M on the processing plants to process the natural gas. And the investments in growing the production are paying off; in just 6 years' time, the total production rate has now five-folded to 100,000 boe/day, and for the current financial year Peyto plans to spend an additional US$450M to increase the production rate by an additional 7-10% (towards 110,000 boe/day).
So, no, the dividend isn't covered right now, but that's entirely due to the fact the company continues to invest in increasing its total output and once the gas prices will start to turn around, Peyto will benefit from increasing cash flows (even though the company tries to hedge 65% of its expected gas output - 53% of the 2016 gas production has already been hedged).
The updated reserve report does indicate the company is fully valued
Peyto's decline rate is quite high (it was just 20% in 2009 but is expected to reach 37% this year) and this requires a continuous investment to both keep the production rate at a relatively elevated level and to invest in exploration activities to make sure the total reserves can be kept relatively stable.

Source: press release
That's a high decline rate and it does explain why Peyto will have to invest several hundred millions of dollars in its property to keep the gas flowing. That's why the reserve estimates are also a pretty good as the total proved and probable reserves contain approximately 590 million barrels of oil-equivalent (of which almost 2/3rd is located in the total proved category).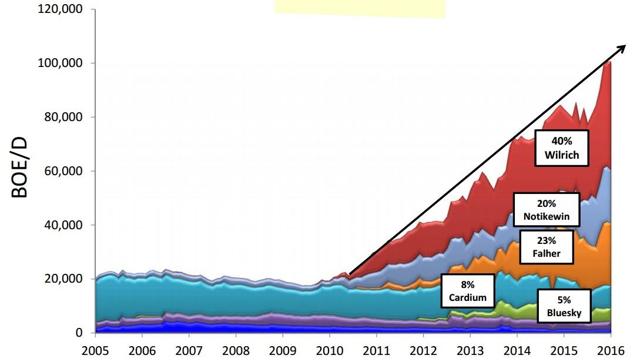 Source: company presentation
That's very nice, but the NPV of the future gas production was a little bit low. Companies usually use a PV-10 calculation as the basis (this calculates the value of future cash flows on a pre-tax basis and after applying a 10% discount rate). Peyto's PV10% is just C$4.2B and after deducting the net debt position of C$1.1B, the total reserves had a value of C$3.1B ($2.5B) based on the consultants' price deck.
To make it easier for you; I have created a little table using the different discount rates and the values per share. The share count does take the additional dilution of the recently-announced US$120M placement into account, but does NOT deduct the proceeds from the net debt position as the US$120M will be needed to cover this year's funding gap. I am using 164M shares as base case scenario. The results per share are in Canadian Dollar, considering that's where Peyto's most liquid listing is. As Peyto is getting a lot of value for its 'probable additional' gas, I will take this value into account as well, that's only fair).
| | | |
| --- | --- | --- |
| Discount Rate | NPV (before taxes, after deducting net debt) (C$) | NPV/share (C$) |
| PV 0 | 10.4B | 63.4 |
| PV 5 | 5.35B | 32.62 |
| PV 8 | 3.8B | 23.17 |
| PV 10 | 3B | 18.29 |
So based on this table, Peyto is currently trading at a fair value using a discount rate of 5%. There still is a caveat; the company's consultants haven't disclosed the average gas price they used for their calculations (or at least, I was unable to fund those inputs), so their base case scenarios might be a bit different from the current price deck.
Investment thesis
Peyto Exploration is a bet on the gas price and the expectation the company will be able to convert more 'additional' resources into proved and probable reserves. Right now, the market is valuing Peyto at its NPV5% which does include the additional resources but excludes tax payments. That's indeed quite high, but I'm quite happy with the fact the company's management team has delivered on everything it has promised to do, and that by itself does command a premium.
I continue to hold my small position but should the share price drop towards the US$20 range again, I will very likely add a few shares.
Disclosure: I am/we are long PEYUF.
I wrote this article myself, and it expresses my own opinions. I am not receiving compensation for it (other than from Seeking Alpha). I have no business relationship with any company whose stock is mentioned in this article.
Editor's Note: This article discusses one or more securities that do not trade on a major U.S. exchange. Please be aware of the risks associated with these stocks.