On the wine-dark sea with Alpha Bank stock
"His descent was like nightfall" - Homer Iliad
Economist Robert Shiller created quite a stir last fall when he suggested that investors should take long positions in Greek stocks. For the intrepid investor so-inclined, the Greek stock market is mid-range in terms of fundamental valuation ratios according to Star Capital, ranking number 24 globally.
One way to invest in Greece, is of course in the MSCI Greece index (NYSEARCA:GREK). Over the period, the average return to this ETF was -1% (it could have been worse). The reason for the recent rally was an announced austerity program by the IMF and the EU of 2% of Greek GDP. This sanguine attitude of the stock market may be undermined by a "credit event" in July when Greece approaches a deadline to repay 3 billion euros.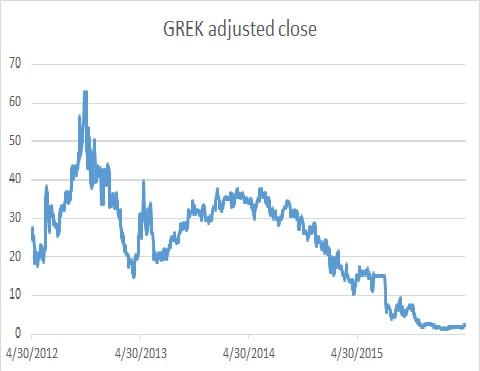 Source: finance.yahoo.com
The largest stock in the ETF is Alpha Bank (OTCPK:ALBKF)(OTCPK:ALBKY) with a capitalization at $572 million constituting 15% of the holdings of the MSCI ETF. (A mind-boggling decline in market cap from the 2.6 billion euro market cap of Alpha Bank end 2014). As one can see from the graph below, the stock of Alpha Bank slid precipitately towards the end of 2015, resulting in a one-for-50 reverse split on Nov. 19, 2015.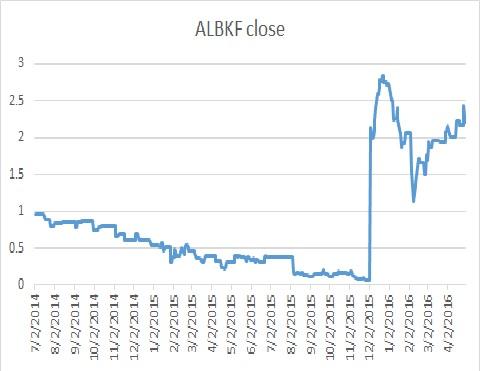 Source: finance.yahoo.com
However, the stock seems to be making a comeback recently and if one were to ignore the pre-November 2015 period, the stock averaged a return recently of 84%. Of course, one can only say this because it started from so low, but the next question is, do the fundamentals of the bank warrant Shiller's optimism regarding the Greek economy and a fortiori Greek stocks? (I picked this stock because it weighs so heavily in the MSCI Greece ETF.
Stability for Alpha Bank is the "best of worst".
Given how dramatic Alpha Bank's situation was at the end of last year, stability of its cash flows and loan structure would definitely be a dramatic turnaround for the bank, given that by the end of 2015, it posted a loss of 2.5 euros down from a "mere" loss of 23 eurocents per share at the end of 2014. However, EPS figures only provide a partial picture for this bank (or another), the key ratios being even more important to decipher.
For instance, in a 2014 report commissioned by the Bank of Greece, reporting different stress tests, it was found back then that Alpha Bank came out best amongst other Greek banks, requiring additional capital of "only" 263 million euros between 2013-2016 given loan loss projections on a baseline scenario, adequate to cover a baseline Tier 1 capital ratio. However, things have changed since then. What about now? The following information originates from the recent report which covers the calendar year 2015 (so it doesn't contain the detailed data on loan loss provisions and non-performing loans and especially Tier 1 capital ratios that only the annual report provides). But it provides certain indicative measures. The following table shows the growth of certain key variables.
| | | | | | |
| --- | --- | --- | --- | --- | --- |
| | Change in net interest margin | Change in deposits | Change in net derivative position | Change in share capital | Change in current tax liabilities |
| Variables between 2014 and 2015 | 9% | -27% | -4% | 23% | -55% |
Source: 2015 financial report of Alpha Bank.
The above table presents some interesting statistics. (I include the tax liabilities because this variable has special resonance in the Greek context). The net derivative position of the bank has declined, (a good thing) as has the total value of deposits (a bad thing). Evidently the situation is mixed, but not as pessimistic as would be warranted by the overall situation in Greece. The increase in the net interest margin is especially indicative of future trends.
Integration of three cooperative banks probably a good thing.
In 2013 Alpha Bank integrated three cooperative banks: Dodocanese, Evia and Western Macedonia. Cooperative banks have the key feature that they serve communities underserved by traditional commercial banks and that the depositors are the owners. Equity can also be increased more easily and an interesting study by the Levy Institute on Greek cooperative banks spells out a role for cooperative banks, especially within the context of the Greek economy, with a large shadow economy and large number of small enterprises. The study itself was written in 2014, but it shows that, for interest the net interest margin in 2008 for the Greek cooperative banks stood at 3.5%. Of course, the cooperative banks are plagued by other problems such as nepotism and corruption, but with adequate regulation, these banks could play a positive role in Greece. Most probably the integration of these three cooperative banks helped the capital structure of Alpha Bank.
Was Shiller right?
Of course, the above analysis is merely a partial analysis of one bank (albeit the biggest holding in the MSCI ETF). And also it can be said that Greek banks are the Achilles' heel of the Greek economy, and any uptick in their overall situation bodes well for a turnaround in Greece. Based on the above, certainly this might be the moment to invest in Greece again.
Disclosure: I/we have no positions in any stocks mentioned, and no plans to initiate any positions within the next 72 hours.
I wrote this article myself, and it expresses my own opinions. I am not receiving compensation for it (other than from Seeking Alpha). I have no business relationship with any company whose stock is mentioned in this article.
Editor's Note: This article discusses one or more securities that do not trade on a major U.S. exchange. Please be aware of the risks associated with these stocks.