Oil prices popped up nearly 3% on April 27th and stayed high for the rest of the week after news broke that inventories increased for the week but also in response to positive news regarding production and demand. In what follows, I will dig into the data provided by the EIA (Energy Information Administration) and discuss the good and bad of the organization's report and what it means for investors in the United States Oil ETF (NYSEARCA:USO), other oil-related ETFs, and oil-oriented investment firms like Linn Energy (NASDAQ:LINE) / LinnCo (NASDAQ:LNCO), Breitburn Energy Partners (NASDAQ:BBEP), Approach Resources (NASDAQ:AREX), and Memorial Production Partners (NASDAQ:MEMP).
Oil inventories rose... again
According to the EIA, the oil supply situation worsened for the week. If the organization's estimates are accurate, crude stocks came in at 540.6 million barrels. This represents an increase of 2 million barrels compared to the 538.6 million seen a week earlier and happens to be meaningfully larger than the 1.1 million barrel draw the API (American Petroleum Institute) estimated a day before the release. In the graph below, you can see what the overall trend has been for crude stocks over the past 52 weeks.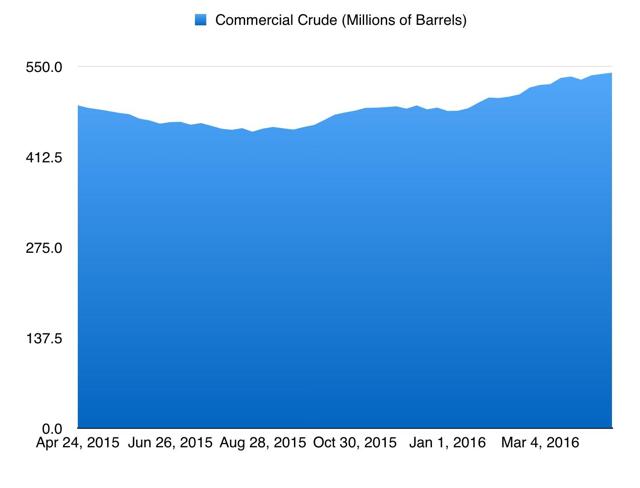 Unfortunately, crude stocks weren't the only category to see a rise week-over-week. Data provided by the EIA suggests that motor gasoline stocks grew by 1.6 million barrels from 239.7 million to 241.3 million. On the good side, motor gasoline is not in a state of glut right now but any build is a negative for the market. Propane/propylene also saw a build, rising by 2.3 million barrels from 68.9 million to 71.2 million, while the "other" category of petroleum products grew by 1.2 million barrels from 246.8 million to 248 million.
Thankfully, not every category of petroleum products performed poorly. Distillate fuels, for instance, managed to see a decline of 1.7 million barrels for the week, dropping from 159.9 million to 158.2 million. Meanwhile, fuel ethanol dipped very slightly, falling by 0.4 million barrels from 22 million to 21.6 million. Although these improvements are nice to see, however, total crude plus petroleum products reported an aggregate rise of 5.2 million barrels for the week, climbing from 1.3635 billion barrels to 1.3687 billion.
But there is some good news
Overall, the supply side of the picture worsened during the week and shows that we have plenty of room for improvement before the glut vanishes but there was some positive news reported by the EIA. According to the data provided, for instance, domestic oil production for the week came out to 8.938 million barrels per day, a falloff of 15 thousand barrels per day (or 105 thousand for the week) from the 8.953 million barrels per day seen a week earlier and the third straight week in a row where production has been below 9 million barrels per day. The graph below shows the historical trend (covering the past 52 weeks) of domestic oil production according to the EIA.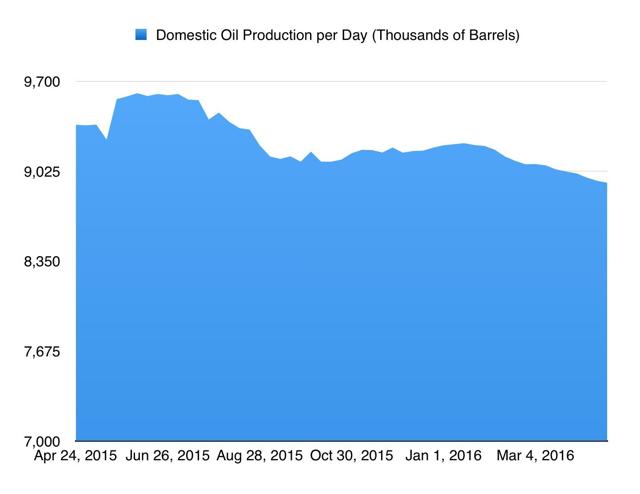 Another positive for the week relates to the demand for motor gasoline. If the data provided is accurate, demand came out to 9.315 million barrels per day. Although this is a tad bit lower than the 9.444 million barrels per day seen a week earlier, it represents an increase of 4.4% compared to the same week last year when the metric stood at 8.920 million barrels per day. Using the four-week average demand, we stand at 9.404 million barrels per day, up a whopping 5.6% compared to the 8.907 million barrels per day calculated for the same week last year. On top of seeing strong motor gasoline demand, we are also seeing some good signs in the distillate fuel market. While demand for the product has been low this year, the four-week average demand for it has started to recover and is, year-over-year, down just 0.1%.
Rig counts keep on falling
Another major positive for oil was news from Baker Hughes (NYSE:BHI) in its weekly rig count report that the number of oil rigs in the U.S. came in at 332 for the week. This implies a drop of 11 oil rigs week-over-week and represents a falloff of 51.1% from the 679 oil rigs seen the same week a year ago. What this points toward is the fact that drilling activity is falling and the amount of oil produced in the future (absent an increase in the rig count) will be lower than it is today. Meanwhile, in Canada, the oil rig count fell by another 2 units from 12 to 10. This suggests a falloff of 41.2% year-over-year when the oil rig count up North was 17 and is a bullish sign for the long run.
Takeaway
Right now, there are a number of factors helping to dictate what's happening in the oil market but it seems that investors are less concerned about overall supplies and more concerned about what's happening to help the market balance out. Particularly, it appears as though Mr. Market is very happy with the continued drop in production (something that will likely continue for the foreseeable future) and with the strong demand for products (which will help the supply/demand imbalance in the long run). For these reasons and others, I am particularly bullish moving forward but investors should always be prepared for short-term fluctuations.
Disclosure: I am/we are long AREX, BBEP, MEMP.
I wrote this article myself, and it expresses my own opinions. I am not receiving compensation for it (other than from Seeking Alpha). I have no business relationship with any company whose stock is mentioned in this article.