Here are my top 5 stock picks; companies that I believe will beat the market in the long term, generating significant alpha. They are presented in no particular order. These are all companies where I see significant growth potential as well as solid fundamentals.
1. TransCanada Corp. (NYSE:TRP) (see my more detailed analysis here). I have long been bullish TransCanada because of the vast energy infrastructure network they own and operate. Their 67,300 km of regulated gas pipeline, 250 Bcf and 118 Bcf gas storage facilities (regulated and non-regulated, respectively), and 4,247 km of liquids pipelines provide a strong backbone to their business (Capital IQ). I see strong growth potential coming from the 4 gas pipeline projects currently under construction and the 6 under development, as well as the 3 liquids pipelines currently under construction and the 5 more currently in development. Two of the 5 liquids pipelines under development include Keystone XL and Energy East, two very controversial projects. Energy East, should it be fully approved, will grow TransCanada's top-line significantly. As for Keystone XL, I see hope for its litigation with the US government coming from the upcoming US election (explained in greater detail in the article referenced above). TransCanada's dividend yield of 4.3% is quite attractive, especially with the prospects for growth and consistency.

(Logonoid)


2. Algonquin Power & Utilities Corp. (AQUNF) (see my more detailed analysis here). Algonquin owns and operates assets in three areas of operations: power generation, transmission, and distribution. I see strong fundamentals from the 560,000 customers they currently serves through their distribution business, as well as the fact that 85% of their generation is under power purchase agreements with an average length of 16 years (expected to grow to 90% by 2018). High growth potential comes from management's significant acquisitions with plans for more. On February 9, 2016, Algonquin announced their acquisition of Empire District Electric Company (NYSE:EDE) for $2.4 billion. This acquisition grows Algonquin's regulated rate base by 123% and their customer base by 39%. In Algonquin's generation portfolio, there are 6 projects currently under development for a total of 459 MW capacity.

(Algonquin Investor Presentation)


3. Consolidated Water Co. (NASDAQ:CWCO) (see my more detailed analysis here). Consolidated Water Co. provides water desalination services throughout the Caribbean and Indonesia. They have three main areas of operations: bulk water (where water is sold directly to utilities for distribution), retail (where they do distribution themselves), and service (where operations support and development services are provided to affiliates). They have a significant moat surrounding their bulk and retail operations in the Cayman Islands as they have an exclusive permit from the government to sell their water in the Seven-mile beach and West Bay areas. I see significant growth potential coming from their participation in the Rosarito Mexico project that will have a capacity of 100 million gal. per day. They will be a minority player in this project, but it will nonetheless have a significant impact on their top-line. This growth will be backed by further penetration into markets in which they already operate.

(CWCO Investor Presentation)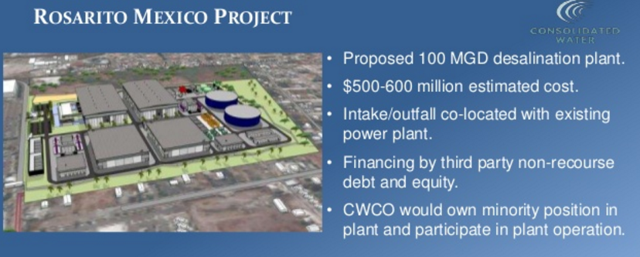 4. Fortis Inc. (FRTSF). Fortis, like Algonquin, operates in generation, distribution, and transmission. They serve a customer base of approximately 3 million and own regulated gas and electric utilities across North America. While the majority of Fortis' business is regulated, most of their generation assets are non-regulated, providing some balance in the company's asset portfolio. While regulation can ensure stability, it can also limit organic growth. Fortis is currently in the process of acquiring ITC Holdings Corp. (ITC) for $11.3 billion. When this deal goes through, Fortis will see significant growth in all aspects of their business, with access to over $1 billion in annual revenues and $239.5 million in annual income. This acquisition will also form strategic synergies within Fortis' business portfolio, bringing 3 large operating subsidiaries under their operating umbrella (Capital IQ).
(Annual Report)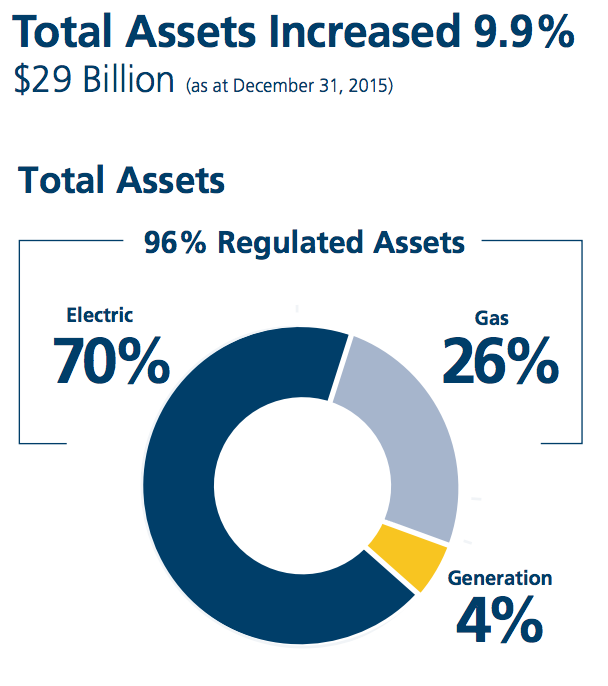 5. Verizon Communications (NYSE:VZ). Verizon is the second largest telecommunications company operating in the US, behind AT&T (NYSE:T). Verizon has two main business segments, wireless and wireline, through which they provide communications and IT services, and entertainment products to consumers, businesses, and government agencies (Capital IQ). Their wireless business offers voice and data services as well as equipment sales. In this segment, a major move forward is the development of 5G technology. Telecommunications has reached a point where the supply of new customers is rapidly declining so the major players are having to compete more heavily for market share (ISBS Market Research (Registration required)). Verizon has taken the approach of targeting data hungry consumers, an I approach I think will help them grow, understanding that data is becoming a service on which we are becoming more and more dependent. Another growth catalyst for the company is a potential purchase of Yahoo's (YHOO) assets, extending their product portfolio and revenue generation potential. Verizon will also see less regulation when it comes to acquisitions as either T-Mobile (NASDAQ:TMUS) or Sprint (NYSE:S) moves in as the third dominant player in the market. Verizon's dividend yield of 4.4% is also quite attractive for a long-term investment.

(Wallet Engineers)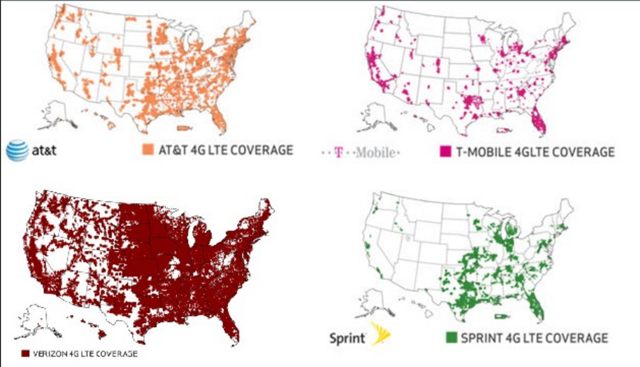 Disclosure: I am/we are long AQUNF, CWCO, TRP.
I wrote this article myself, and it expresses my own opinions. I am not receiving compensation for it (other than from Seeking Alpha). I have no business relationship with any company whose stock is mentioned in this article.
Editor's Note: This article discusses one or more securities that do not trade on a major U.S. exchange. Please be aware of the risks associated with these stocks.