On April 3, Seeking Alpha editors published my initial article about AT&T (NYSE:T). This is a follow-on update.
Over the past 7 months, T's shares have rallied hard, rising from $31 to $39. It's taking a breather at 39 bucks. I contend this makes it especially important to understand and assess the underlying drivers.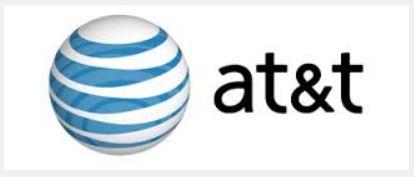 Having 1Q 2016 earnings in our hip pocket, this article double backs to 3 go-forward indicators I outlined previously:
Consolidated financial results versus pre-merger AT&T/DirecTV "bolt-on" earnings and cash flow
Armed with post-earnings data, it's time to review and grade the results.
"Bolt-On" Earnings and Cash Flow
In my first article, I explained the importance of viewing AT&T's results through the right lens. Of course, straight year-over-year comps should exhibit strong gains: the company purchased DirecTV and two Mexican wireless carriers, Iusacell and NexTel Mexico. All that business wasn't part of 1Q 2015 results.
No, the acid test is how current AT&T results compare versus the quarters preceding the acquisition; combining AT&T and DirecTV numbers.
The following table, copied from the April 3 article, shows independent AT&T and DirecTV results for the six-month period immediately prior to the deal closing.

Combining the results ("bolt-on") provides a baseline.

Ultimately, should not the newly-combined AT&T/DirecTV do better than the old stand-alone entities? AT&T's management promised $1.5 billion in synergies. This excludes any incremental contribution from Iusacell and NexTel Mexico. That's okay. Comparatively, these Mexican wireless carriers are relatively small and require considerable integration work before material positive results should be expected.
So with 1Q 2016 actuals in the books, let's look at the record:

In addition to GAAP, management provided investors adjusted P/L figures, excluding merger integration expense. These "operating" results are shown below:

Analysis
1Q 2016 revenue came in a little light versus the average pre-merger combo figures. However, if we add 4Q 2015 revenues to the current quarter, the six-month total is $82.6 billion. This compared acceptably with the pre-merger top line combo. It appears AT&T has successfully maintained, though not grown, the top line.
Management's touted operating expense will decline as post-merger synergies kick in. Typically, integration cost, business inefficiencies, and corporate culture play tug-of-war with early results.
Nonetheless, we find AT&T's regular operating expenses (less merger integration costs) have come down materially versus the pre-merger run rate. The first-quarter reduction: opex down $1.8 billion or ~5%.
In turn, actual versus "bolt-on" EBIT (or operating income) looks strong, too.
About $1 billion found its way to the quarterly bottom line; so far, so good.
Unfortunately, the cash flow story isn't as robust. While AT&T's management crowed year-over-year operating cash flow rose 17%, I am less enthusiastic. 1Q 2016 total $7.9 billion cash from operations was significantly lower than the pre-merger "bolt-on" $9.6 billion average.
Here is a YoY cash flow summary from the 1Q Financial and Operating Results: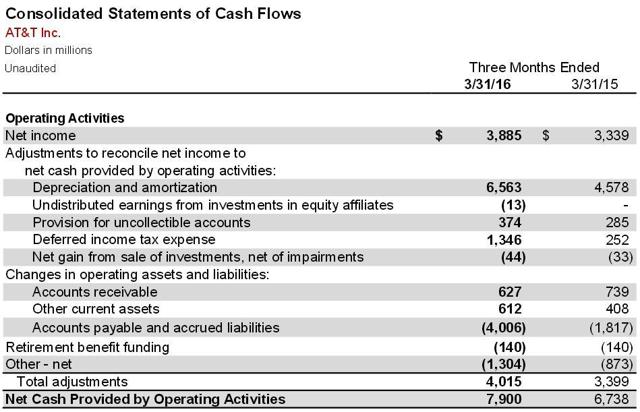 To be fair, some of the actual vs. "bolt-on" shortfall may be attributed to integration expense (backed out of P/L figures, but not OCF); however, even if we back out a billion dollars in additional expense, the numbers remain in the red when compared with the $9.6 billion "bolt-on" benchmark.
The 1Q tally is also lower than the $9.2 billion operating cash flow recorded in the fourth quarter of last year. One can make a plausible argument 4Q is seasonally weaker, not stronger, than the first quarter.
We need to keep an eye on that.
Unsurprising, free cash flow (operating cash less capex) also came in shy of the "bolt-on" figures. Certainly, lighter operating cash is a major factor. Near-term capital expenditures may be high in conjunction with the integration process, too.
For 2016, management guided investors to a 70s% dividend-to-free cash flow payout ratio. This implies full-year FCF to be ~$16 billion. AT&T must play some catch-up to make the mark.
Actual 1Q free cash flow payout ratio was 91%: too high.
Overall Grade: B
Earnings progress was net positive. Top line results were alright. Opex results were strong. Cash flow versus "bolt-on" was uninspiring; however, it's still early. Merger integration costs and associated capex are likely dragging down the numbers. It's reasonable to afford some wiggle room right out of the box. But make no mistake: good investors need to give the old fish eye to go-forward cash flow metrics.
Debt Management
The recent acquisition activity certainly beefed-up AT&T's debt profile. Year-end 2015 net debt was $121 billion, up 65% from $73.3 billion at the end of 2014.
First quarter 2016 saw net debt ease to $120.5 billion... no real change.
Management reported debt leverage, as measured by net debt-to-adjusted EBITDA, fell to 2.27x from 2.31x in the prior linked quarter. The difference is immaterial.
The target ratio is <1.8x.
As measured by long-term debt-to-capital, AT&T made no progress on the debt load. LTD2C actually rose to 50% vs. 49% at year-end 2015.
Analysis
Free cash flow, debt reduction and the cash dividend are intertwined. 2016 management guidance stated the dividend payout ratio as a function of free cash flow will be in the 70%-80% range. Assuming a 75% FCF payout ratio on ~$11.8 billion dividends, AT&T expects to generate about $15.7 billion in free cash flow in 2016. Much of the $4 billion balance is earmarked to pay down debt.
Free cash flow is a critical part of the equation. FCF lubricates the financial statements: cementing the dividend and generating funds to pay down debt. AT&T's leadership plans to curtail share repurchases until the debt ratio is aligned with the 1.8x leverage target.
Overall grade: C
A very modest improvement in the leverage ratio was offset by a sag in the long-term debt-to-capital number. It's only the second full quarter since the acquisition closed. As 2016 unfolds, we should expect to see some progress on this front.
Margins
Margins are a critical piece of the "new" AT&T narrative. Successful acquisition integration should result in not just stable margins, but margin improvement. One can premise domestic communications is a mature business, while Latin American communications and entertainment businesses are underdeveloped. This may be the agent for margin expansion. Furthermore, perhaps not all U.S. communications segments, namely business/enterprise solutions, are margin-constrained.
So here's AT&T's 1Q 2016 lowdown:

Margins improved up-and-down the line. Please note the 17.6% operating margin includes merger integration expenses. Adjusting for these costs, AT&T enjoyed first quarter 19.9% EBIT margin versus an apple-for-apples 18.8% in 4Q 2015.
Analysis
Unquestionably, this is a positive set of results.
First, EBITDA margins expanded versus the linked quarter and full-year 2015 figures. After adjusting for merger integration, operating margins widened, too. Frankly, I prefer utilizing operating versus EBITDA margins. I believe it provides a better overall picture of the enterprise.
AT&T's management projected flat margins in 2016. Therefore, the company started strong, always a good sign.
The strong margins are aligned with solid profitability comps.
On the 1Q earnings conference call, Investor Relations VP Michael Viola succinctly added:
Margins also continue to be a great story. We saw consolidated margin growth, with margin expansion in every domestic business segment.
In particular, "...margin expansion in every domestic business segment" is encouraging.
Overall grade: A
It's difficult to find flaw with the current figures.
Conclusion
Generally, AT&T's 1Q 2016 headline figures were considered very good. However, I suggest investors look beyond the headlines and focus on other key metrics: profitability and cash versus pre-merger "bolt-on" results, debt management, and margins. Using this approach, on balance results were mixed, but acceptable.
Revenue, operating expense, and EBIT, when viewed as a function of pre-merger AT&T/DirecTV "bolt-on" results, were solid. Operating and free cash flow was soft. However, these items require several quarters' of close monitoring to see how integration expense and related capital trim up the enterprise.
Management was unable to make any appreciable progress on debt or debt leverage. This is noteworthy and requires watching.
On the other hand, operating and EBITDA margins expanded across all major fronts, including the domestic business segments. This must be viewed as nothing short of positive.
Please do your own careful due diligence before making any investment decision. This article is not a recommendation to buy or sell any securities. Good luck with all your 2016 investments.
Disclosure: I am/we are long T.
I wrote this article myself, and it expresses my own opinions. I am not receiving compensation for it (other than from Seeking Alpha). I have no business relationship with any company whose stock is mentioned in this article.